---
Mentor Wins as Proteges Career Begins
17 February 1998
Dale Earnhardt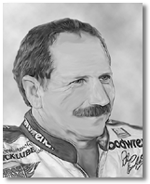 Sunday Feb. 15 will go down in racing history as the day Dale Earnhardt culminated one of auto racing most prolific careers by winning his first Daytona 500. Fans might also remember the day because Earnhardt's 30-year-old protg Steve Park initiated what many think will be an illustrious racing career.
After more than 20 attempts, the 7-time Winston Cup champion finally captured the elusive trophy of the sport's biggest race, while Park showed promise as he raced with the leaders and drafted with the veterans until ignition trouble ended his day and dropped the New York native to a 41st place finish.
"Man I cannot believe what happened today," said Park, whose team is owned by Dale Earnhardt Inc. "Both Dale and I realized our dreams today. He earned the only thing that has ever eluded him and I raced in the Daytona 500. This was a great day."
The 41st place finish isn't indicative of the former modified driver's performance on the 2.5-mile superspeedway. Park started 33rd, but dropped to the rear of the field because he used a back-up car following a crash in the Thursday qualifying race.
Park raced through the tightly packed field, but on his first pit stop the #1 Pennzoil Monte Carlo slid through the pit. After the DEI crew pushed the bright yellow car back into the pit stall, NASCAR imposed a 15-second penalty.
Park's troubles were minor compared to Jeff Burton, Dale Jarrett, Derrike Cope, and Geoff Bodine whose chances for victory vanished in pit lane accidents. Park returned to the track and lost a lap. He battled a loose car during the midway segments of the race. Park and crew chief Philippe Lopez worked on the handling and the DEI team turned in a 19-second pit stop on lap 125 as the Pennzoil Monte Carlo moved up to 22nd place.
"We had a pretty good day because we were able to stay out of trouble and stay in the draft and race with some of the veterans," said Park.
As he raced sometimes two and three abreast, Park appeared ready to move up in the standings. But on lap 152, Park reported trouble with the Pennzoil Monte Carlo. A post race review determined ignition problems were to blame for the exit from the race.
"All in all it was a good day," Park said. "I know I won't forget it, Dale won't forget it, and I'm sure the fans will never forget it."
Park and his Pennzoil Monte Carlo teammates return to racing action on Friday at Rockingham North Carolina.
Editors Note: The images displayed in this article (plus many more) can be viewed in the Visions of Speed Art Gallery.