---
"TACH enters the Olympic Games!"
11 February 1998
Andrew Frankl
European Bureau Chief
The Auto Channel's very own Nicholas Frankl- a member of our London bureau will be competing in the four man bob against the mighty USA team as well as the Germans, Italians, Canadians and other favorites.
The good news is that he will of course driving the four man- we would not expect any less from a TACH person-the bad news is that his chances of success are NIL. The truth is that the fight for the medals will be amongst those teams who live in the Alps or in cold, but friendly places such as Calgary and Salt Lake City. Others, such as the Jamaicans, the Virgin Islanders, the Greeks and others will be there to participate. After all Baron Coubertin-Father of the modern Olympics did say some 100 years ago that what mattered was to take part. Well, that is exactly what Nicholas and his three team members will be doing. Make no mistake, participating in the bob is no picnic even if you come last.
Whilst Brian Shimer of the USA team will be doing 124 kilometers per hour down the hill our Nicholas will be doing maybe 123.5, this may not seem like a lot but that is the difference between first and 22nd place. That and the push at the start. With half the Hungarian team living in Britain push practice was a very rare occurrence. Still, they are there and what is more they are determined to beat their arch rival. Who could that be do I hear you ask? None other than Prince Albert of Monaco, heir apparent to that tiny bit of real estate in the South of France.
It is a long story which goes back to 1993 when the Hungarians started. the Prince and his team were amazingly helpful even to the extent of lending their tools. How did Nicholas thank the Prince? By beating him in the two-man in Lillehammer four years ago. The rivalry has been going on ever since and as this is Prince Albert's last Olypics as a participant the stakes are very high indeed. As is the camaraderie between the two teams.
There is no guarantee that their epic battle will make the TV screens in the USA but for those on the West Coast the four man bob will be on at 10 p.m. on February, Thursday 19th and Friday 20th at the same time.
If you want to wish him good luck the team's email in Nagano, Japan is hungobob@yahoo.com P.S. By the way our man is the one sitting in the bob, the little guy sitting on the bob was the team mascot in Calgary!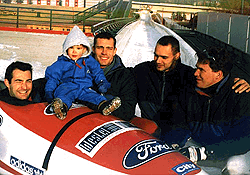 TACH's very own writer Nicholas Frankl will be representing Hungary in the four man bobsled in Nagano, Japan.