---
The Callahan Report: Rusty Wallace Takes Taurus To Victory
8 February 1998
DAYTONA BEACH, FL: Rusty Wallace led the only lap that counted today as he captured the Bud Shootout at the Daytona International Speedway. Wallace got the jump on a last lap sprint to take the win in his new Ford Taurus. It was the first time the Ford Taurus chassis had competed under race conditions. Wallace came from his 13th starting spot for the victory.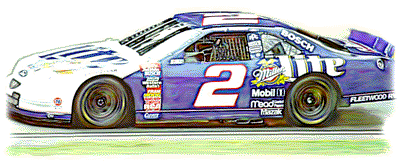 Rusty Wallace, Winner, The Bud Shootout
The rules for the Bud Shootout differ from regular NASCAR events. The race is "all racing." Yellow flag laps do not count. After a late race crash involving 1998 Daytona pole winner, Bobby Labonte, and Joe Nemechek, the field took the green and white flag on lap 24. Defending Daytona 500 winner, Jeff Gordon, had led easily laps 10 through 24. The field lined up two abreast for the restart. Wallace jumped ahead of Gordon and never looked back. Wallace's younger brother, Kenny, tucked under the rear deck of Rusty to help his older sibling sail to the victory. Gordon dropped to 14th at the finish.

Jeff Gordon, Defending Champion
After the race, Gordon accused Wallace of jumping the start. He explained that he did not get hard into the accelerator because he knew NASCAR would wave off the restart. They didn't. Wallace won by four car lengths over his younger brother. His average speed for the race was 178.998 mph. There were three lead changes among four drivers.
The Bud Shootout features NASCAR pole winners from the previous season, and one additional spot for the winner of a qualifying race. The qualifying race was held just before the Shootout. The participants in the qualifying race were the fastest second day qualifiers during the 1997 season. The addition of the qualifying race was new to the Shootout format. The Bud Shootout was formerly called the Busch Clash.
In the early morning qualifying race, it was Jimmy Spencer who came from 13th spot (next to last) for the victory. Spencer, driving a year-old Thunderbird, led laps 12 through 25 in the caution free race. His margin of victory was two car lengths over Lake Speed. Spencer's average speed for the 25 lap sprint was just over 180 mph.
Bud Shootout Results: Finishing position, starting position, hometown, car, laps completed, and prize money:

1. (13) Rusty Wallace, St. Louis, Ford, 25, $100,882.
2. (12) Kenny Wallace, St. Louis, Ford, 25, $50,882.
3. (7) Bill Elliott, Dawsonville, Ga., Ford, 25, $40,882.
4. (17) Jimmy Spencer, Berwick, Pa., Ford, 25, $52,310*
5. (2) Ken Schrader, Fenton, Mo., Chevrolet, 25, $27,882.
6. (8) Geoff Bodine, Chemung, N.Y., Ford, 25, $25,882.
7. (15) Ernie Irvan, Salinas, Calif., Pontiac, 25, $24,382.
8. (1) Mark Martin, Batesville, Ark., Ford, 25, $23,882.
9. (14) John Andretti, Indianapolis, Chevrolet, 25, $23,382.
10. (6) Todd Bodine, Chemung, N.Y., Pontiac, 25, $22,882.
11. (16) Dale Jarrett, Hickory, N.C., Ford, 25, $22,382.
12. (11) Johnny Benson, Grand Rapids, Mich., Ford, 25, $21,882.
13. (3) Mike Skinner, Susanville, Calif., Chevrolet, 25, $21,382.
14. (5) Jeff Gordon, Pittsboro, Ind., Chevrolet, 24, engine, $20,382.
15. (9) Bobby Labonte, Corpus Christi, Texas, Pontiac, 23, crash, $19,882.
16. (10) Joe Nemechek, Lakeland, Fla., Chevrolet, 23, crash, $17,882.
17. (4) Ward Burton, South Boston, Va., Pontiac, 21, crash, $16,882. 

* Includes money won in qualifying race

Qualifying Race

1. (13) Jimmy Spencer, Berwick, Pa., Ford, 25, $21,428.
2. (8) Lake Speed, Jackson, Miss., Ford, 25, $20,928.
3. (3) Dale Earnhardt, Kannapolis, N.C., Chevrolet, 25, $20,428.
4. (1) Sterling Marlin, Columbia, Tenn., Chevrolet, 25, $19,928.
5. (10) Brett Bodine, Chemung, N.Y., Ford, 25, $19,428. 
6. (12) Chad Little, Spokane, Wash., Pontiac, 25, $18,428.
7. (5) Rick Mast, Rockbridge Baths, Va., Ford, 25, $17,928.
8. (11) Jeff Green, Owensboro, K.Y., Chevrolet, 25, $17,428.
9. (2) Greg Sacks, Mattituck, N.Y., Ford, 25, $16,928.
10. (6) Darrell Waltrip, Owensboro, Ky., Chevrolet, 25, $16,428.
11. (4) Gary Bradberry, Chelsea, Ala., Ford, 25, $15,928.
12. (14) Dave Marcis, Wausau, Wis. , Chevrolet, 25, $15,428.
13. (9) Billy Standridge, Shelby, N.C., Ford, 24, $14,928.
14. (7) Dick Trickle, Wisconsin Rapids, Wis., Ford, 19, crash, $14,428. 

Editors Note: The images displayed in this article (plus many more) can be viewed in the Visions of Speed Art Gallery.