---
Be Like Jeff: Gordon's Stepfather Leads Driver Development Panel
5 February 1998
Jeff Gordon, 1997 Winston Cup Champion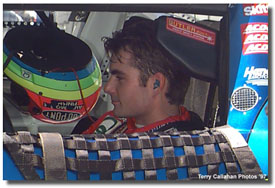 DAYTONA BEACH, FL
-- Racers can get the same advice champion Jeff Gordon benefited from in a technical seminar at Circle Track Magazine Racing Expo. Driver Development, scheduled for 7:30 p.m. on Thursday, February 12, will cover topics form driving school to professional management. Gordon's stepfather, John Bickford, will lead a panel that will also include Dr. Jacques Dallaire, of Human Performance International and Michael Loescher, chief instructor for Finish Line Racing School. Bickford commented, "Get your pencil and paper out because you're gonna' learn a lot."
Dr. Dallaire will share how to shape racers -- mentally and physically -- into better, safer, more competitive drivers. He considers several criteria critical to the success of a driver. "We concentrate on specific areas of performance like physical readiness, mental skills development, muscular conditioning, sports nutrition and sports medicine," said Dallaire.
Dallaire's program utilizes a two-day evaluation of their strengths and weaknesses. Their skills are compared with the standards required to be competitive at top levels of competition. "We illuminate areas of weakness and outline a program to correct the short-comings, and work with each driver to capitalize on existing strengths," Dallaire continued. "The program is being used in sports as well as for business executives that need to be focused for stressful situations such as negotiations and international travel."
Loescher will share the philosophy of Finish Line Racing School, rated the finest asphalt race school in the United States by Circle Track Magazine.
"High profile teams and sponsors are looking for drivers that race smart, fast and up front," commented Loescher. "We specialize in refining the drivers' techniques -- eliminating the bad habits and enhancing the positive ones.
"Good driving is more than just instincts," continued Loescher. "We review a comprehensive approach to being prepared mentally and physically to race to win."
The three-day Circle Track Racing Expo, held just prior to the Daytona 500 features an assortment of dynamic seminars presented by top industry experts. Ranging from engine building to sponsorship secrets, the seminars are scheduled at alternative times from Daytona International Speedway on-track activities, giving racers the opportunity to attend all of the seminars without missing any valuable tract time.
The Expo opens at 10 a.m., Wednesday, Feb. 11. Hours are 10 a.m. to 8 p.m., Wednesday Feb. 11 and Friday, Feb. 13; 5 p.m. to 9 p.m., Thursday, Feb. 12. Racers and trade personnel will have exclusive access to the Circle Track Expo from 10 a.m. to 2 p.m. on Wednesday and Friday.
Hour-long technical seminars begin at 2 p.m. on both Wednesday and Friday. Thursday's seminar schedule starts at 5:30 p.m.
Show highlights also include a demonstration of the Dynojet Chassis Dynamometer, Race Against Drugs APBA Hot-Boat, and the ever-popular Pit Stop Competition.
For more information, contact the Circle Track Racing Expo, (213) 782-2341.
Editors Note: The images displayed in this article (plus many more) can be viewed in the Racing Image Galleries.