---
IRL Drivers Perform Well In Rolex 24
2 February 1998
Arie Luyendyk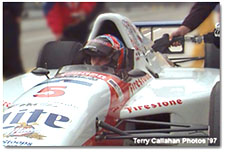 Pep Boys Indy Racing League star Arie Luyendyk has joined an elite group of drivers who boast victories in two of the world's greatest races -- the Indianapolis 500 and the Rolex 24 Hours of Daytona.
Luyendyk completed the second half of the curious double at Daytona International Speedway on Feb. 1. The two-time Indianapolis 500 winner teamed with Gianpiero Moretti, Didier Theys and Mauro Baldi in a Ferrari 333SP to win the twice-around-the-clock sportscar classic. Luyendyk's team completed 711 laps over Daytona's 3.56-mile road course in the allotted 24 hour period, beating the runner-up car by more than eight laps. The team took the lead four hours before the end of the race, and was never challenged.
Luyendyk joins three other drivers who have won both the races at Daytona and Indianapolis Motor Speedway.They are: A.J. Foyt, Al Unser and Al Unser Jr. ``Winning the Rolex 24 means a lot to me,'' said Luyendyk. ``It's another great American classic race. I won with the Nissan team in Sebring in 1989. Since the first time I was here in 1986 with A.J. Foyt and Danny Sullivan, it's always been a goal of mine to win this race.
``Didier Theys helped me get this season with Moretti (the car owner) because he is their driver, and everything fell into place. You really have to have a lot of luck here.''
Robbie Buhl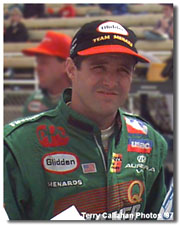 Luyendyk wasn't the only Pep Boys Indy Racing League regular in the massive Rolex 24 field. Robbie Buhl finished 11th at Daytona in a Ford Mustang Cobra. He shared driving duties with Mike Borkowski and Tony Kanaan. They completed 624 laps, and scored a podium finish in GT1. They were third in class.
Before the race, Buhl said his IRL car and sportscar are completely different, but both fun to drive.
``I drive so many things, yeah, they're different, but you adjust,'' said Buhl, who competes in the IRL in a Team Menard entry. ``You get in the car, and do what you got to do.''
Buhl said drivers must detune for the 24 Hour, where speed is secondary to racecar longevity. A fast car that constantly appears on pit road forservice won't win the race.
"It's like no other race we run from that standpoint,'' said Buhl. ``This race requires a different strategy.''
John Paul Jr., a two-time Rolex 24 winner, was with the team that led most of the night. Paul, running a Riley & Scott Ford Mark III, relinquished the led to Luyendyk when his car broke two pistons.
John Paul Jr.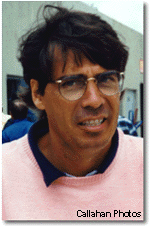 ``We really had to run hard to keep the Ferraris in sight,'' said Paul, who drives for PDM Racing in the IRL. ``We're really pushing the envelope with the pushrod engine. The overhead valves don't really get oiled up there. It's not state of the art - they were designed in the 1960s. They've finessed it as much as they can, but thrashing it for 24 hours takes its toll on it. It's very depressing.''
Said Luyendyk: ``It's always good to take the lead. From that moment on, we were racing ourselves. We had to be smart.''
Paul was sharing the car with Butch Leitzinger, Perry McCarthy and James Weaver. Riley & Scott is based in Indianapolis, and supplies chassis for IRLteams.
IRL newcomer Raul Boesel had a good run going in the Panoz GTR GT1 car before it was involved in a crash during the sixth hour of competition, and later overheated. Boesel's entry turned 433 laps and wound up 39th overall.
``Both of our cars had overheating problems, and that was it,'' said Boesel, who was co-driving with Andy Wallace, Doc Bundy and Scott Pruett. ``It made the cars stop. It's a strong car, it's a good team, and everything was under control. It's just unfortunate that overheating affected both cars.''
Lyn St. James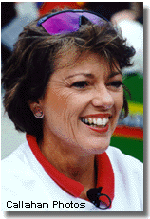 Lyn St. James has two class victories in the Rolex 24, and has made six consecutive starts in the Indianapolis 500. She was the rookie of the year in 1992. St. James finished 25th sharing a Chevrolet Kudzu with Tom Volk, Jeret Schroeder and Pete Halsmer. They turned 557 laps.
``Now I'll shift my complete focus to the Indianapolis 500,'' said St. James.
Second overall, first in GT1, was Danny Sullivan, the 1985 Indianapolis 500 winner. Sullivan, now a racing commentator for ABC Sports, drove the Porsche 911 GT1 with Allan McNish, Dirk Mueller, Uwe Alzen and Jorg Mueller. They completed 703 laps.
``It feels great,'' said Sullivan. ``I thought we had a shot at the overall championship, but we needed luck by not spending any time in the pits other than standard pit stops.
``We had a few incidents, and a lot of little problems, and like all 24 hours races, it's managing your problems. We won our class, and second overall is pretty damn good. We'll take it.''
Editors Note: The images displayed in this article (plus many more) can be viewed in the Racing Image Galleries.