---
NASCAR: Sacks Quickest on Second Day of Ford Testing
22 January 1998
DAYTONA BEACH, Fla.
-- Greg Sacks of Mattituck, N.Y., posted the fastest speed as Ford NASCAR Winston Cup teams continued their final three-day pre-season test Tuesday at Daytona International Speedway as teams prepare for the all-new Bud Shootout At Daytona (Feb. 8) and the "Great American Race," the 40th Annual Daytona 500 (Feb. 15).
Sacks was clocked at 47.440 seconds, for an average speed of 189.713 mph, in his No. 98 Thorn Apple Valley Ford Thunderbird.
1989 NASCAR Winston Cup champion Rusty Wallace, driver of the No. 2 Miller Lite Ford Taurus, turned in the fourth fastest speed on the day. He was clocked at 47.874 seconds, for an average speed of 188.826 mph.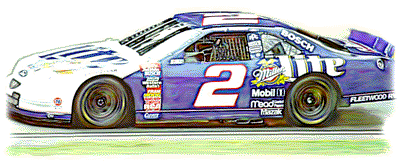 Rusty Wallace; Fourth Fastest In Day Two Of Testing
"We don't want to come down here next month and come out of the box way behind," said Wallace. "I'm already looking past the learning procedure that we have had to go through with the new car. I'm just concerned with coming down here and running up front and winning the Daytona 500. This team and I are going to give all that we've got to accomplish that goal. I think we'll have a good car, but the whole key on the Taurus is the drag. If we can get around the drag issue, I think we'll be in good shape.
"We had a great shot to win the Daytona 500 last year. I finished second in the Bud Shootout, qualified fourth for the 500 and was running great up until the time we lost the motor. If we can avoid that happening again, I think we have a great shot."
The Ford NASCAR Winston Cup test concludes tomorrow. A section of the Oldfield Grandstand is open daily at no charge from 9 a.m. to 5 p.m. with access through DAYTONA USA, "The Ultimate Motorsports Attraction." Guided tours of the Speedway are also available from 9:30 a.m. to 5 p.m. for a nominal fee.

                                FORD TEST SPEEDS -- Jan. 20*
NO  DRIVER/CAR                  SPEED    NO  DRIVER/CAR			SPEED
98  Greg Sacks/Ford Thunderbird 189.713  90  Dick Trickle/Ford Taurus	186.877
28  Kenny Irwin/Ford Taurus     189.310   7  Geoff Bodine/Ford Taurus	186.823
 9  Lake Speed/Ford Taurus      188.830  99  Jeff Burton/Ford Taurus	186.761
 2  Rusty Wallace/Ford Taurus   188.826  13  Jerry Nadeau/Ford Taurus	186.528
47  Billy Standridge/Ford T-bird188.671  81  Kenny Wallace/Ford Taurus	186.043
88  Dale Jarrett/Ford Taurus    187.966   6  Mark Martin/Ford Taurus	185.502
11  Brett Bodine/Ford T-bird    187.895  21  Michael Waltrip/Ford Taurus 185.223
10  Ricky Rudd/Ford Taurus      187.161  16  Ted Musgrave/Ford Taurus	184.843
23  Jimmy Spencer/Ford Taurus   186.959  26  Johnny Benson/Ford Taurus	184.434

  * Electronic times taken throughout the day's practice sessions.

Editors Note:
The images displayed in this article (plus many more) can be viewed in the
Visions of Speed Art Gallery
from
The Callahan Racing Page
.