---
Four NASCAR Stars Invited to Participate in True Value Firebird IROC Series
20 January 1998
TINTON FALLS, N.J.
-- Defending series titlist Mark Martin and reigning NASCAR Winston Cup champ Jeff Gordon lead the list of the first four drivers to accept invitations to compete in the True Value Firebird International Race of Champions, it was announced today.
NASCAR IROC Drivers, Martin, Burton, Jarrett, & Gordon
Dale Jarrett and Jeff Burton, second and fourth, respectively, in the 1997 Winston Cup standings, also were named to the elite field of 12, The 22d edition IROC begins Feb. 13 at Daytona International Speedway, in Daytona Beach, Fla.
The four-race IROC series matches a dozen of the world's top drivers, representing different types of motorsports, in equally prepared Pontiac Firebird Trans Ams equipped with Goodyear Eagle radial tires. The schedule following Daytona is. May 2, California Speedway, Fontana, Calif.; June 13, Michigan Speedway, Brooklyn, Mich.; and July 31, the inaugural IROC race at the Indianapolis Motor Speedway. All will be televised on a delayed basis by ABC Sports.
Martin, a native of Batesville, Ark. now residing in Daytona Beach, Fla., earned an automatic bid by capturing his second consecutive IROC crown in 1997 to become the series' first three-time champion. He won two of the four events, in Charlotte and Fontana, to bring his total to six and add to the titles he earned in 1994 and 1996. Martin was third in Winston Cup points, just 29 behind Gordon, with four victories -- at Sears Point, Talladega, Michigan and Dover -- and over $2.5 million in winnings. He added six more triumphs in NASCAR's Busch Series to become that division's all-time wins leader.
"I really enjoy the IROC series," said Martin, who will be making his seventh series appearance. "Winning the IROC championship in 1994 was a real highlight in my career. To do it again in 1996, and then again last year, really meant a lot to me. I think it's a great series and I'm just really glad to be in it."
Dale Jarrett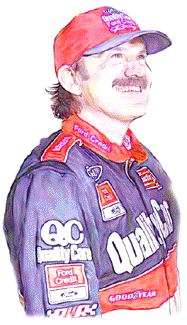 Gordon, a Vallejo, Calif. native who now makes his home in Charlotte, N.C., earned his second championship in three years and led the Winston Cup circuit with 1 0 victories, including the Daytona 500 as well as at Charlotte, Darlington, Rockingham, Bristol, Martinsville, Pocono, Fontana, Watkins Glen and New Hampshire. He became just the second driver ever to earn the Winston Million and finished the season with a NASCAR record $6.3 million in prize money. Gordon also was voted Driver of the Year. This will be his fourth consecutive IROC berth.
Jarrett, of Hickory, N.C., gained his third IROC invitation with a career-best season that saw him place second in Winston Cup points, only 14 behind Gordon. He won seven races, at Atlanta, Darlington, Pocono, Bristol, Richmond, Charlotte and Phoenix. His prize winnings exceeded $3.2 million.
Burton, a Virginia native now residing in Huntersville, N.C., achieved his first IROC invitation by placing fourth in the Winston Cup standings. In the best performance of his four-year Winston Cup career, he won for the first time, in Texas, and added two more victories at New Hampshire and Martinsville and finished with more than $2.2 million in prize money. Burton added two more wins in Busch Grand National competition.
IROC President Jay Signore said another group of drivers will be announced next week.
IROC is sponsored by True Value Hardware Stores; Pontiac division of General Motors Corp.; Goodyear Tire and Rubber Co.; DuPont Automotive Refinishes; and AC Delco Rapidfire spark plugs and Freedom batteries.
Editors Note: The images displayed in this article (plus many more) can be viewed in the Racing Image Galleries and the Visions of Speed Art Gallery from The Callahan Racing Page.