---
Gordon Records Fastest Speed as GM Teams Close Test at Daytona
16 January 1998
Jeff Gordon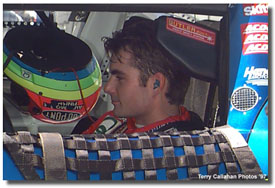 DAYTONA BEACH, Fla.
-- Defending Daytona 500 champion Jeff Gordon posted the fastest time thus far during pre-season testing as General Motors NASCAR Winston Cup teams concluded a three-day test at Daytona International Speedway Wednesday in preparation for the all-new Bud Shootout At Daytona (Feb. 8) and the "Great American Race," the 40th Annual Daytona 500 (Feb. 15).
Gordon was clocked at 47.580 seconds, an average speed of 189.155 mph, in one of two Hendrick Motorsports Chevrolet Monte Carlos that he drove on the day. Darrell Waltrip, who is entering his 26th season on the NASCAR Winston Cup Series, is optimistically looking ahead to a successful Speedweeks.
"This is as good as I have tested at Daytona in a good while," said Waltrip. "I have a lot of new people, trying a lot of new things, and fortunately most of them seem to be working out pretty well. We're pretty optimistic, we haven't really leaned on her to hard yet.
"You want to have a good solid ten days down here. We're in the qualifying race for the Bud Shootout, maybe we'll get lucky and win it and move into the second race. I just want to be real competitive, able to run with the lead pack and have a car that is comfortable to drive. I spent a lot of years down here winning qualifying races, Busch Series races and everything else. Your focus has to be the Daytona 500. Everything you do when you're here at the race track, whether it be qualifying races or preliminary events, you have to be thinking how your car is going to be after 500 miles. Sometimes I may look like I'm not doing much in some of these preliminary events, but I'm really getting a lot of data so we will be ready come Daytona 500 time."
The busy schedule of pre-season testing at the Speedway continues tomorrow as teams from the NASCAR Busch Series begin a three-day test in preparation for the NAPA Auto Parts 300 (Feb. 14). A section of the Oldfield Grandstand is open daily at no charge from 9 a.m. to 5 p.m. with access through DAYTONA USA, "The Ultimate Motorsports Attraction." Guided tours of the Speedway are also available from 9:30 a.m. to 5 p.m. for a nominal fee.
                      	GENERAL MOTORS TEST SPEEDS -- Jan. 14*
NO  DRIVER/CAR                		SPEED     NO  DRIVER/CAR    		SPEED
24  Jeff Gordon/Chevrolet     		189.155   96  David Green/Chevrolet	187.200
40  Sterling Marlin/Chevrolet	 	189.119    1  Steve Park/Chevrolet 	186.931
 4  Bobby Hamilton/Chevrolet		189.044   44  Kyle Petty/Pontiac	186.749
36  Ernie Irvan/Pontiac	    		188.830    8  Hut Stricklin/Chevrolet	186.722 
33  Ken Schrader/Chevrolet		188.778   46  Wally Dallenbach/Chevrolet186.718
30  Derrike Cope/Pontiac		188.762   41  Steve Grissom/Chevrolet	186.355
 3  Dale Earnhardt/Chevrolet 		188.620   71  Dave Marcis/Chevrolet	186.258
43  John Andretti/Pontiac  		188.359   22  Ward Burton/Pontiac 	185.950
42  Joe Nemechek/Chevrolet		187.990   73  Phil Barkdohl/Chevrolet   185.640
29  Jeff Green/Chevrolet		187.837   91  Kevin LePage/Chevrolet	185.594
17  Darrell Waltrip/Chevrolet		187.426   35  Todd Bodine/Pontiac 	184.596
50  Ricky Craven/Chevrolet  		187.348   07  Dan Pardus/Chevrolet 	183.038
* Electronic times taken throughout the day's practice session

Editors Note:
The images displayed in this article (plus many more) can be viewed in the
Racing Image Galleries
from
The Callahan Racing Page
.