---
Rick Mast Quickest In Daytona Ford Practice
7 January 1998
Rick Mast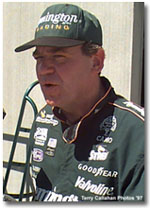 DAYTONA BEACH, Fla.
-- Rick Mast of Rockbridge Baths, Va., posted the fastest time as Ford NASCAR Winston Cup testing opened Tuesday at Daytona International Speedway as teams prepare for the all-new Bud Shootout At Daytona (Feb. 8) and the "Great American Race," the 40th Annual Daytona 500 (Feb. 15).
Mast was clocked at 47.993 seconds, for an average speed of 187.527 mph, as the new Ford Taurus made its much anticipated debut at the "World Center of Racing."
Kenny Irwin, who joins Robert Yates Racing as the driver of the No. 28 Havoline Taurus for the 1998 season, is eagerly awaiting his first Speedweeks at Daytona.
"I was down at Daytona five or six years ago working on a NASCAR Busch Series team with Kenny Wallace, and just being at Daytona was cool," said Irwin, who posted the second quickest lap on the day of 48.086 seconds, for an average speed of 187.165 mph. "But being down here as a driver is awesome.
"We tested the new Taurus at Talladega a few weeks ago, but because we were working mostly on the templates, we really didn't get a good feel for where we were. But once we leave Daytona after the next three days, we will have a better idea of how good the Taurus is. It's just going to take time and a lot of hard work, but the guys on this team are dedicated to make the Taurus fast. My expectations are high for the Daytona 500, I can't wait for the race. I wish it was next weekend." The Ford NASCAR Winston Cup test continues tomorrow. A section of the Oldfield Grandstand is open daily at no charge from 9 a.m. to 5 p.m. with access through DAYTONA USA, "The Ultimate Motorsports Attraction." Guided tours of the Speedway are also available from 9:30 a.m. to 5 p.m. for a nominal fee.
FORD TEST SPEEDS -- Jan. 6*

NO  DRIVER/CAR                          TIME    SPEED
75   Rick Mast/Ford Taurus              47.993  187.527 mph             
28   Kenny Irwin/Ford Taurus            48.086  187.165 
59   Mark Gibson/Ford Thunderbird       48.291  186.370 
77   Robert Pressley/Ford Thunderbird   48.301  186.332 
 9   Lake Speed/Ford Taurus             48.491  185.601 
 2   Rusty Wallace/Ford Taurus          48.685  184.862 
90   Dick Trickle/Ford Thunderbird      49.068  183.419 
15   Tim Steele/Ford Thunderbird        49.154  183.098 
37   Jeremy Mayfield/Ford Taurus        49.265  182.685

* Electronic times taken throughout the day's practice sessions. 


Editors Note: The images displayed in this article (plus many more) can be viewed in the Racing Image Galleries from The Callahan Racing Page.