---
NCTS: Keselowski Returns in #29 Team Mopar Dodge
16 December 1997
Bob Keselowski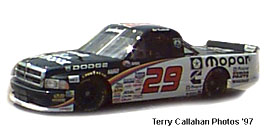 San Francisco CA - The #29 Team Mopar Dodge will be back again in 1998, with the K Automotive team and driver Bob Keselowski. K Automotive is owned by Bob and his brother, Ron, who is also the crew chief. The team used their long and successful history in racing to take the Team Mopar Dodge to Victory Circle last September in Richmond, VA. The Michigan-based, family-run team is coming back as a winner and is looking to be a strong contender again next season.
"The team's all in place, same as last year," said Bob. "We'll just try to refine what we've got. We've got some good things happening, some improvements in the shop and some new trucks going together. There were a lot of little refinements going on.
"It's very encouraging for us to have landed this sponsorship in the first place, then to have been able to produce a win. We knew we were capable of winning, so now we have to try and get some more wins in 1998."
Editors Note: The photos shown in this article are available for larger viewing in the NASCAR Image gallery from the Callahan Racing Page.