---
CART: Blundell Honored In England
13 December 1997
Mark Blundell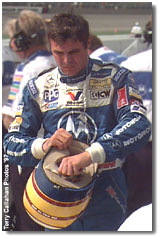 While the 1998 Mercedes-Benz CART engine tested in Arizona, PacWest driver Mark Blundell was honored in England for his performance with the 1997 powerplant. Blundell, who earned three of Mercedes' nine wins last season in his Motorola Reynard, was named Autosport Magazine's British Competition Driver of the Year at the 16th annual Autosport Awards in London.
Hal Whiteford, vice president, operations, for Mercedes-Benz of North America, expressed the company's gratitude to Blundell for his contribution to the championship effort. "Mark really came on strong the second half of the season, and we couldn't have won the title without the points that he earned. Mark's been part of the Mercedes family for three years now, and we think this honor is well deserved."
Mercedes-Benz won 40 percent of the races it entered in 1997, and was the only engine manufacturer to power race wins in both CART and Formula One. In addition to nine wins during the 17-race PPG CART World Series, Mercedes-Benz's CLK-GTR scored six victories during the 11-race FIA GT Championship season, with driver Bernd Schneider claiming the driver's championship and Team AMG-Mercedes collecting the team title. In Formula One, the Silver Arrows visited victory lane three times in 17 races, continuing a history of success on the track that dates back more than 100 years to the first auto race ever held.
Editors Note: The photos shown in this article are available for larger viewing in the CART photo gallery from the Callahan Racing Page.