---
The Callahan Report: Darrell Waltrip - A Tarnished Silver Anniversary
3 December 1997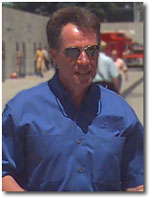 Darrell Waltrip
It was supposed to be a year of celebration. Instead, it was a year of frustration. Darrell Waltrip, the three-time Winston Cup Champion, entered his twenty-fifth year of NASCAR competition with high hopes of returning to victory lane. Those hopes vanished as Waltrip had to take several "provisional starts" throughout the 1997 season.
The lowest moment came at Charlotte. It was there that Waltrip was sent home. The past champion's provisional starting position was taken by Terry Labonte. The three-time American driver of the year went home without speaking. He left with tears in his eyes. Race fans across the country shared those tears. For the first time in as long as many fans could remember, "DW" would not be racing.
There were certainly happier "firsts" in the career of Darrell Waltrip. For instance, in May of 1972, he made his first NASCAR start at Talladega Superspeedway. Another happy first came in July of 1974 when Waltrip won his first Winston Cup pole in Nashville. In 1981, Waltrip won his first Winston Cup Championship. Waltrip made history at the bank too. He was the first driver to earn $6, $7, $8, $9, and $10 million in NASCAR competition. Waltrip got his first win as a car owner in April 1991.
The early years were also happy for Waltrip. He stormed onto the NASCAR scene after mastering every other type of racing he tried. Waltrip got his first taste of speed in a go-kart at the age of 12. Four years later, he made his way into the cockpit of a stock car. Waltrip and his father soon built a 1936 Chevrolet coupe which was prepared to tackle the local dirt track in their hometown of Owensboro, Ky.
Waltrip soon traded dirt racing for pavement competition, where the smoothness he learned on the dirt became a valuable asset. By the late 1960s, he became a regular winner and a fan favorite at the fairgrounds track in Nashville.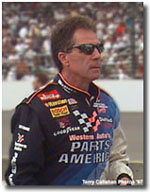 The combination of Waltrip's on-track ability and his determination to win quickly elevated him to one of the nation's premier short-track drivers. His efforts paid off in 1972 when he made his Winston Cup debut at Talladega. Waltrip continued to terrorize the short-track competition in the Southeast while making sporadic NASCAR starts. That all changed in 1975 when he decided to become a full-time NASCAR Winston Cup competitor.
About the early days, Waltrip said, "Wherever I would go, I was almost assured I was going to win one or two races a week and I made a good living doing that. It was difficult to step to the big leagues and be just another fish in a big pond. It took some time for me to make up my mind that I needed to get in there, give it 100 percent and make my mark."
Waltrip has made his mark. He is one of the pioneers who has helped place NASCAR above all other forms of American racing. Waltrip is a man with a true passion for the sport. His passion deserves to be rewarded with much better success in his twenty-sixth NASCAR season which starts in a couple of months at Daytona.
Terry Callahan -- The Auto Channel
Editor's Note: Images displayed in this article provided courtesy of Terry Callahan. More of Terry's pictures can be viewed in The Nascar Image Gallery on The Callahan Racing Page.