---
The Callahan Report: Darrell Waltrip Motorsports Out Of Truck Competition In 1998
1 December 1997
It was like dominos tumbling down. Shortly after Rich Bickle informed Darrell Waltrip that he would not be returning to the driver's seat in the Number 17 Die Hard Truck, Sears (Waltrip's truck sponsor) informed him they would not be returning as the sponsor.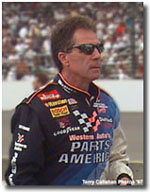 Darrell Waltrip
Waltrip has put the team's inventory up for sale. The team owns five trucks for racing and one for show. The team also has its transporter and spare engines on the auction block. The majority of the crew members from the truck team will move up to Waltrip's Winston Cup team (which is also searching for sponsorship).
Sears is the series sponsor for the NASCAR Craftsman Trucks. Executives decided to funnel their support into the series as a whole and not to continue individual truck sponsorship.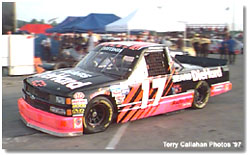 Rich Bickle
Waltrip's truck team saw significant success in 1997. Rich Bickle drove to a second place finish in the championship for Waltrip this year. Bickle had 15 top-5 finishes in twenty six starts. He scored three victories. Bickle fought with Jack Sprague for the championship until the final race of the season. Bickle finished outside the top ten only once in 26 races. He earned $348,880 in prize money.
Waltrip drove in selected races during the inaugural Craftsman Truck season. He drove in four races in 1995. He had two top-ten finishes.
Waltrip will begin his 27th year of NASCAR Winston Cup competition in 1998. His major sponsor (Parts America) in NASCAR's top series is cutting back their support of the three-time Winston Cup Champion.
Terry Callahan -- The Auto Channel
Editor's Note: The images displayed in this article courtesy of Terry Callahan. Visit Terry's Nascar Image Gallery to see more.