---
The Callahan Report: Schumacher Penalized in F1
12 November 1997
ENGLAND: The 1997 Formula One season officially came to a close today. The racing ended a couple of weeks ago. The politics continued . . . until today.
The FIA's World Motor Sports Council met today to act on accusations of "race-fixing" and to determine "punishment" for rough driving by two time World Champion, Michael Schumacher.
There were accusations made over the past two weeks that two of the top teams in F1 practiced "race-fixing". The rumors started at the end of the European Grand Prix in Jerez, Spain. It appeared that race leader, Jacques Villeneuve, pulled over to let two slower cars pass. It was "accused" that Villeneuve pulled over as a payback for drivers who had helped him win the championship. Villeneuve was crowned as the new F1 World Driving Champion at the conclusion of the race.

Jacques Villeneuve
The council reviewed the complaints and determined that none of the accusations were correct. The teams involved were cleared of any wrong doing. FIA president Max Mosley commented, "I think it is perfectly clear that the race in Jerez was not fixed and no Formula One race has ever been fixed,'' he said. ``What did happen was that Williams approached McLaren and several other teams asking them not to interfere in the fight between Villeneuve and Schumacher and this they agreed to do.''
In another issue, the council ruled on another incident from the European Grand Prix. Michael Schumacher was the point leader heading into the race. Jacques Villeneuve was second. Villeneuve needed to finish in the top six, and higher than Schumacher to win the championship. Late in the race, Villeneuve made a move on the race leader, Schumacher. Schumacher came down on Villeneuve. After the two drivers touched wheels, Schumacher ended up stuck in a gravel trap. Villeneuve went on to lead all but the last third of a lap in the race (when the two McLaren cars passed).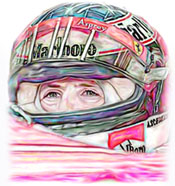 Michael Schumacher
The council gave Schumacher what is considered to be a mild penalty for the incident. The council stripped Schumacher of his second place finish in the World Driver's standings. They also ordered him to participate in a "safe-driving" campaign for next season.
The penalty was considered light as many early reports estimated the former champion would pay as much as $2 million for the incident. Schumacher earns $25 million annually.
The decision mixes the final standings. Williams' driver Heinz-Harald Frentzen moves up to second place. McLaren's David Coulthard and Jean Alesi of Benetton end the season tied for third.
Terry Callahan -- The Auto Channel
Editor's Note: The images displayed in this article (plus many more drawings) can be viewed in the Visions Of Speed Art Gallery.