---
The Callahan Report: Ruttman Wins in Vegas, Sprague is New Truck Champion
10 November 1997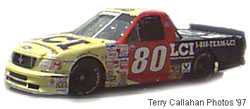 Joe Ruttman
LAS VEGAS, NV: Joe Ruttman should be heading for the tables in this gambling desert town. Luck is on his side. For the fifth time this season, Joe Ruttman won a NASCAR Craftsman Truck series race. Today's win came due to the "bad luck" of Rick Carelli who ran out of fuel with three laps to go in the race.
Carelli had a five second lead on Ruttman with four laps remaining. His truck sputtered and he was forced to drive into the pits. His crew had failed to get all the fuel into his Chevrolet truck on the previous pit stop. He needed an extra half gallon to make it to the finish. Carelli has not won since June of 96. Carelli rejoined the field after his stop. He finished sixth.
It was the second consecutive victory for Ruttman. He and teammate Chuck Bown finished first and second at Phoenix last weekend for owner Jack Roush. Ruttman was as surprised as anyone. He said, "I was flabbergasted. I don't know what to say.
Ruttman was the lap leader when it counted. He took the lead on lap 173 in the 175 lap race. He beat the new NASCAR Craftsman Truck series champion, Jack Sprague, to the line by 1.5 seconds. Ruttman's average speed was 125.8 mph.
Ruttman moved to Jack Roush's LCI Worldwide Telecommunications Ford team last season. Racing luck wasn't on the team's side, as on-track incidents at both New Jersey's Flemington and New Hampshire International speedways cost Ruttman what appeared to be victories. Ruttman has made up for that this year with five truck victories.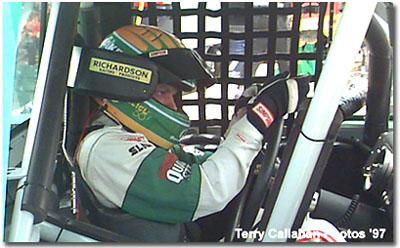 Jack Sprague, 1997 NASCAR Craftsman Truck Champion
Sprague nearly had the championship sewed up last weekend. All Sprague needed to do was start the race. The point battle was close until series runner-up, Rich Bickle, blew an engine last weekend. Bickle's problems gave Sprague the biggest margin of victory in the series short history. Sprague won the championship by 232 points over Bickle.
In 26 truck races this year, Sprague had three victories, six second place finishes, and two third place finishes. He was in the top ten a total of 20 times. Sprague is a NASCAR Busch Series veteran of more than 70 starts and winner of nearly $250,000, prior to 1997.
Rounding out the top five were Ron Hornaday (Chevrolet), Jay Sauter (Chevrolet), and Mike Bliss (Ford).
The most serious incident in the race involved seven trucks on lap 75. No one was injured. In all, sixteen trucks failed to finish the race.
Terry Callahan -- The Auto Channel
Editor's Note: Images displayed in this article (plus many more) can be viewed in the The Nascar Image Gallery from The Callahan Racing Page.