---
The Callahan Report: Craftsman Trucks - Ruttman Wins; Roush Trucks Finish First and Second
2 November 1997
PHOENIX, AZ: Joe Ruttman drove the LCI Ford Truck to victory for the 4th time this season today in the running of the NASCAR Craftsman Truck Series race at Phoenix International Raceway. Ruttman took the lead when series points leader, Jack Sprague pitted for fuel on lap 131. Ruttman held the lead for the final 56 laps.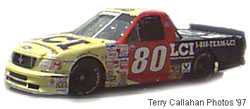 Joe Ruttman
Chuck Bown, Ruttman's Roush Racing teammate, finished in second place. Bown crossed the line about eight truck lengths behind Ruttman (0.419 seconds). Ruttman's average speed for the race was a new record. He ran the 186 laps (300K) at a speed of 103.492 mph.
Ruttman and Bown used the same pit strategy. Both drivers stayed on the track during a caution period when most of the other contenders pitted for fuel. The two were able to nurse their fuel mileage earning the top two spots for team owner Jack Roush.
With the series championship on the line, Sprague was not about to take a chance on running out of fuel. His closest competitor, Rich Bickle, was already having engine problems. Sprague commented, "I don't know how those guys made it on fuel. I know we didn't want to try. We had too much riding on it."
Sprague charged home to a third place finish. He has been on a roll lately winning the last three truck races. His high finish all but clinched the series title. All Sprague needs to do to take his first ever Craftsman Truck Series title is start the next race. Sprague leads Bickle by 177 points heading into the final race of the season at Las Vegas Motor Speedway. Bickle's engine problems resulted in a disappointing 18th place finish today.
Sprague said, "I can sleep now. It's been tough. The first half of the year wasn't too awful good for us. The second half has been real good for us.''
The top ten finishers at Phoenix were:

 1. Joe Ruttman
 2. Chuck Bown
 3. Jack Sprague
 4. Kenny Irwin, Jr.
 5. Rick Carelli
 6. Mike Wallace
 7. Jay Sauter
 8. Butch Miller
 9. Ron Hornaday
10. Mike Bliss


Terry Callahan -- The Auto Channel
Editor's Note: Images displayed in this article (plus many more) can be viewed in the The Nascar Image Gallery from The Callahan Racing Page.