---
The Callahan Report: Tracy Quickly Finds a New CART Ride
16 October 1997
INDIANAPOLIS: If you are a driver on the Championship Auto Racing Teams (CART) circuit, it is time to get your resume ready. Paul Tracy was fired just under a week ago by CART power owner Roger Penske. Tracy's resume spoke for itself. He has already landed a new ride for the 1998 season with Team KOOL Green based in Indianapolis.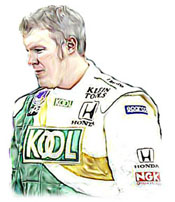 Paul Tracy
Despite placing fifth in the competitive CART series this year, Tracy was released from the final year of his contract with Penske Racing. His teammate, Al Unser, Jr. is being retained by the team, despite not winning a CART event since 1995.
Being fired by Penske is nothing new to Tracy. He began driving for Penske in 1993. He was released at the end of the 1994 season. He was quickly hired to drive for Newman/Hass racing and beat his former owner on several occasions. That scenario could be replayed again. Tracy joins a team that is used to winning. Team KOOL Green didn't visit victory lane this season with Parker Johnstone as the driver. Team owner Barry Green, however, was the driving force behind Jacques Villeneuve's 1995 CART championship and Indy 500 victory.
Tracy's 1997 CART campaign included three victories (Bosch Spark Plug Grand Prix, Rio 400, and the Motorola 300). Only two drivers matched or beat Tracy's performance in 1997. Mark Blundell also had three wins. Alex Zanardi, the 1997 CART champion, took five wins on the year. By the end of the season, Zanardi was the only driver to have more laps than Paul Tracy.
Tracy was able to maintain his fifth place in the season point standings despite missing one event in 1997. Tracy was diagnosed with a case of vertigo the weekend of the Detroit Grand Prix. He was not cleared to drive in that event.
The late part of the season may have been the beginning of the end for the Tracy/Penske relationship. After his three race winning streak, Tracy found himself in a slump. He could do no better than a fourth place finish at the U.S. 500. On three occasions, Tracy completed one lap or less.
Team KOOL Green will be a two car team in 1998. Tracy will join rookie sensation Dario Franchitti as part of a formidable two car team. Franchitti drove for Hogan racing until the last event of the season. He was replaced by Robby Gordon at the Marlboro 500 in Fontana after his agent contacted Hogan saying Franchitti would not be back for the 1998 season. Hogan responded by firing him effective immediately.
Tracy brings an impressive resume to the team. He has 13 victories on the CART circuit. Penske has replace Tracy with Andre Ribeiro who is a winner. Ribeiro's resume has a way to go before it catches up with Tracy's.
Parker Johnstone
Parker Johnstone, who was paid $1 million to drive for Team KOOL Green this year, is working on his resume. Johnstone finished a disappointing 16th in the season point standings. Johnstone was one of the original test drivers for the Honda engine program. He also is a former IMSA champion. Johnstone's biggest claim to fame was in the 1995 Michigan 500 where he won the pole and led the early parts of the race. His best CART finish was a second, in 1996.
The CART job applications will continue to fly as the off season continues.
Terry Callahan -- The Auto Channel