---
The Callahan Report: First Round of SCCA Champs Crowned at Mid-Ohio
11 October 1997
LEXINGTON, OH: For nearly 700 competitors from across the United States, the racing season is culminating with one final event at the Mid Ohio Sports Car Course. The Valvoline Runoffs presented by NAPA Auto Parts is underway. The series will crown champions in 23 classes this weekend. The first seven championships were earned on Friday, October 10.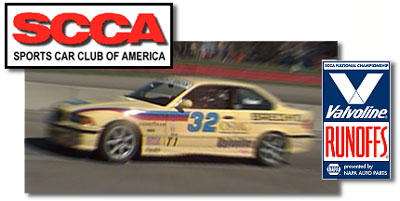 SSA (Showroom Stock A): In the Showroom Stock A class, Jeff Altenburg of Catonsville, Md. drove his BMW 328 to victory. Mark Youngquist came across the line in second place but was later disqualified. The on track battle was a heated one.
Altenburg said, " I came out of carrousel and I missed third gear. I knew he was going to get by me. Then we got through chicane side by side, but it's hard to pass on the outside." He continued. " That's one of the best races I've ever had."
SSA Top Ten with finishing position, (starting positon), Driver, Hometown, Car Make/Model:
1 (1) Jeff Altenburg, Catonsville, Md., BMW 328
2 (5) Bob Allison, Lancaster, N.Y., VW Corrado
3 (3) Terry Coates, Delaware, Ohio, VW Corrado SLC
4 (4) Kjell Skavnes, Rockaway, N.J., Honda Prelude
5 (7) William Harrison, Newport Beach, Calif., Honda Prelude
6 (9) Tim Brecht, Escondido, Calif., BMW 328i
7 (10) Fred Fiala, Sarasota, Fla., VW Corrado
8 (8) Bob Henderson, Honeoye, N.Y., BMW 328is
9 (6) Jerry Spangler, Columbus, Ohio, BMW 325i
10 (12) Wayne Nonnamaker, Massillon, Ohio, Mazda MX-6
HP (H Production) Class: Adam Malley drove a Honda Civic to his national championship in the HP class during competition at Mid Ohio. He won by almost 15 seconds over Brian Linn of Hermosa Beach, CA in a Sprite. Malley took the lead on lap seven. He went inside of Linn in turn one and never looked back.
Malley talked about his car and his plans for next year. "This was my buddy (the car). It was my high school car. I Changed from Hoosier tires to Goodyear tires and the car started to come around to me. I would have been happy to see second. I'm changing this car to GT-5 next year."
HP Top Ten with finishing position, (starting positon), Driver, Hometown, Car Make/Model:
1. (2) Adam Malley,Conyers, Ga.,Honda Civic
2. (3) Brian Linn,Hermosa Beach, Calif,A-H Sprite
3. (6) Ron Bartell,Madbury, ,A-H Sprite Mkll
4. (1) Steve Hussey,Los Gatos, Calif.,A-H Sprite MK l
5. (7) Raymond Yergler,Ankeny, Iowa,MG Midget Mkll
6. (9) Debbie Schreiner,Broken Arrow, Okla,Midget Tuna 4
7. (5) Randy Canfield,Gaithersburg, Md.,A-H Sprite
8. (16) John Bolehala,Pottstown, Pa.,A-H Sprite
9. (12) John Salisbury,Gurnee, Ill., A-H Sprite Mkl
10. (13) Phil Chiles,Hopkinsville, Ky.,A-H Sprite
GT2 (Grand Touring 2) Class: The GT2 race was one of the most exciting battles of the day. The race was not deciced until the final lap. Duane Davis used his Toyota Celica to hold off a determined Jim Blakewell in a Porsche 914-6.
Davis took the lead on lap seven but Blakewell stayed within two seconds of the Cama, WA driver untill he got behind lapped traffic on the last circuit. Blakewell made a move to the inside on the straightaway, but it was too little too late. Davis won by a mere 0.367-seconds.
Davis said "The whole track was really slippery from the previous session. Jim really had me worried! This is my fifth championship in GT2, 10th overall." Davis talked about his on track problems saying, "First off, all our radios quit at the very beginning and we didn't have any communication. I started loafing, I didn't know Jim was catching me until one of my guys on pit wall was giving me "get going" sign! I was giving it all I've got, he was coming on strong."
GT2 Top Ten with finishing position, (starting positon), Driver, Hometown, Car Make/Model:
1. (1) Duane Davis, Camas, Wash. , Toyota Celica
2. (4) Jim Blakewell ,Oklahoma City, Okla., Porsche 914-6
3. (6) Gus Rosenberg , Lebanon, Pa. , Porsche 911
4. (8) Rick Mancuso , Lake Forrest, Ill., Ferrari 308 GTB
5. (7) Chick Misura ,Boulder, Colo. ,Porsche 914-6
6. (10) Dick Greer ,Columbus, Ohio ,Mazda RX-7
7. (12) Michael Kalellis ,Mountainside, N.J., Pontiac Fiero
8. (14) Tony Giordano , Overland Park, Kan., Nissan 280Z
9. (13) Roger Welling , Downingtown, Pa., Nissan 280ZX
10. (11) Ned Yeaton , Delray Beach, Fla.,Jaguar XKE
Other Championships decided to day were Formula Atlantic, E Production, Touring 1 and C Sports Racer. The top three in each class are listed below with finishing position, (starting positon), Driver, Hometown, Car Make/Model:
Formula Atlantic (FA):
1. (1) Steve Forrer,Mequon, Wis.,Ralt RT-40
2. (6) Shawn Bayliff, Lima, Ohio, Ralt RT-40
3. (3) Kevin Firlein, Columbia, Md., Ralt RT-4
C Sports Racer (CSR):
1. (1) Chuck Billington, Modesto, Calif., Tracer TR2
2. (3) Jeff Miller, Plymouth, Wis., Wynnfurst
3. (6) Don Doyle, Orange Park, Fla., Lola 89/90
E Production (EP):
1. (2) Pratt Cole, Salt Lake City, Utah , Mazda Miata
2. (3) Bob Boig, Medway, Mass., Mazda Miata
3. (8) Sam Halkias, Westerville, Ohio, Triumph TR-6
Touring 1 (T1):
1. (4) Philip Lasco, Fenton, Mich., Ford Mustang
2. (6) Douglas Gamble, Escondido, Calif., BMW M3
3. (1) Bob Endicott, San Pedro, Calif., Honda Prelude
Terry Callahan -- The Auto Channel