---
The Callahan Report: Giaffone Fastest In First Round At Las Vegas
9 October 1997
LAS VEGAS, NV: Rookie Affonso Giaffone was the fastest in the first round of practice for this weekend's IRL race in Las Vegas. He toured the speedway at 202.954 mph. Giaffone, of Brazil, started 23rd here last year and ran to a top ten finish. He was the highest finishing rookie. He is still considered a rookie this season due to his limited schedule last year.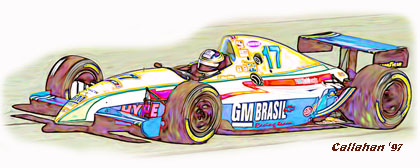 Affonso Giaffone
Giaffone commented, "After we destroyed the primary car here testing, we put this one together and it just works. We got lucky."
Rookies hold three of the top five spots during the first round. Jimmy Kite, driving for Andy Evans and Team Scandia, was second fastest with a speed of 202.832 mph. Kite is an open wheel star who cut his teeth on the short tracks driving midgets and sprints.
Kite talked about his practice run, ""We came here to do three things: Have fun, enjoy the race and run an IRL race (meaning finish). Doing 185 is just as much fun as doing 202. The team is so laid back, I'm really enjoying myself" said the young rookie. "Up until Monday, we didn't know if we were going to go racing. We made the decision Monday that we were going to run in two or three days. The first two races, I felt like I had to prove to everyone that I should be here. I have and now I'm really having fun."
Another rookie in the top five is Jeff Ward. He is a motorcyclist turned open wheel racer. Ward was the rookie of the year at the Indianapolis 500 in May. He earned that honor by leading the race in the late going. He remained competitive and had a top five finish at Indy.
Tony Stewart, who was fifth fastest today, said "It's just practice. It doesn't pay anything. We're just running both cars to make sure everything is okay. We'll try to go faster next session. If I didn't have any changes to make, I'd be ready to qualify. Everything is different this year. We've got different cars and different motors."
Stewart is in a heated battle with Davey Hamilton for the IRL championship. Hamilton barely made it into the top ten in the first practice session. Hamilton said, "We're gonna be good. It was a good session for us, even though we didn't get in many laps. There's more time now and we're going to pick up on our speed. The cooling conditions are going to make everybody go faster because they'll keep the motors running cooler and it gives you more downforce."
The second annual IRL race at Las Vegas will be run Saturday night at 10 P.M. (ET). The race will air on ABC television on Sunday afternoon.
The top ten practice speeds are listed below:

1.  Giaffone, Affonso,  D/A/G, 202.954
2.  Kite, Jimmy, D/A/G, 202.832
3.  Salazar, Eliseo, D/A/G, 202.604
4.  Ward, Jeff, D/A/G, 202.589
5.  Stewart, Tony, G/A/F, 202.558
6.  Goodyear, Scott, G/A/F, 202.103
7.  Guthrie, Jim, D/A/F, 201.718
8.  Luyendyk, Arie, G/A/F, 201.696
9.  Lazier, Buddy, D/A/F, 201.673
10. Hamilton, Davey, G/A/G, 201.147

G = G Force chassis
D = Dallara chassis
A = Aurora Engine
I = Infiniti Engine
G = Goodyear Tires
F = Firestone Tires

Terry Callahan -- The Auto Channel