---
The Callahan Report: Ruttman Takes Second NASCAR Supertruck Road Course Win
6 October 1997
SONOMA, CA: Joe Ruttman only had to race for one lap as the leader of the NASCAR Craftsman Truck Series race at Sears Point Raceway today. He inherited the lead from Dave Rezendes who crashed while leading with a handful of laps remaining. Ruttman held off a determined Tom Hubert for the victory.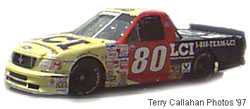 Joe Ruttman
Ruttman had already settled for second place. He commented about Rezendes' run saying, "He was awful fast. I don't believe I could have caught him, or passed him either."
Ruttman was amazed at his luck as Rezendes lost control and went hard into the tire barriers. Ruttman had to maneuver through all the flying tires as he took the lead for the first time in the race with four laps to go. The battle wasn't over. When the green flag fell after the Rezendes clean up, Ruttman had to go door-handle-to-door-handle with Hubert through several turns. Hubert got a tire off the course and slipped in behind Ruttman for second place.
The amiable Ruttman talked about the last lap dash with a smile, "I was blocking, no doubt about it. I got pretty wide. I was mirror-driving. I've got a wide mirror."
Ruttman has already put the Jack Roush Ford in victory lane twice this year. One of his previous wins was also on a road course (Topeka, KS, in July). Ruttman earned more than $40,000 for today's drive.
Rezendes started the race from the pole and led the most laps. Rezendes talked about his misfortune, "I just got on it too hard and got it loose and I got off the track and one thing led to another. I just wanted to win too bad."
Jay Sauter finished third in the familiar black number 3 Chevrolet. He was followed across the line by Rick Johnson, also in a Chevy. Johnson is a former AMA motocross champion. Rounding out the top five was series point leader, Jack Sprague, in another Chevy.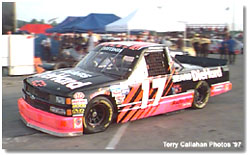 Rich Bickle
Sprague's series points lead was widened to 77 over Rich Bickle with the help of driver Boris Said. Bickle and Said began battling for fourth place with six laps remaining in the race. Said sent Bickle slightly off the track in one corner. Bickle sent Said way off the course in the next corner. Said ran slowly on the track waiting for Bickle to come around again. When Bickle pulled along-side, Said rammed Bickle's Diehard truck sending him to the pastures. Bickle finished the race in 12th place. Look for fines to be assessed in the next few days.
Terry Callahan -- The Auto Channel