---
The Callahan Report: CART's Fittipaldi Says Goodbye to the Driver's Seat
2 October 1997
Greatness is rarely achieved . . . true greatness that is. Emerson Fittipaldi is a rare breed. He has driven nearly every type of open wheel racing machine imaginable. He was a winner in all of them. His racing career was put on hold when he suffered a broken neck in a crash at Michigan International Speedway in 1996. As race fans around the world anxiously awaited his return to the driver's seat, his competitors dreaded the thought. Those competitors can breathe a sigh of relief. Today, Emerson Fittipaldi officially announced he is through driving race cars.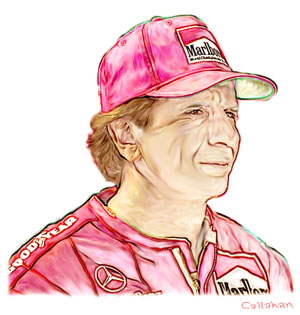 Emerson Fittipaldi Retires From Racing
Fittipaldi's decision was aided by another life threatening incident which occurred last month. Fittipaldi was flying an ultralight plane over his orange grove in Brazil when another piece of bad luck hit him. The plane crashed to the ground. He and his son were stranded for eleven hours. Fittipaldi's back was broken.
At age 50, Fittipaldi has decided it is time to slow down . . . for the second time. After winning two Formula One World Driving Championships (1972 and 1974) and developing his own team in the late 70s, Fittipaldi retired from racing in 1982. The retirement didn't last too long. He made his Indy Car debut in 1984.
I remember his first year at Indy. Everyone knew who he was but he looked to be "over the hill." He was driving around in a pinkish/purple racer with little or no sponsorship. His performance at Indy in '84 was dismal. He started 23rd and finished 32. Just another "has been" that doesn't know when to quit, I thought. Fittipaldi went on to drive in ten Indy Car races in '84. He finished 13th in the point standings. I re-evaluated my earlier thinking saying, "This guy is still good."
Car owner Pat Patrick liked what he saw from Fittipaldi in '84. He hired him for the 1985 season. Fittipaldi's Indy Car career took off. Emmo placed his fully funded (7-Eleven) car in the middle of the second row at Indy. He led four different times. A fuel line broke with twelve laps to go. He finished 13th at Indy. He got his revenge later in the year by winning the Michigan 500.
Fittipaldi quickly became one of the most dominant drivers on the CART circuit. In 1989, he had his "dream season." He won Indy for the first time. It was on that day in May when I realized just how "Great" Fittipaldi was. The '89 race was one of the fiercest battles in history. Al Unser, Jr. and Emmo were battling hard with less than ten laps to go. Fittipaldi had been the car to beat all day but began to have blistering (tire) problems. Unser went by Fittipaldi and started to pull away. With two laps remaining in the race, Unser got caught behind traffic. Fittipaldi nearly drove into the grass on the backstretch as he pulled along side Unser. They went side by side into turn three. Only one car was going to come out. They both knew it. Unser went into the wall. Emmo held on. He won Indy with talent and heart . . . not luck. In victory lane he did what any driver worth his salt is supposed to do at Indy. He cried.
Fittipaldi went on the win five races in his "dream season." He had an amazing 12 "top five" finishes in 15 races. Stats like that will land you a ride with Roger Penske. Sure enough, they did. Throughout the 90s, Fittipaldi drove for Penske. He won Indy for a second time in '93.
Emmo has several business interests in Brazil and the United States. His future business interests may include a racing team. I hope so. Emmo belongs at the track.
Terry Callahan -- The Auto Channel