---
The Callahan Report: Target/Chip Ganassi Hits Bull's-eye
8 September 1997
MONTEREY, CA: Race fans in these California hills saw red today. No ... it was not an angry red ... although there was madness and bedlam. The red clad Target/Chip Ganassi Racing Team fields two cars in the CART series. Jimmy Vasser, driving the number 1 Target sponsored car won the Toyota Grand Prix of Monterey. Alex Zanardi, Vasser's Target teammate, won the much sought after PPG Cup.
Around mid season, Zanardi became the man to beat. It was not a question of who would win the PPG Cup ... rather when would Zanardi clinch the title. The question was answered today. Zanardi held a 38 point lead heading into the race. He only needed to finish seventh place or better to take the title and the $1 million which goes with the trophy. Zanardi finished a conservative third place behind Vasser and Mark Blundell. The only other driver with a mathematical chance at the title, Gil de Ferran, finished fifth. He was never ahead of Zanardi during the race.
Zanardi's closest call came after the checkered flag fell. In an effort to help his teammate celebrate his victory, Zanardi drove along side Vasser. Zanardi took both hands off the wheel to clap for his much deserving stable mate. The two cars touched, causing Vasser to spin out. Zanardi drove on. Vasser caught a ride to victory lane on the sidepod of Max Papis' MCI car.
"Alex took his hands off the wheel to clap or something,"said Vasser. "We just touched and he spun me out. Chip (team owner Chip Ganassi) didn't seem too upset."
Zanardi responded, "I was so happy, I was trying to drive with my knees and clap for Jimmy. I always do that on the motor-way in Italy, drive with my knees while I try to find a station on the radio. This time, it just didn't work."
Jimmy Vasser
Vasser, who won four races last season on the way to the 1996 PPG Cup, has been winless since the U.S. 500 in May of 1996. Today's victory ended a sixteen month victory drought for Vasser. His thoughts were still with his talented teammate. Vasser said, "If I have to give up the (PPG) Cup to anybody, this is the guy I want to give it to."
Standing with Vasser in victory lane, Zanardi commented on the championship, "My life is not going to change, but I'm obviously a much happier man. Now I'm going to enjoy it. It feels great to win this championship and, tomorrow, I'm going to start thinking about all the pain I went through to get here. If you haven't experienced feeling bad, you don't know how good it feels."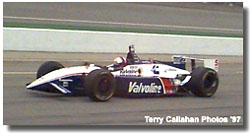 Gil de Ferran
Second place in the PPG Cup race is also wrapped up. Gil de Ferran is the sole owner of the second spot. With one race remaining in the 1997 CART season, no other driver can is close enough to knock de Ferran from second. The Brazilian commented, "We knew it was going to be a longshot (Zanardi not winning). We were counting on the unexpected and the unexpected didn't happen.
Part of winning is being lucky. Zanardi has been the master of luck all season. He has banged wheels all year and usually came out unscathed. Today, there was no racing contact, bu the luck still found Zanardi. With five laps to go, Zanardi was running fifth. He picked up two spots as Scott Pruett and Andre Ribeiro got together. He passes them both. Last week's winner, Mauricio Gugelmin, was also running ahead of Zanardi when he had brake failure. Gugelmin slammed the tire barrier on the last lap.
Zanardi started the race on the outside pole. The polesitter was Bryan Herta. Those two tangled last week at Vancouver. Herta got the worst of the contact and wound up head on into the tire barrier. CART reviewed the incident and place Zanardi on probation for the next two races. He was also assessed a $25,000 fine. In early race action, Herta puled away. Herta was the only driver in the top nine using Goodyear tires. Those tires were fast for awhile. When the pack moved in on Herta, Zanardi was hesitant to make a pass. Pruett closed rapidly on Zanardi behind the slowing Herta. Zanardi decided it was time to make his move. Herta gave a little "payback" on Zanardi's first attempt. He didn't give the Italian any room. Zanardi was forced off the track.
Herta commented on the incident, "The tires went off so bad after 15 laps that I was just driving my butt off to stay ahead of Alex. We were driving straight up and I didn't mean to put him off. My car had no grip and I slid into him."
Scott Pruett and Jimmy Vasser moved in on the rear wings of the battling Zanardi and Herta. They were both able to move around them.
When pit stops came, it was the quick work of Vasser's team which sent him to the lead. Vasser emerged as the leader on lap 26. Vasser never relinquished the lead.
The top ten finishers in the Toyota Grand Prix of Monterey are: 1. Jimmy Vasser, 2. Mark Blundell, 3. Alex Zanardi, 4. Andre Ribeiro, 5. Gil de Ferran, 6. Bryan Herta, 7. Gualter Salles, 8. Raul Boesel, 9. Mauricio Gugelmin, 10. Roberto Moreno.
The CART series will wind up their season at the new high speed facility in California, owned by Roger Penske. The teams will run a 500 miler in Fontana on September 28.
Terry Callahan -- The Auto Channel