---
The Callahan Report: Keselowski Becomes First Time Truck Winner
5 September 1997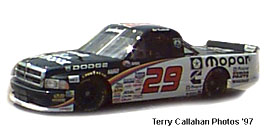 Bob Keselowski
RICHMOND, VA: He came out of the shadows surrounding Richmond International Speedway like a cat in the night. He had never finished higher than fourth. Bob Keselowski looked like he owned Richmond's newly sealed asphalt as won the Virginia Is For Lovers 200. The former ARCA driver gave Dodge its first victory at Richmond in 20 years.
Keselowski, starting from the tenth spot, stayed near the front all night. Just like his truck number, Keselowski waited until there were twenty-nine laps remaining before pulling along side Jay Sauter. He passed and was gone for good. The first time winner won by three seconds. The only difficulty all night for Keselowski was finding victory lane. The new winner had to ask for directions.
Keselowski's race speed was a record 104.227 mph. The race was slowed by five caution flags and showed five different leaders. The winner's share of the purse was $33,175. It was the second victory this season for Dodge. Tony Raines is the other 1997 Dodge winner. Raines was forced to take a provisional start for the this race.
NASCAR Craftsman truck series points leader, Jack Sprague, stayed strong all night and finished second. He increased his lead by 10 points over Rich Bickle. The DieHard truck, driven by Bickle, had another consistent run by finishing fourth. The points battle stays tight with six races remaining in the season.
After a disappointing twenty-fifth qualifying effort, Jay Sauter stormed through the pack to a third place finish.
It is all or nothing for Ron Hornaday. The NAPA Brakes truck qualified for the pole. He was gunning for his eighth victory of the season. Hornaday faded quickly and finished fifteenth.
The NASCAR Craftsman Truck Series stays in Virginia for its next event. The trucks move into Martinsville Speedway for the Hanes 250 on September 27.
Series Points:
Sprague, 3061
Bickle, 2966
Hornaday, 2902
Ruttman, 2887
Bliss, 2715

Terry Callahan -- The Auto Channel