---
The Callahan Report: Gugelmin Gets Well Deserved First CART Victory
1 September 1997
VANCOUVER: Look up the word deserve in a dictionary and you might find a picture of Mauricio Gugelmin. After being so close so often this season, Gugelmin captured his much deserved first victory in the CART series.
Mauricio Gugelmin
To win in the CART series takes talent and some racing luck. Gugelmin has always had the talent and today he finally found the luck to go with it. There were cars faster than Gugelmin's, but that's where the luck came to the Brazilian. Alex Zanardi was clearly the fastest car on the track. Brake problems sent Zanardi off course on two different occasions. He dropped as far back as twenty-third spot but was able to bump and slide his way back to fourth after both setbacks.
Another bit of luck came Gugelmin's way when Jimmy Vasser tapped one of the retaining walls, slightly bending his suspension. Vasser was able to continue but ran a cautious race. Vasser came across the line in second place, just 3 seconds behind Gugelmin.
The last bit of luck for Gugelmin came as a result of dangerous driving. Gugelmin was running a close second place to Team Rahal driver, Bryan Herta. It looked as though the amiable Herta was on his way to winning his first CART event. Alex Zanardi, running a lap down, tried to make a pass on Herta in a spot where Herta clearly had the racing line. Zanardi charged inside and punted Herta aside. Gugelmin's pass for the win was pretty easy as Herta was buried in the tire barrier.
The race was hard fought. Gugelmin was running near the front all day and finally found himself in the top spot with 14 laps remaining. His patience, error free driving, and the pit work of his crew resulted in the victory.
Jimmy Vasser, the defending series champion, is still searching for his first 1997 victory. He led 46 laps today. His second place finish was his best result this season. He has finished third on two different occasions this year. Vasser and Gugelmin were in a heated battle. If it were not for Vasser's brief encounter with the Vancouver concrete, he could have had the victory. Vasser commented about his race, "By running one more lap than I did before pitting, Mauricio had no one in front of him and his in-lap was considerably quicker than mine. I think that was the difference." Vasser continued, "But my troubles started much earlier when I touched the wall while passing Unser and banged up the suspension a little bit. I'm happy with the overall weekend, though. We've gotten our direction back, I think."
Vasser was closely pursued by Valvoline driver Gil de Ferran. The Brazilian is the only driver with a chance to challenge Zanardi for the series championship. Coming into the race, there were five drivers with a mathematical shot at winning the coveted PPG cup.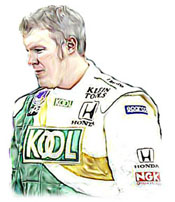 Paul Tracy
Penske driver, Paul Tracy, was one of the drivers still in the championship hunt before today's race. His race today was no longer than the time it takes Bobby Rahal to comb his hair. For the third straight race, Tracy completed one lap or less. Tracy damaged his right front suspension on the first lap. Tracy said, "This is extremely frustrating for me and the team. I got beside Boesel and just kind of ran out of room. I almost flipped again (referring to his upside down act at Elkhart Lake two weeks ago). Tracy continued, " I got up on the side of the car and my helmet almost scraped the wall."
Gugelmin's victory capped off a perfect weekend. Big Mo has been signed (Friday) to continue with the Pac West Racing Team for the 1998 season. His Pac West Racing teammate, Mark Blundell, was also re-signed for next season. Blundell logged his first CART victories earlier this season.
There are two races remaining in the CART season. The next show will be at Laguna Seca Raceway in Monterey, CA. The final race of the season will be staged on Roger Penske's new California Speedway in Fontana, CA.
Terry Callahan -- The Auto Channel