---
The Callahan Report: Greco Get First IRL Pole
17 August 1997
LOUDON, NH: Another new name has risen to the top of the competitive Indy Racing League speed charts. Marco Greco surprised the fans with his first career pole. Greco will start first for the Pennzoil 200 at New Hampshire International Speedway......barely. He nipped Scott Goodyear's speed of 160.567. Goodyear will start on the outside of the front row.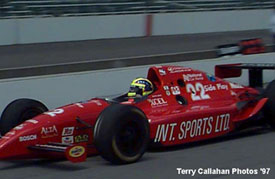 Marco Greco
Kenny Brack and Jimmy Kite also raised a few eyebrows. Brack and Kite, both rookies, will fill the second row for tomorrow's race. Eliseo Salazar and Stephan Gregoire will occupy row three.
There were other surprises. Series points leader Tony Stewart is not near the front. The driver of the Team Menard/Glidden Paints Aurora will start the race from the 14th spot. Stewart holds a slim lead on Davey Hamilton in the IRL championship race. Hamilton will start the race from the twelfth spot.
The slippery track may have caused the curious qualifying scenarios. Scott Goodyear commented, "The biggest thing could be tire management. We're going to see if it's going to be a Goodyear weekend or a Firestone weekend."
The NASCAR Featherlite series ran a support race at the track. Goodyear said, "They put down a different type of rubber; it changes the handling. Everybody is grappling with what changes to make."
Jim Guthrie won the IRL event at Phoenix earlier this year. He is struggling at New Hampshire. "It's been a nightmare.....horrible since we got here. Yesterday, we ran less than 40 laps and never at speed. We've had gearbox and handling problems. We've made a bunch of changes, but we're so far off it's not even funny."
Well, at least Guthrie's comments are funny....He continued, "We need to get on our hands and knees and find the track."
The young Indy Racing League will once again take to track in the Pennziol 200 tomorrow.
Terry Callahan -- The Auto Channel