---
The Callahan Report: Brickyard Practice Begins
30 July 1997
INDIANAPOLIS: The week of speed at Indy has begun. The stars of Winston Cup racing took to the famed IMS asphalt on schedule this afternoon beginning a week packed with racing action. Race fans will be running ragged by week's end trying to see all the action on hand. There are three nights of major action at Indianapolis Raceway Park. The USAC Silver Crown Series will be tonight's big show. The NASCAR Craftsman Truck Series will be featured on Thursday night. Friday night will spotlight the Busch Grand National series. The week ends with the richest prize in NASCAR....the 1997 Brickyard 400.
Prior to the opening of the Speedway for practice, there was an awards presentation for the former winners of the race. Jeff Gordon, the inaugural race winner in 1994, Dale Earnhardt (=9195), and defending champion Dale Jarrett were all presented commemorative bricks for their victories at the Speedway.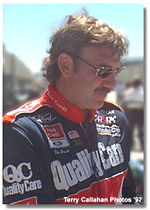 Dale Jarrett: Defending Champion
On the track, Lake Speed was living up to his namesake. Speed wasted no time getting the number nine Melling Engine Parts Ford up to 176.142 MPH. Ken Schrader, Ernie Irvan, and Ted Musgrave were all in the 175 MPH range. Mark Martin, Dale Jarrett, and former polesitter Rick Mast were also in the top ten. Rick Wilson was the biggest surprise early in the practice session. The newcomer turned heads by posting the 8th fastest speed with less than an hour of track time.
Michael Waltrip Contract Extended
INDIANAPOLIS: Eddie and Len Wood, of the Wood Brothers Racing Team, have exercised the third year option of their current contract with driver Michael Waltrip. Waltrip, who originally signed a two-tear contract with an option for a third, is currently in his second season with the Wood Brothers.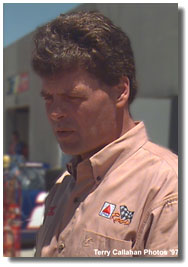 Michael Waltrip
Hoping to stay out of the so-called "silly season," co-car owner Eddie Wood, feels signing up Waltrip now will help them avoid some inevitable late season distractions.
"The rumor mill kicks into high gear about this time of year and we didn't want any part of it," said Wood. "We're very happy with Michael and feel that we're working well together. Our communication is great and we're a better team now than we were last year at this time."
Waltrip is excited about driving a third season with the Wood Brothers and feels the team and the driver are moving in the right direction.
"I think Eddie and Len and the whole team are real focused on doing whatever it takes to be better every week," said Waltrip. "I'm very happy they want me back again and we have a lot to gain by getting ourselves focused on the rest of this year and next. We've proven to each other that we can do the job effectively and if we stay committed, we can reach our goals."
In his first year with the Wood Brothers, Waltrip finished 14th in points with one top 5 and 11 top 10s. Waltrip also scored a dramatic victory at the Charlotte Motor Speedway in The Winston Select. This season Waltrip has five top 10s and is currently 12th in the overall point standings.