---
The Callahan Report: CART Practice Speeds "Wind Aided"; Pruett Grabs "Slow Pole" At 233 MPH
26 July 1997
BROOKLYN, MI: Traffic during practice for the U.S. 500 gave false impressions of things to come for qualifying. Practice speeds were much higher than qualifying speeds. Mauricio Gugelmin set the place on fire in the morning practice with an unbelievable lap of 236.453 mph. When it came time for quailing, he had to settle for a slower 233.493 mph.

Mauricio Gugelmin: Ran 236 MPH in morning practice.
Scott Pruett, driving the Brahma/Ford Cosworth/Reynard, didn't loose much speed. He traveled around the Michigan oval at 234.811 in his practice session. He dropped to 233.857 mph for qualifying. It was good enough to take the pole for the 1997 U.S. 500.
Teammates Raul Boesel and Scott Pruett were third and fourth quick in the early morning practice session (8:00 AM). Boesel turned a lap of 235.664 mph late in the session. Boesel and Pruett found all their speed in a couple of hours. The team never turned a wheel here in testing. Boesel qualified third fastest today with a speed of 232.769 mph.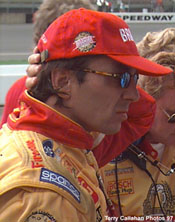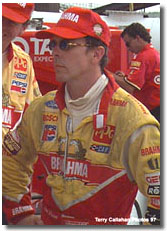 Teammates Raul Boesel (left) and Scott Pruett (right)
Jimmy Vasser, in the Target/Chip Ganassi Racing/Reynard/Honda, improved from the morning session. He was sixth fastest in the morning. He will start the race from the fourth spot with a speed of 232.506 mph.
Vasser verified the morning speeds were "wind aided". He commented, "The car performed about how we expected it to. I'm happy with the time. We had been working on mechanical grip and I think that paid off today. I'm not surprised that the times are slower than practice, because when you have other cars out there with your times pick up because of towing and drafting. Hopefully, we'll have a good car for the race."
Vasser's teammate was somewhat disappointed with his run. "I think we could have been a little braver today. We made some last minute changes to try to improve the car, but I think we left to much downforce. Once you don't get the pole, every other spot is about the same. We've been working hard to find a god race setup so we'll have to wait until tomorrow."
Other notables in qualifying were: Parker Johnstone (5th), Bobby Rahal (6th), Alex Zanardi (7th), Bryan Herta (8th), Andre Ribeiro (9th), and Gil de Ferran (10th). The home track advantage didn't help Team Penske. Drivers Al Unser Jr. and Paul Tracy have had extensive testing here. Unser could do no better than 228.680 mph, good enough for 16th starting spot. Teammate, Paul Tracy was slower. He will start the race from 18th position.
Speeds this weekend will be the fastest for these cars until the final race of the season at California Speedway in Fontana, CA. The 1997 U.S. 500 gets underway Sunday, July 27 at Noon local time.
Terry Callahan -- The Auto Channel