---
The Callahan Report: Blundell Masters Canadian Street Circuit
21 July 1997
TORONTO: The pre race ads were touting Canadian stars like Tracy, Moore, and Carpentier. They were never a factor. It was a driver from across the pond that dominated the Molson Indy in Toronto Canada today. Mark Blundell won the race with a flag to flag charge. It was not a cake- walk. There was wheel banging competition from the drop of the green flag.
For the second time this year, Englishman Mark Blundell put his name atop the scoring tower. He won today's race by a mile compared to his first victory at Portland two races ago. He won today by 0.659 seconds (eight car lengths). His victory at Portland was by four feet. A comfortable margin. Blundell was close to a third victory at Detroit last month before he ran out of fuel a few yards from the finish.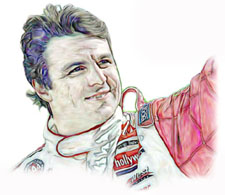 Mark Blundell
The only driver able to challenge Blundell was Alex Zanardi. Driving for Target Chip Ganassi Racing, Zanardi was able to close in traffic late in the race. The discarded rubber from the soft compound tires made it impossible for Zanardi to make an off line pass late in the race. When the traffic was gone, so was Blundell. Nonetheless, the traffic did worry Blundell.
"I'm slightly disappointed with a couple of guys out there," Blundell said. "I built up about a five-second lead and they cost me that lead. One of those guys almost cost me the race." While the traffic jams were Blundell's biggest headache, it was Zanardi's only chance at victory. "That was my only hope," Zanardi said. "I was hoping he would get nervous and try to overtake a backmarker in a place where he shouldn't. But it didn't come. We simply didn't have anything for Mark today."
Andre Ribeiro made a chassis switch from Lola to Reynard a couple of weeks ago. He is looking as good as ever. The Brazilian made a late race pass on Michael Andretti to take over third spot. Andretti, who has won here a record five times including the last two Toronto races, finish fourth. Scott Pruett rounded out the top five.
The most controversial moment in the race came when Canadian favorite Greg Moore tangled with Zanardi as the Italian was exiting the pits. Zanardi had just completed a fast sub eleven second pit stop and charged out of the pits. Zanardi had cold tires and slid on a concrete patch in turn one. He drifted into the right rear of Moore sending him into the barriers, ending the Canadians day.
Moore was very upset after the accident and stepped towards Zanardi's passing car on the ensuing yellow flag shaking his fist. Moore commented later, "Maybe if he backed off it could have been avoided. It was a stupid thing to do."
Zanardi took partial blame for the contact. "I went out with cold tires. I simply could not avoid him. But he could have given me a little more room."
Rookie polesitter Dario Franchitti was emotional yesterday after setting the fast speed for the first time in his career. His emotions did a 180 degree swing heading into the first turn. Bobby Rahal drove along side Franchitti at the start of the race. Rahal bumped Franchitti causing him to spin and stall. The entire field was able to get around without damage. Franchitti was restarted but crashed later in the race.
Paul Tracy continues to be the series points leader. Zanardi moved up to second just three points behind Tracy. Andretti is third in points. He is six points out of first place in the tight points race. The battle will resume at Michigan International Speedway next Sunday with the running of the U.S. 500.
Terry Callahan -- The Auto Channel