---
The Callahan Report: New Names Rising To The Top in CART
20 July 1997
TORONTO: Championship Auto Racing Teams may want to consider changing its marketing package. The series has been touting names like Al Unser Jr. and Michael Andretti for years. That's right.....YEARS. The changing of the guard may be directly in front of us. It is possible names like Franchitti, Zanardi, Moore, Blundell, and Carpentier are about to receive top billing above the first families of racing, Unser and Andretti.
Rookie Dario Franchitti of Scotland broke the track record (105.695 mph) today to grab the pole for the PPG CART Molson Indy Toronto. He did it in an underfunded, un-sponsored car owned by Carl Hogan. Mark Blundell will start along side Franchitti, completing the first ever all Great Brittan front row.
"We've been up against it this year with no sponsor," Franchitti said. "That makes this a little sweeter. I was warned about Carl's hugs, but I didn't know it was going to hurt." Hogan responded "Everybody who knows me knows I'm a very emotional person. But this team has worked hard for it and I'm very happy for Dario. He's a very patient driver; more patient than me."
The old star, Michael Andretti, was fast on Friday with a speed of 104.289 mph. Andretti had dropped to fourth on the grid by the end of qualifying today. Andretti has not sat on the pole for a CART race since Long Beach in 1995 (39 races ago). He holds the record for most poles by active drivers (30). He continues to search for number 31.
Bobby Rahal, who would have to ask for directions to victory lane lately, surprised everyone with his qualifying laps. He will start from the third spot beside Andretti. Al Unser Jr. is searching for victories. He was told by all in the racing community that his ride with Penske Racing would be filled with success. Since joining Team Penske, Little Al has won the Indy 500 and several other races, but he has not come close to matching the success he had before joining the team. Unser will start the race from the seventeenth position. Unser will have a long day trying to advance on the tight track at Toronto. Little Al's Penske teammate, Paul Tracy didn't do much better. Tracy will start mid pack from the fourteenth spot.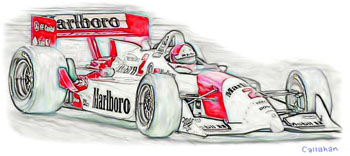 Unser still searching for success.
Other notables: Scott Pruett 5th; Alex Zanardi 6th; Andre Ribero 7th; Greg Moore 9th; Mauricio Gugelmin 10th; and Gil De Ferran 11th.
Terry Callahan -- The Auto Channel