---
The Callahan Report: Hornaday Keeps Winning
20 July 1997
ERIE, COLORADO: NASCAR Craftsman Truck Series driver Ron Hornaday is sponsored by NAPA brakes. Those brakes can stop his truck on a dime. One thing they won't stop is Hornaday's winning streak. The defending champion of the series continued his streak by winning his third race in a row at Colorado today. It was Hornaday's fourth win in the last five races. His win today tied the record for most consecutive wins in the young and popular racing series.
Hornaday dominated the Link Belt Construction race last weekend at Louisville, KY. He led every lap there. Today, he teased the other drivers on the circuit by spreading the leading privileges around. Mike Bliss led much of the second half of the race. Hornaday decided it was time to move. He went high on the track causing Bliss to get stuck behind a slower truck. Hornaday went by and pulled away. The victory was worth $37,200 to the Palmdale, Calif, driver. Bliss came across the line in second place.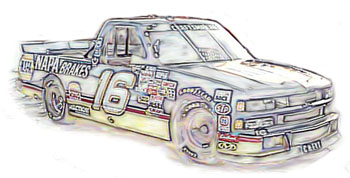 Ron Hornaday
"I wasn't even thinking about three in a row or anything but winning," said Hornaday. "I was really worried on that last restart (lap 237). I'm glad it wasn't with less than 10 laps, because they would have lined up right behind me. I knew that when I cleared (the lapped) Ruttman, they would have to use up their tires trying to catch me."
Series rookie Stacy Compton put on a show late in the race. He showed some veterans how to "bump and run". Compton moved series point leader Rich Bickle and Jay Sauter out of the way with a tap that would make even Dale Earnhardt proud. Compton finished third, followed by Sauter and Bickle.
Bickle continues in the points lead with consistency. Bickle has finished in the top five in eleven of fourteen races this season. He finished fifth again today. Bickle's championship lead increased to 102 points over Jack Sprague. Sprague finished 16th today. Ruttman and Hornaday are third and fourth in the standings.
There was a total of four leaders. They swapped the lead six times. There were 11 trucks on the lead lap at the finish. There were 26 trucks running at the end of the nearly caution free race. This allowed for a record pace of 62.978 mph.
Terry Callahan -- The Auto Channel