---
The Callahan Report: Hornaday Dominates Louisville
13 July 1997
LOUISVILLE KY: Getting through lapped traffic was Ron Hornaday's biggest concern while driving to his third victory in four races. Hornaday guided the NAPA Brakes truck to the lead by the end of lap one and never looked back. It was the NASCAR Sears Craftsman Truck Series champion's fourth victory of the year.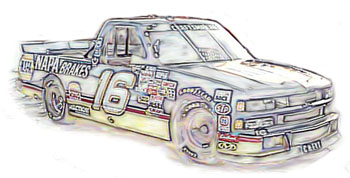 Ron Hornaday
Hornaday wasted little time getting by the all Dodge front row at the small D shaped track. The "on a roll" driver started his number 16 truck on the outside of the second row. He gave front row starter Tony Raines a bump going into turn three on the opening lap, sending the Pennzoil truck high on the track. Raines dropped all the way to seventh before dropping back in line. Hornaday then charged passed polesitter Jimmy Hensley as the trucks headed to the start/finish line.

Tony Raines: Bumped aside early.
The race settled and was a follow the leader parade at the front. Joe Ruttman, driving the LCI International truck, came home in second place. He started the race from the third spot. Jimmy Hensley drove a smart, safe race, bringing the Cummings Eng/Touch 1 pickup across the line in third. Raines made some good passes late in the race working himself back up to fourth at the end.
The event sponsor, Link Belt Construction, saw their truck involved in the worst incident of the day. Young driver Wayne Grubb slammed the Louisville concrete hard. The twenty-year old was taken in an ambulance to the on site care center. Late race traffic allowed Ruttman and Hensley to close on the leader but they could not make a move for the lead on the tight track. The heat (95 degrees air, 132 track) added to the slipping and sliding excitement for the capacity crowd on hand to witness the annual event.
Ten cars finished the race on the lead lap. Rich Bickle, driving the number 17 Sears DieHard truck, improved to fifth from his eleventh place starting spot. Stacy Compton finished sixth. Local favorite Scot Walters drove the Red Man Golden Blend Chevy to a seventh place finish. Jack Sprague, Boris Said, and Mike Wallace rounded out the top ten. Open wheel stars Mike Bliss and Kenny Irwin Jr. finished in thirteenth and eighteenth respectively.
Hornaday's win was the fourteenth of his truck career. He is closing fast on Mike Skinner's record sixteen truck race victories. With Hornaday's recent dominance, he will likely pass Skinner's mark by the end of the season. The Link Belt Construction 225 race at Louisville Motor Speedway marked the halfway point in the 1997 NASCAR Sears Craftsman Truck schedule.
Terry Callahan -- The Auto Channel