---
The Callahan Report: The IRL's Hard Concrete
10 July 1997
Winning the Indy Racing League series point championship is a big headache. The first season for the new series produced co-champions. The series ended in a tie last year between Buzz Calkins and Scott Sharp.
Buzz Calkins, driving for Bradley Motorsports, participated in the open test session at Loudon, New Hampshire this week. Calkins' test session ended when he blew an engine and slammed the wall. The defending IRL co-champion suffered a closed head injury in the incident. Calkins also broke his ankle.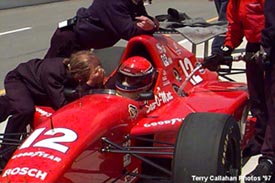 Buzz Calkins
Scott Sharp, driving for A.J. Foyt Enterprises/Conseco, suffered a concussion and a small brain hemorrhage after crashing during practice for this year's Indianapolis 500. Sharp was re-injured during the Samsonite 200 at Pike's Peak International Raceway two weeks ago. Two champions....two head injuries.
The tracks around the IRL circuit have not been kind to many of the drivers. The Foyt team's troubles didn't end with Scott Sharp's bad luck. Johnny O'Connell, substituting for Sharp at Indy, lasted only one day in the Conseco car. He lost an engine and spun in his own oil. O'Connell suffered left foot injuries. Paul Durant was in a third A.J. Foyt car at Indy. He was caught up in a raceday crash. He suffered a broken pelvis.
Jim Guthrie is out with a broken back as a result of a practice crash at Pikes Peak. Guthrie will be out of competition at least six weeks. John Paul Jr. is expected to return to competition at the end of the month. Paul suffered broken bones in his legs and feet during Indy practice.
Davy Jones, driving for Galles/Monsoon racing has been sidelined since January. Jones broke his neck in an Orlando practice crash. He is still recuperating.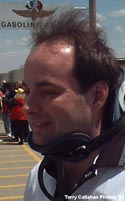 Davy Jones
There have been horrific looking crashes during the season where drivers have walked away and returned to the track minutes later in backup cars. Harmless looking incidents have ended with race drivers taking rides in white vans with flashing red lights.
Despite the many injuries, the drivers in this young series keep coming back. They believe in the series and themselves. Series founder, Tony George also believes strongly in the series. George stated, "I have never regretted starting the IRL. I'm very proud of everyone for all the effort they put into getting this equipment on line on a fast-track program."
The drivers are good. The competition is good. The series is good. Let's just make sure it is safe too.
Terry Callahan -- The Auto Channel