---
The Callahan Report from Indianapolis, May 3
3 May 1997
The Indianapolis Motor Speedway was a wet mass of asphalt and concrete today. Rains kept the track closed.
Opening ceremonies were held under the tower terrace grandstand. Tom Carnegie, the head track announcer at the speedway, was the master of ceromonies once again this year. He stated that he is recovering from major surgeries and that he is thrilled to be back for his 52nd Indianapolis 500.
Mayor Steve Goldsmith greeted the crowd (as is tradition). The 500 queen and her court were also there. The vice president of GM, Aurora, handed the keys for this years pace car to Tony George . Mr. George thanked and welcomed the race fans that had come to the track in spite of the poor weather. He turned the track over to USAC (United States Auto Club) for the month. The Speedway High School marching band played several numbers and the ceremonies were completed.
That was as about as exciting as it got at the track today. Not even the jet air dryers were running. Most drivers and crews were inside their garages staying warm as the temperature dropped steadily throughout the afternoon. The day was declared a washout. The track was offically closed at 2:30 PM.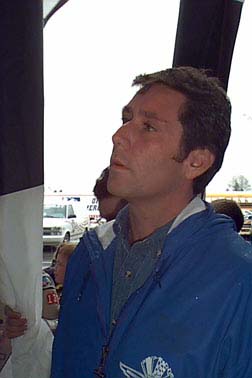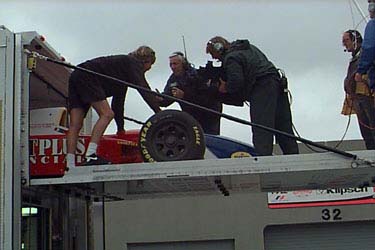 Tony George at the opening ceremonies; Team Cheever's Car Arrives at the Speedway.font size=-1>
Terry Callahan -- The Auto Channel