Ammonia, A Stable Clean Energy For Powering Ships, Studies Begin - Can Autos Be Far Behind?
Mitsubishi Shipbuilding to Launch Technical Studies on Ammonia Fuel Supply System for Marine Engines under Development by WinGD

TOKYO, Jun 05, 2023 - Mitsubishi Shipbuilding Co., Ltd., a part of Mitsubishi Heavy Industries (MHI) Group, has agreed to undertake technical studies on an ammonia fuel supply system for large, low-speed two-stroke marine engines under development by Winterthur Gas & Diesel AG (WinGD), a Swiss designer of large marine engines. The signing ceremony of the memorandum of understanding (MOU) was held at WinGD Headquarters in Switzerland on June 2.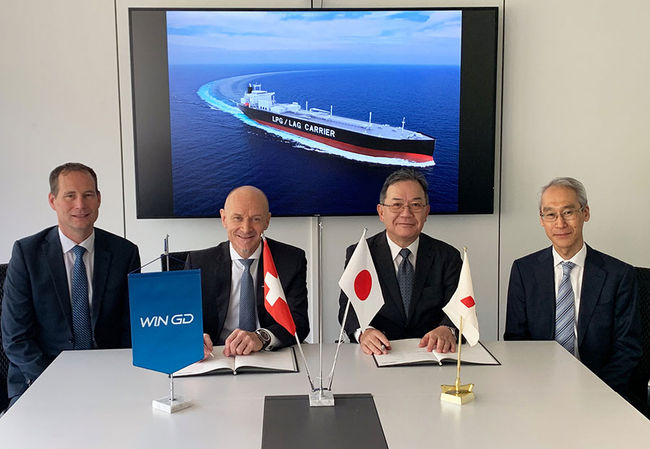 MOU signing ceremony at WinGD Headquarters in Switzerland



The newly concluded MOU reflects both companies desire to contribute to the achievement of the International Maritime Organization's (IMO) decarbonization target in the maritime industry's greenhouse gas (GHG) emissions. WinGD is currently developing ammonia-fueled large, low-speed two-stroke marine engines dubbed type "X-DF-A." Mitsubishi Shipbuilding will now work with WinGD in studying the technologies for developing and commercializing the ammonia fuel supply system for the X-DF-A engines.

Ammonia, which emits no CO2 when combusted, is garnering attention today as a fuel that contributes significantly to the reduction of GHG emissions in the maritime industry, and it is expected to be utilized as a stable, clean energy in the future. Going forward, Mitsubishi Shipbuilding, aligning with MHI Group's strategy of advancement of the energy transition, will apply its technologies and expertise in ammonia handling accumulated through its long history of building transport carriers. As a maritime system integrator, the Company will promote decarbonization of the maritime industry and pursue a low-carbon society, contributing to reduction of environmental impact on a global scale.

About MHI Group

Mitsubishi Heavy Industries (MHI) Group is one of the world's leading industrial groups, spanning energy, smart infrastructure, industrial machinery, aerospace and defense. MHI Group combines cutting-edge technology with deep experience to deliver innovative, integrated solutions that help to realize a carbon neutral world, improve the quality of life and ensure a safer world. For more information, please visit www.mhi.com or follow our insights and stories on spectra.mhi.com.
Construction underway for ammonia-to-hydrogen demonstrator in Birmingham, UK
By Geofrey Njovu on June 4, 2023
Construction is underway for the Ammogen project, a 200kg per day ammonia to hydrogen demonstrator project which received £6.7m in funding from the UK's Department of Energy and Next Zero last year.
Located at Tyseley Energy Park (TEP), a strategic energy and resource hub in the West Midlands, the project will convert renewable ammonia into hydrogen, which will be fed into a co-located hydrogen fueling station.
H2Site will supply its proprietary ammonia cracking technology for the project. The technology features a "unique palladium based membrane technology that can produce fuel cell purity hydrogen in one step using a containerised, modular" reactor. The project will be one of H2Site's first deployment of the ammonia cracking technology.
Other members of the Ammogen consortium include professional services group Gemserv, technical services and EPC provider Equans, ammonia industry giant Yara and the University of Birmingham.
The Ammogen project aims to "improve the efficiency and economics of ammonia cracking" and "position ammonia cracking within UK political thinking". The UK government has committed to have 10 GW of hydrogen capacity by 2030.
Ammonia could be the carrier to unlock green hydrogen and production globally. Gemserv is pleased to be working with our market leading consortium partners and Government in this project and hope to add to both the local community in Birmingham and our nation's drive to Net Zero.

Alex Goody, Gemserv Chief Executive quoted in "Ammogen announces milestone of its ammonia to hydrogen demonstrator site", H2View, 22 May 2023
This innovative project is laying the foundations for the wider hydrogen economy and the path towards a green industrial revolution.

James Graham, Divisional CEO for Equans UK & Ireland quoted in "Ammogen announces milestone of its ammonia to hydrogen demonstrator site", H2View, 22 May 2023
Cracking in the UK
Ammonia cracking technology projects have been gaining momentum in the UK as renewable hydrogen is seen as an important part of the country's future energy mix, targeting a range of applications including stationary power storage, long haul transportation and the maritime industry. Announced projects include:
MIT Looks At Ammonia Fuel
This article is from The Spark, MIT Technology Review's weekly climate newsletter. To receive it in your inbox every Wednesday,
sign up here.
Last Friday, I hoisted myself up a ladder and plopped down into the seat of a bright green John Deere tractor. There wasn't a cornstalk or a soybean sprout in sight—my view through the windshield was a fairly typical parking lot in Brooklyn.
I'd asked to climb aboard the tractor to get a look inside of one of the only vehicles in the world that can run using a surprising fuel: ammonia. The chemical is typically used for fertilizer, but a New York–based startup, called Amogy, is developing technology that can help it power electric tractors, trucks, and even ships. I visited Amogy's headquarters to find out why so many companies in transportation are looking into new fuels, and where ammonia might fit in.
Starting up
Transportation is a huge piece of the climate puzzle, accounting for over 15% of worldwide global greenhouse gas emissions. And while we're making steady progress thanks to electric vehicles, trains, and the like, there are parts of the puzzle that are harder to solve, like vehicles that need to venture long distances or run for long durations without stopping to charge.
The fuel could provide an efficient way to store the energy needed to power large ships on long journeys.
Amogy thinks the key to solving this problem lies in ammonia. It's one of the world's most widely shipped chemicals today, since it's used to make fertilizer. And it's relatively convenient, packing a lot of energy into a small space without weighing too much to cart around.
"What's missing in the market is the way of using ammonia," says Young Suk Jo, Amogy's chief technology officer. "That's what we're developing.
Companies trying to cut their climate impacts in the marine shipping sector are looking to alternative fuels, including methanol and ammonia. Amogy's system could be a better option than combustion engines, though, since it would limit pollution that can trap heat in the atmosphere and harm human health and the environment.
I'll note here that ammonia itself isn't very pleasant to be around, and in fact it can be toxic. Proponents argue that safety protocols for handling it are pretty well established in industry, and professionals will be able to transport and use the chemical safely.
Amogy's systems aren't quite big enough for ships yet. The company is working on one more demonstration that will help it get closer to a commercial system: a tugboat, which it plans to launch later this year in upstate New York.
Eventually, the company plans to make modules that can fit together, making the systems large enough to power ships. Amogy's first commercial maritime system will be deployed with Southern Devall, which transports ammonia on barges today in the US.
Global ammonia production topped 200 million metric tons in 2022, most of it used for fertilizer. The problem is, the vast majority of that was produced using fossil fuels.
For Amogy's systems to cut emissions significantly, they'll need to be powered by ammonia that's made without producing a lot of greenhouse-gas emissions, likely using renewable electricity or maybe carbon capture systems.
According to Amogy's estimates, supply for these low-carbon ammonia sources could reach 70 million tons by 2030. But those projects will need to make it out of the planning stages and actually start producing ammonia before it can be used in fertilizers, tractors, or tugboats.
Related reading
Another thing
There's a lot of money flowing into ocean chemistry. A new initiative called Carbon to Sea is injecting $50 million over the next five years into a technique called ocean alkalinity enhancement. The basic idea is that adding alkaline substances into seawater could help the oceans suck up more carbon dioxide from the atmosphere, combating climate change.