Infineon chip flaws to disrupt Hyundai IONIQ 5 EV production
Deliveries of the model will likely be delayed for more than a year; Hyundai Group is pushing for internal chip production
Special to The Auto Channel
From Korea Economic Daily Global Edition
by Il-Gyu Kim and Hyung-Gyu Kim
Aug 03, 2022
Hyundai Motor Co. is highly likely to suffer a further production delay for its all-electric crossover IONIQ 5 after South Korean industry sources said on Wednesday that Infineon Technologies recently scrapped two months">
The world's top automotive chipmaker has found flaws in its insulated-gate bipolar transistor (IGBT) chips produced between early April and early June of this year and has discarded all the automotive chips manufactured during the period.

The flaws occurred in the process of injecting aluminium-ion into the chips for use in power modules, instead of nitrogen. Aluminium-ion has replaced nitrogen in the advanced manufacturing process of the IGBT chips.

The automotive chips produced in early April were meant to be shipped to Hyundai Motor from the middle of this month.

The IGBT is a core component of EVs. Power modules equipped with IGBT chips are used to manufacture power electric (PE) systems and then PE modules. The IGBT-based PE modules are installed in the IONIQ 5, a mid-size crossover utility vehicle (CUV).


It takes three months to produce an IGBT chip and another month to piece them together to make a power module.
Chip supply disruptions will unlikely be resolved before mid-October and the wait time for IONIQ 5 buyers should be longer than one year.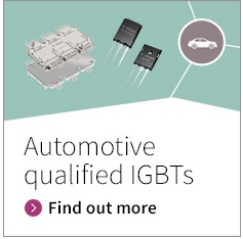 LACK OF ALTERNATIVES
The chip supply disruption will put the brake on Hyundai's plan to accelerate production in the second half of this year.
Hyundai is looking for alternative options to secure automotive chips from other semiconductor companies, including Switzerland-based STMicroelectronics, to prevent production disruptions to IONIQ 5.
It is also trying to shorten the delivery time by transporting chips from global semiconductor makers by air.
But industry insiders said that the EV model cannot avoid the deepening supply shortages.
"We're making efforts to meet the minimum demand," said an Infineon official in South Korea. "The global chip shortage will get worse for a while."
This week, Hyundai gave its dealerships a notification that the order of IONIQ 5 will take more than 12 months as of now, with the chip shortage likely to last longer than expected.
The IGBT lead time, or the time between the initiation and completion of the automotive chip production, was prolonged to 50 weeks, Chinese news outlet Digitimes reported on Wednesday, citing industry sources in China.
It provided no reason for the supply delay.
The IONIQ 5, unveiled last year, is the first car to sit on Hyundai Motor Group's Electric-Global Modular Platform (E-CMP). Its E-CMP cars support fast charging with an 80% charge from empty possible in just 18 minutes, according to Hyundai.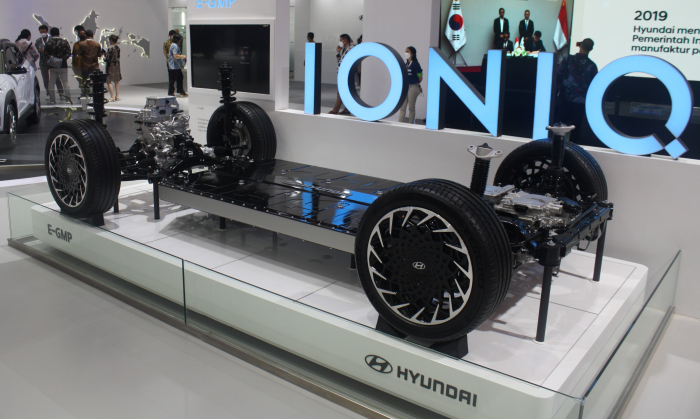 INTERNAL PRODUCTION

To address the prolonged chip shortage, auto parts supplier Hyundai Mobis Co. said at its recent earnings call that it will significantly increase its internal production of automotive chips.

The Hyundai Group unit produces PE systems and PE modules, based on Infineon's semiconductor chips and power modules and deliver the auto components to Hyundai Motor.


"We are working on internal production of chips, particularly, power chips," a Mobis official told the second-quarter conference. "We are looking to develop system-on-a-chip as well."
Power chips are used to control and regulate the power supply in devices. For high-performance semiconductor chips, however, Mobis may continue to rely on major chip suppliers, industry watchers said.
Infineon accounts for 12.7% of global automotive chip output, trailed by the Netherlands-based NXP and Japan's Renesas with 11.8% and 8.4%, respectively.
JULY CAR SALES
Last month, car sales by both Hyundai Motor and its affiliate
Kia Corp.
in the US declined 10.8% to a combined 128,283 units from the year prior.
With automobiles in the US in short supply, Japanese rivals Toyota and Honda also saw a double-digit drop in their US sales during the same period.
By contrast, eco-friendly models performed well. Both Hyundai and Kia posted a 33.2% jump on-year in their eco-friendly car sales to a combined 15,109 units in the US. EVs led the sales growth, up 140% on-year.
In October, Kia is slated to roll out the revamped hybrid model of Niro, which is expected to expand its US market share.
(Updated with more details and correction of the third paragraph: aluminium-ion is not injected into batteries, but into IGBT chips for power modules)
Write to
Il-Gyu Kim and Hyung-Gyu Kim at
black0419@hankyung.com
Yeonhee Kim edited this article.