Biggest Barn Find Ever; Big Red, Ford Motor Company's Turbine Powered World's Fair Concept Truck +Video
Editor's Note. It's hard to imagine that you can lose a 20,000 pound, 96 foot long thing, but that's just what happened. Big Red, a turbine powered rig, was built to be exhibited at the 1964 New York Worlds Fair, (it was, and I saw it then). Turbine power was the over-the-horizon alt power of its day, kinda like fuel-cell electric vehicles are today. Big Red was to show the world that not only could Chrysler power a vehicle with a turbine, so could Ford. After the fair it became a traveling promotion for Ford then bounced from pillar to post, and ended up in a warehouse until it became a recent "Barn Find" by The Drice. I thought you might be interested in reading about it as written by preeminent auto historian Robert Tate. Enjoy.
Special to The Auto Channel
From MotorCities National Heritage Area
By Robert Tate, Automotive Historian and Researcher
Images courtesy of the Ford Motor Company Archives
DEARBORN, MI - Originally Published November 11, 2020: The Big Red concept truck was designed and engineered by Ford Motor Company's Scientific Research Laboratory and styling team during the early 1960s. The 96-foot truck project was put together by Roy Lunn.
The truck was launched on August 28, 1964 around the same time that the Ford Mustang was also being introduced to the public. The concept truck model offered a 600-hp gas turbine engine and could haul two trailers when traveling. It was introduced at the World's Fair in New York City, and visitors enjoyed its great styling and appreciated its engineering.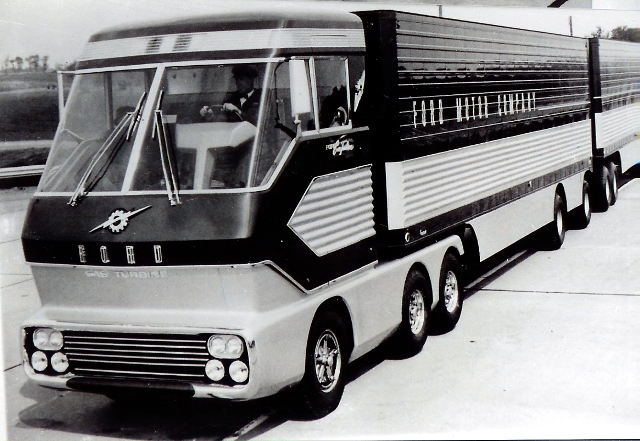 1964 Ford Turbine Truck
The interior of the truck was made of steel and could accommodate two passengers. Its design was based on wind tunnel data and offered an air-ride suspension. A full kitchen with hot and cold running water was included, along with a bathroom and television.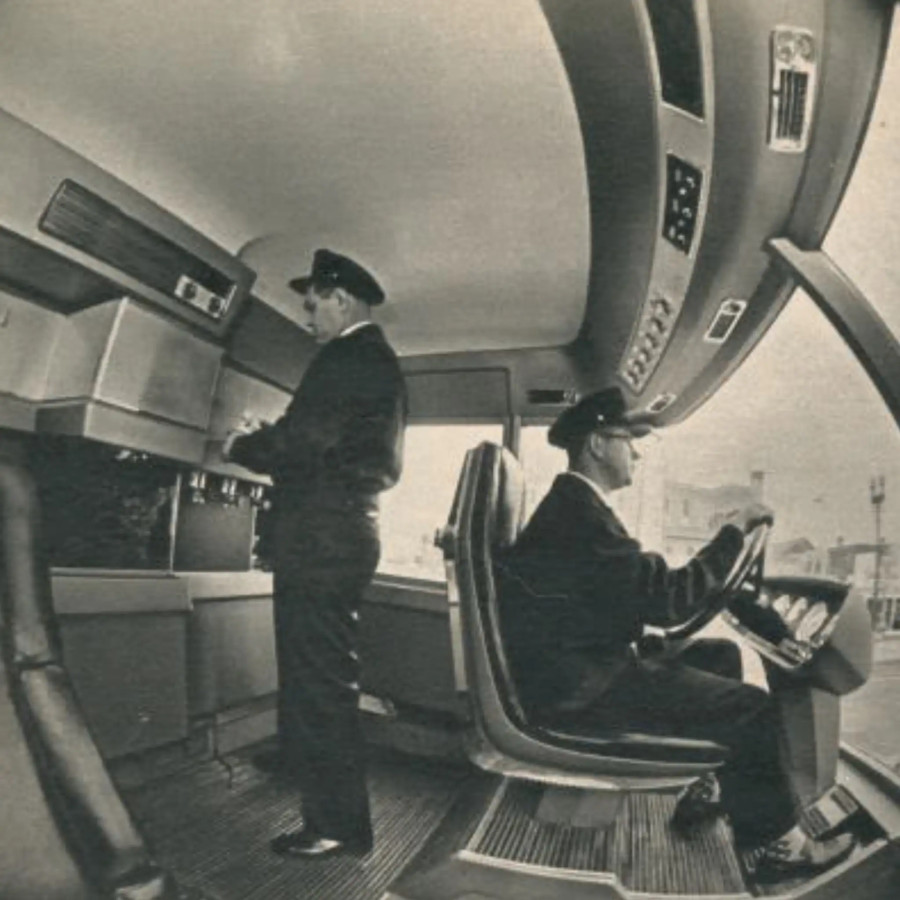 The truck's interior (Ford Motor Company Archives)
The cab design was made of fiberglass, a lightweight material. The fiberglass design was independently mounted and featured on the framework body along with an air conditioning unit for the driver and passengers. The driver or passengers would enter the truck by activating a special switch that would open the door and lower a retractable ladder.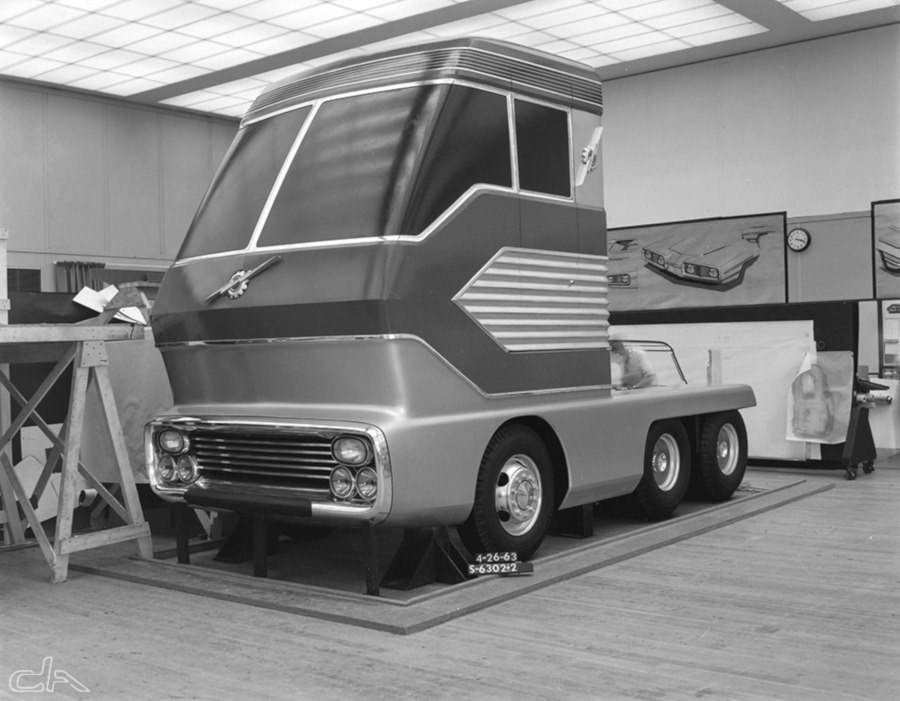 Another view of the truck (Ford Motor Company Archives)
The Big Red concept traveled the country during the early 1960s on a promotional tour for Ford. Big Red was also featured in advertising with the new Mustang.
In 1964, the Ford's highest ranking executives wanted to manufacture the Big Red concept truck. However, there were three problems: 1) the new US environmental regulations, 2) huge production costs and 3) different requirements for gas turbines in different states.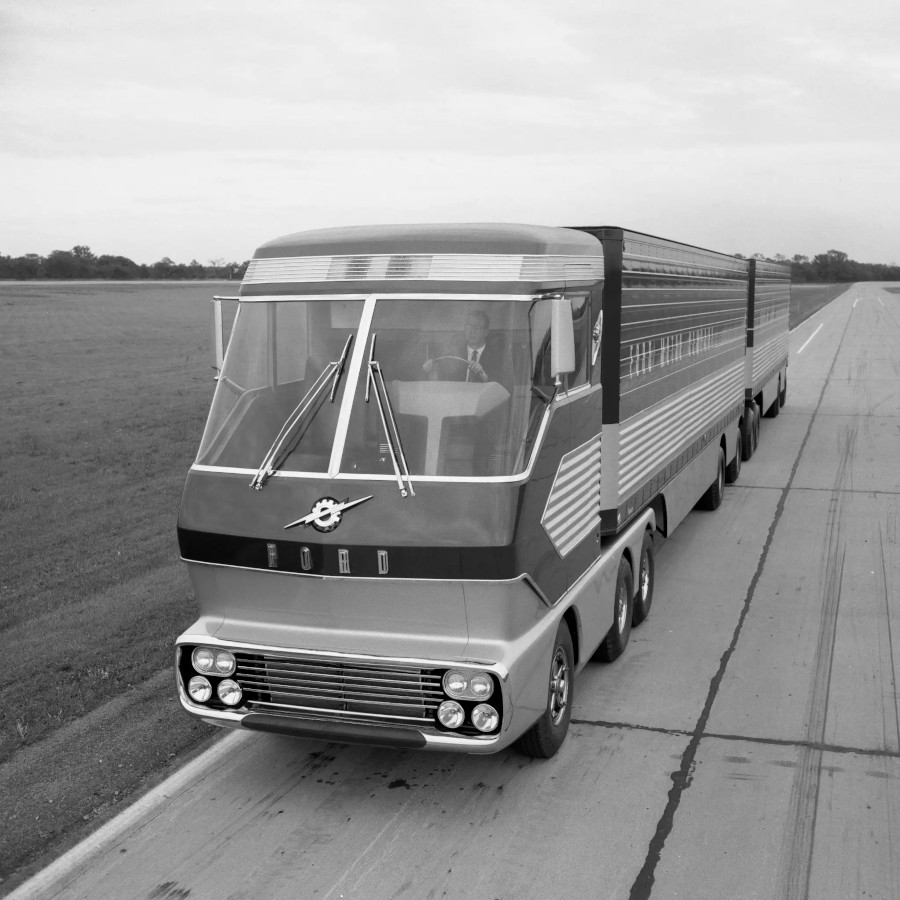 The Big Red Truck (Ford Motor Company Archives)
According to many automotive historians, Big Red was called a super-hauler, an experimental 600 hp gas turbine truck. Designed for the superhighways of tomorrow, experimental truck represented a massive investment and was a research project that Ford engineers thoroughly enjoyed. Ford executive vice president Charles H. Patterson said, "This truck is a concept vehicle from our product research office. It is attest-bed in which advance engineering ideas are proved out in actual over-the-road operation."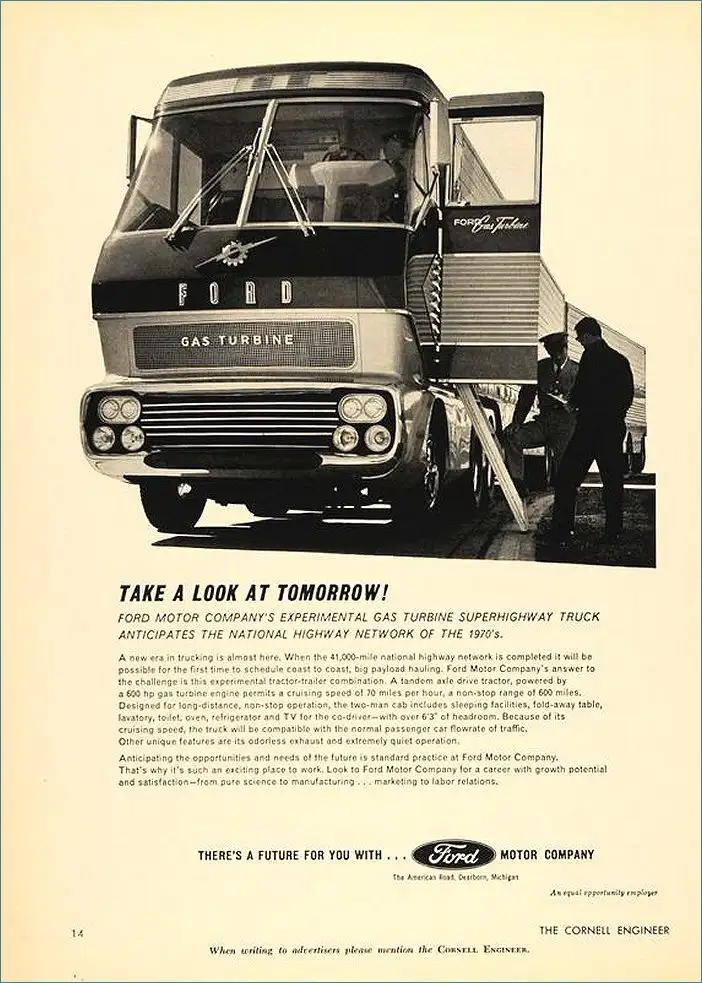 A magazine ad featuring the truck (Ford Motor Company Archives)
When researching the history of Big Red, I was able to find out some interesting information about what happened to the truck. After touring the country for many years and being featured in Life magazine during the 1960s, the concept model was returned to Ford's engineering staff center until the early 1970s. After being in storage at Ford for several years, the truck was later moved to the Holman Moody's storage hanger where it remained until 1978. Ford kept the original turbine engine. Many years later, Holman Moody promoted a huge inventory sale, which included Big Red. The truck was sold to an anonymous buyer and its current location remains unknown.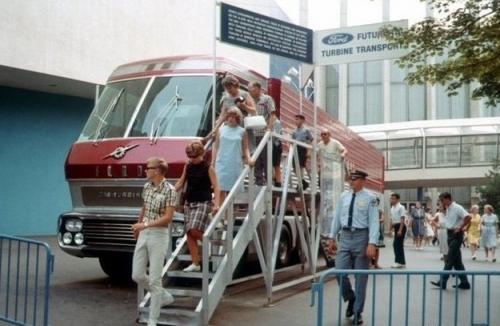 Big Red at the World's Fair in New York City
Bibliography
Wagner, James K. "Ford Trucks Since 1905." Crestline Publishing, 1978.
Kscarbel. "Ford's Futuristic Gas-Turbine – "Big Red." BigMackTrucks.com. July 24, 2013.
Frumkin, Mitch. "Big Red." Old Cars Weekly. December 21, 2007.
Motorcities Facts
What is the MotorCities National Heritage Area?
Mission
MotorCities National Heritage Area is an affiliate is a nonprofit corporation affiliated with the National Park Service. We preserve, interpret and promote the region's rich automotive and labor heritage.
Vision
MotorCities National Heritage Area partnership inspires residents and visitors with an appreciation for how the automobile changed Michigan, the nation, and the world. This rich heritage will be a source of pride for our communities and a positive influence on our region's future.
When was the MotorCities National Heritage Area founded?
MotorCities National Heritage Area was designated by U.S. Congress in 1998 to preserve the cultural and historic landscape associated with the automobile in southeastern Michigan.
What kind of programs does MotorCities National Heritage Area provide?
The programs and activities of the MotorCities National Heritage Area are designed to increase heritage tourism throughout the State of Michigan; develop and deploy educational and informational programs that tell the story of the automobile industry and the labor movement in our region; and encourage revitalization through conservation and preservation.
How large is the MotorCities National Heritage Area?
The regional boundaries cover 10,000 square miles and portions of 16 counties in southeast and central Michigan.
What is in the MotorCities National Heritage Area?
There are hundreds of auto and labor related sites and events in the heritage area. They include museums and historic homes; auto restaurants and shopping; motorsports events; parks, gardens and cemeteries; arts and entertainment venues; libraries and archives; car shows, meets and cruises. It is the largest concentration of auto-related sites in the world.
How can I contact MotorCities National Heritage Area?
200 Renaissance Center, Suite 3148, Detroit, MI 48243
Phone: 313.259.3425
Website: www.motorcities.org