Great Drives; In A Ford GT From London to Folkestone to The Nürburgring to Obsteig to Monaco to Romorantin-Lanthenay to Le Mans to London
Originally Published July 2005
By Richard Truesdell
Senior Editor
Los Angeles Bureau
The Auto Channel
Author's Note: Back in the Winter of 2005, more than 15 years ago, when the stars aligned perfectly, I was given the opportunity to drive the then-new 2005 Ford GT, along with a 2005 Dodge Viper, from London to Maranello and back. If you want to read about how it all happened, it's all here.
Along with one of my car buddies—Matt Malone—we wheeled both cars across Europe, the highlights of which were parking the cars in front of the Ferrari factory in Maranello on a workday just as the production shift was ending. And then, just a day later, driving both cars over the public and the closed sections the famous Circuit Bugatti, at Le Mans. It was a petrol head's dream drive. Back in-period, the story was published more than a dozen times, in more than 10 countries.
Regrets? 2005 was the pre-smartphone era and with the exception of the afternoon at Le Mans, no video exists. Three years ago, when the current Ford GT was introduced, I thought about reprising the story, with the 2005 and 2017 versions of the Ford GT, but I couldn't make the logistics work so it was not to be.
Still, I am so happy to share this with the followers of The Auto Channel. It was, by any measurement standard, the greatest week of my life, the pinnacle of my 20+ year career as an automotive photojournalist. I want to thank Bob Gordon from The Auto Channel for one last chance, 15 years later, to relive the experience that reminded me just how blessed I am and the charmed life that I have been able to live.
Enjoy.
Richard Truesdell
Automotive Traveler Magazine
August 2020
Live The Dream With Me
July 2005; Wheeling a lipstick red Ford GT under the Dunlop Bridge at Le Mans on a glorious afternoon in July, I fully recognized what a charmed life I have led.
Most of us can point to the exact point in our lives when we realize that gasoline rather than blood, courses through our veins and I've always been able to pinpoint that day in my life; Saturday morning, June 20, 1964, when as an aspiring 10 year old car buff, I watched a grainy, flickering black and white image coming from Le Mans, as Phil Hill sprinted across the tarmac and into his Ford GT, the official start of a quest that two years later would find Ford at the pinnacle of performance car pyramid, Total Performance personified.
How I found myself, after driving 2,000 miles over the previous five days, in position to fulfill one of my longest-held childhood fantasies, is something of an epic road trip that brought me to the Nürburgring as well as Maranello, in two elite, American-built sports cars.
Day 1 – London to Folkestone (Tuesday)
This week-long adventure came about due to a chance encounter with Ford's European Public Affairs Director, Paul Harrison, on a flight back in March as I was en route to pick up a Chrysler Crossfire SRT6 while covering the Geneva Show. (Ironically Paul, who I had never spoke to or met previously, had unknowingly turned down my request for a new Mustang for the same trip.) Chatting a bit on the short flight, he planted the seed for a road trip that would use his sole press fleet Ford GT to connect with as many as a half dozen GT40s in museums in the UK and on the continent. Three months later, joined in this hedonistic adventure by my close friend Matt Malone, driving our camera car, a $81,995, 505-horsepower Dodge Viper I found myself approaching Ford's non-descript press garage west of London where Ford's $150,000, 550-horsepower flagship awaited my arrival.
The feeling was just a bit odd pulling into Ford's press fleet garage in a Dodge Viper. Inside we were met by Ford's cordial press fleet manager Paul Wilson, who checked out our "camera car" and gave us a complete briefing on all the dos and don'ts of driving Ford's everyday super car.
After the formalities of the transfer of the car were completed (it dawned on me that I was now personally responsible for some quarter of a million dollars worth of American iron) I let Matt take the first spin behind the wheel of the Ford GT. There was a pragmatic reason for this as Matt had already driven the GT extensively in the US (a close friend already had taken delivery of an early unit) as I must admit to being just a bit intimidated by the thought of navigating Tuesday morning traffic in London in a car with such a huge blind spot. My time behind the wheel in the Ford GT would wait another hour or so.
Our first stop would be about 30 minutes away where we had arranged to visit the first of five vintage GT40s along our route, this one the last prototype Ford GT built (all Ford GTs that followed were dubbed GT40s and were considered "production" versions). We found it stored in the owner's barn (who wishes to remain anonymous), its engine and transmission removed, sitting somewhat forlorn among his vast collection of automobilia, awaiting a time when all components would be reunited and 112 returned to its former glory.
Hidden way in a barn southwest of London lies chassis 112, originally a roadster chassis, it ran once as a works car powered by a 289 V8 at the Nürburgring 1000 KM driven by Attwood and Whitmore. Later rebuilt with coupe bodywork it was outfitted for the road, painted red with white leather trim, a redesigned dash and wind-up windows. It was purchased in 1973 by its current owner, whose engineering firm fabricated race transporters that were used by the GT40 teams. The car now orange, has resided in its current location, sans engine and transmission, since the late seventies, awaiting its turn to be restored.
The car that sits in the National Motor Museum at Beaulieu, chassis 1103 is a MK III road car first sold to Sir Max Aitken in 1969. While some refer to it as the last MK III built, it is actually the last customer MK III delivered as chassis number 1107 has remained in Ford's custody since 1969. Equipped with 302 V8, wider wheels and flared bodywork, 1103 passed through the hands of several owners up until 1980 when it was sold to its current anonymous owner who it is reported passed away recently.
At The National Motor Museum at Beaulieu where we met Trevor Legate, author of Ford GT40: Production & Racing History Individual Chassis Record. He had arranged with the museum staff to have our Ford GT pulled inside the museum where we could park it next to the museum's own GT40, a MK III road car, chassis number 1103. As the museum was packed with school children, Matt and I gave out several rides around the grounds, time that would put us behind schedule but was quickly offset with the grins on the faces of our youthful passengers.
Before leaving the UK, we took an unplanned detour that night to The Ace Café, a popular stomping ground for the nation's petrolhead community. This night was sports car night and arriving in a Dodge Viper and a Ford GT, both cars were immediately ushered to prime spots.
We felt like rock stars but there was a twist. It seems that England's most prominent celebrity motoring journalist had just returned his personal Ford GT to Ford in a snit, complaining of among other things, poor fuel mileage and a malfunctioning alarm. Before the week was out we could safely say that if we had a dollar for every time we were asked if our Ford GT once belonged to (that particular celebrity) Jeremy Clarkson, we would have had almost enough to buy one ourselves. It should be said that our Ford GT, a well-worn example that over the prior year had seen extensive abuse from Europe's journalistic community, performed flawlessly, including its security system.
Day 2 – Folkestone to the Nürburgring (Wednesday)
Because of the wide width and low ground clearance of both vehicles, both Ford and DaimlerChrysler made special arrangements to have both cars shipped as freight. Unfortunately we were just a bit late for our 8 AM reservation and the support vehicle that Ford had provided was delayed an addition half hour. Thus we started out from the French side of the Channel on Wednesday almost 90 minutes late. Our destination for the day would be Ford's Capricorn facility in Meuspath, close to the infamous Nürburgring. Here, all 101 Ford GTs destined for European customers, are being converted to meet local regulations.
At Capricorn, we met Jost Capito who heads up Ford's Team RS and who not only gave us the budget tour of the facility, but had made two important arrangements for us. First, he had one of his Fiesta STs available to drive and second had secured the services of Armin Hahne. With more than 10,000 laps under his belt at the 'ring's Nordschleife - 12.9 miles of challenging tarmac with its 73 turns and almost 1000 feet of elevation changes - Capito was certain that Armin would extend the Ford GT close to its limits.
First Jost took me and two passengers out in the feisty 150-horsepower Fiesta ST and proceeded to illustrate that front-wheel-drive in the hands of a pro, could show its taillights to some far more powerful machinery. Prior to this day, the closest I had ever been to the Nordschleife and its named twists and turns was GT4 on my PlayStation projected on my high-def TV; let me tell you this, it's nothing like the real thing baby.
Swapping seats with Jost I proceeded to attack the track as best I could. With exceptional balance, more than adequate power with brakes to match, I never felt as if I was in over my head. It also quickly illustrated to me that Capito, who once managed the Sauber Formula One team, had a command of the course that I could only dream about.
Next it was my turn to get in the GT's passenger seat with Armin. Quite frankly I had no idea of what I was in for as the gate was raised and we rocketed past the opening cones. After a couple of bends, we approached the first serious turn where Armin, with just three laps on the Nordschleife in the Ford GT under his belt, found the perfect line and was set up to quickly traverse Hatzenbach and drive flat out approaching the Flugplatz. I was watching a true master of car control at work, extracting every last ounce of speed while using every available inch of asphalt, even while sharing the track with suicidal bikers that seems to act as rolling roadblocks, shocked as they were as this car would reel in all but the most powerful bikes manned by the most experienced riders.
Somewhere before the Bergwerk corner, with the Ford GT's air conditioning off, the cabin had quickly become unbearably hot. Sitting in the passenger seat with Armin extracting everything the Ford GT had to muster, by the time we reached the famed Karussell, I thought that I would lose my lunch all over the panoramic windshield.
Hyperventilating, I was able gather myself as we made it through the final corners with their drastic changes in elevation, without incident. Exiting the Galgenkopf, with a full head of steam, I took a glance at the speedometer seeing 160 MPH just as Armin started to slow down to enter the pits. On public days such as this, it's not possible to take a timed lap of the entire circuit but Armin was confident with his experience at the Nürburgring in telling me that he felt that the Ford GT, in its current state of tune and chassis setup would have no problem getting under the 8 minute benchmark and could probably approach the magic time of 7:40.
After regaining my composure, with Hahne in the passenger seat, I set out on my first of two laps. Armin, knowing of both my inexperience with the car and the course, was very helpful in getting me on the right line and while I circulated the course. He said my progress was quick and commented that I had negotiated the difficult Kallenhard to Exmuhle section quite well, especially given that bikes were sharing the road with me. I was pleased as I knew going in, based on my GT4 experience, that this was one of the most technical sections of the course with two elements that concerned me; it was both downhill and off-camber. Knowing that the car had been damaged twice previously, and with 2,000 miles to go, I was content to find the best line and with the exception of the Breidscheid corner, was quite pleased with how I negotiated the section.
By the time I had reached the heavily cambered banking of the Karussell, I felt much more comfortable and confident, giving the car more power in third gear, but knowing full well that an early exit from the corner would spell trouble. Armin's advice gave me the confidence to wrest much more of the Ford GT's potential. By the time I had reached the pits, I felt that I had accomplished one of my life's goals, successfully negotiating what most experts believe to be one of the world's most demanding tracks, in a very powerful car, without bending either me or the car. It was an exhilarating feeling as I was drenched, having sweated off at least five pounds in my three laps circulating the Nordschleife in the GT.
Day 3 – Anderath to Obsteig (Thursday)
With hundreds of miles of unrestricted Autobahns on tap for Thursday, we had high hopes of opening up both the Ford GT and the Dodge Viper but we had to contend with extensive construction en route along with daytime traffic congestion. While we were able to log in several 160 MPH sprints southbound on the A61 leading into a photo opportunity at the Hockenheimring, traffic was just too dense to safely attempt anything faster. As pressure mounts from Germany's powerful Green movement, the days of cruising unrestricted sections of the Autobahns may be numbered.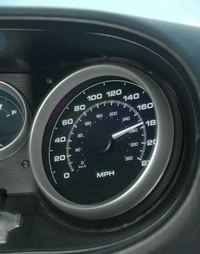 On the A8, just west of Stuttgart we did catch a clear section of autobahn and was able to nudge the Ford GT up over the 180 MPH threshold, within 20 MPH of its claimed top speed. In fifth gear acceleration from 150 to 170 was turbine-like, the supercharged V8 delivering power in a linear, almost effortless fashion, the lack of any drama utterly unexpected. Given enough clear road, we were confident that 200 MPH was within its reach.
In Ulm, Porsche author Adrian Streather joined our group and on the A7 running south from Memmingen to Kempton, we had one final chance at a top speed run. But again traffic, and an uncharacteristic lack of left lane discipline on the part of a bloated S-Class Mercedes, conspired to keep us well under our goal as we ran out of Autobahn approaching the Austrian border. After that we were confronted by rigidly enforced 130 KPH (80 MPH) speed limits for the remainder of the trip.
Day 4 – Obsteig to Monaco (Friday)
Friday promised to be the trip's big day, a run of almost 600 miles from Obsteig to Monaco with a stopover in Maranello, 260 miles south. But before starting we discussed an alternate route over breakfast. The original plan was to head east on the Autobahn to Innsbruck, then head south to Ferrari's hometown for lunch. Looking over the map, we noticed a route that promised a much more scenic alternative.
There was no regret in making the deviation from the original itinerary. While the scenery in Southern Germany was impressive, nothing prepared us for the absolute splendor of Austria's Tyrol region. Lush pastures contrasted with majestic peaks, some, even in late June, capped with snow. Route 186, through the Otz valley rivaled anything any of us had previously encountered in our travels. Those who live here call it the "realm of the superlative" and we would be hard pressed to argue with their assessment of the natural beauty of the region.
When not impeded by traffic, the smooth tarmac gave both cars the ability to attack the road as we climbed to the Austrian/Italian border near the Timmelssjoch Pass. Several tunnels afforded us the opportunity to grab the obligatory shots which also provided an amphitheater to amplify the unique symphonies produced by both cars, the Ford's supercharged V8 more melodic, contrasting with the Wagnerian impact of the Viper's normally aspirated V10.
At the Timmelssjoch Pass we were greeted by two surprises, a toll booth at 8,500 feet above sea level and a herd of wild horses that felt no fear coming right up to our cars. While there was the concern that a hoof might crack the Viper's thermoplastic bodywork or the dent Ford GT's aluminum skin, all behaved themselves well and seemed to pay more attention to the Viper; maybe they were attracted in some way to all the heat which it generated on the climb up the valley.
As soon as we crossed the border into Italy, the condition of the road deteriorated dramatically. It seemed that the road, which traces its roots back to Roman times, hasn't seen much in the way of maintenance since then. The downhill section leading into Merano gave us ample opportunity to evaluate the brakes in both vehicles which can be summed up in the same word the valley's inhabitants use to describe this paradise, superlative. Each switchback required either a downshift or application of the binders yet fade was never remotely an issue.
Arriving in Maranello after 4 PM rather than at lunch time, negating the chance to sit at Enzo's table at Il Cavallino, right across the street from the main gate of the Ferrari factory. It was always part of the agenda to invade Maranello and parking both cars directly across the street from the main gate, we just observed the reactions of those passing by. Initially it seemed that the Viper drew more attention. Maybe it was its classic front mid-engined configuration that had a sort of kinship to classic Ferraris GT roadsters of the mid-sixties. But then again, maybe not.
Just after 5 PM, a horde of Ferrari technicians and mechanics began to emerge from the main gate, all outfitted in their distinctive red and orange uniforms. At first they appeared to be dismissive of both American interlopers but after about 10 minutes something unexpected happened; everyone wanted their pictures taken with the Ford GT as camera phones popped out from everywhere. This, the distant relative of the car that almost four decades earlier, ended the Prancing Horse's run of six consecutive victories at Le Mans, was finally afforded the respect it was due from the Ferrari faithful. It was a memorable scene.
Departing Maranello just after 6 PM, the next stop would be Monaco, 300 miles away. In a car capable of speeds well in excess of 150 MPH, one would thing that the casinos of Monte Carlo were just a two or three hours away. Unfortunately this was not the case. Thanks to a monumental traffic jam and a wrong turn in Piacenza, where we lost more than an hour, we would not arrive in Monaco until 1 AM Saturday morning.
What the delay enabled me to do was to fully appreciate the Ford GT's outstanding abilities as a long distance tourer. While very tired from the day's aggressive itinerary, I never felt fatigued and after a few miles, really felt as if the car was an extension of each of my senses. The seating position was perfect for my 5 foot 8 inch frame. Speeding through the Italian night, I was finally able to take advantage of its excellent McIntosh audio system, its subwoofer bellowing out crisp, clear bass from its home between the seats.
Day 5 – Monaco to Romorantin-Lanthenay (Saturday)
Our stopover in Monaco was all business as Florent Moulin, webmaster of gt40-1012.com had arranged with the Casino Monte Carlo to block off traffic out front so our Ford GT could be posed with chassis number 1012, a 7-liter GT40 MK II. Now owned by Yves Saguato, the car, when posed next to the contemporary Ford GT, clearly illustrated how designer Camillo Pardo had captured the true essence of the purity of the GT40's classic lines, while growing 10 percent bigger in every dimension. Maybe Ford should have called it the GT44?
After our needed photos were in the can, 1012 was pushed into Yves well-equipped trailer (given that 1012 was in full vintage race trim, the thought of starting it up in front of the casino, as much as the throng of admirers would have liked that was never considered as it would wake up those still sleeping in their $1,000-a-night beds), we headed off to the corniche above the city to get what we really came for, tracking shots of both cars together. This afforded us the unique opportunity to capture both cars while getting a limited amount of seat time in 1012, enough to realize that the new Ford GT, while inspired by the GT40, was an entirely different animal. Sitting in 1012's tight yet surprisingly comfortable cockpit, it was impossible to image driving the 427 cubic inch, Holman Moody-equipped monster more than just a few minutes, much less at racing speeds for 24 hours.
Stopping for dinner in St. Etienne, just west of Lyon, France, I was able to catch up on two day's worth of E-mails, this while the rest of the group enjoyed their meal at a reasonable hour for just the first time in five days.
Logging in I noted this E-mail from an unfamiliar address:
Hello,
My name is Christophe Schwartz. I am a collector of FORD V8 cars, living near Paris. I also race a 1968 Torino at vintage events here in France.
I read about your trip on a German Mustang web site. It really looks like a hell of a great experience!
Could I join your Sunday morning convoy to Le Mans with my 1966 Mustang Convertible (don't worry I can follow you guys.)
Best regards,
Christophe Schwartz
I quickly replied, giving him my phone number and just moments later my mobile rang and we arranged to meet the following morning at a hotel with strong links to both Le Mans and the GT40 program.
Day 6 – Romorantin-lanthenay to Le Mans (Sunday)
On Sunday morning we were able to enjoy a leisurely breakfast at a café in Romorantin-lanthenay just down the street from our hotel. The café's owner thoughtfully cleared away some barriers so we could park both cars right in front. With two American sports cars, and speaking English as we did, there could be no doubt that we were Yankees yet like everywhere in France we stopped, the locals were friendly beyond our wildest expectations.
Arriving at the Hotel de France in La Chartre sur Loir, we were met not only by Christophe Schwartz , but by Patrick Dallas, president of the Ford Mustang Shelby Club de France. Christophe invited us to sit down for a meal, availing ourselves of the dining room's outstanding cuisine. Surrounded by decades of motorsports memorabilia, the Hotel de France had served as a base of operations for John Wyer with both Aston Martin (including 1959 when his cars won the 24-hour race with Carroll Shelby at the wheel) and with Ford starting with their first attempt to win the race in 1964.
Patrick produced a scrapbook compiled by the hotel's owner, full of photos of the people and cars who called Hotel de France home on previous sojourns to Le Mans. One photo, dated June 1964 immediately caught my eye, the number 10 Phil Hill/Bruce McLaren Ford GT, parked in front of the hotel. Excusing myself from the table, I went outside and tried as best I could, to position our Ford GT in the same position. The resulting photo served as time travel of sorts, transporting me back to 1964 and documenting the start of Ford's multi-million dollar three-year quest to vanquish Ferrari from Le Mans.
The original plan was to simply drive and photograph the Ford GT on the larger Le Mans Circuit de la Sarthe, which includes some of the public roads that comprise the Le Mans circuit, then photograph 1020, the GT40 on permanent display at the Musee de l'automobile du Mans. And one final time, fate would deal us an exceptional hand. Emerging from the museum, Christophe informed me that he had gained 45 minutes access to the shorter Circuit Bugatti and that the Ford GT and Dodge Viper were already waiting for me in the pits. I simply could not believe how truly charmed my life had become.
Now I had been handed the opportunity to realize one of my fondest childhood fantasies as Mr. Herve Guyomard, soon to retire as track director, had granted us access to this hallowed place. While the circuit has been modernized many times since my first 25-inch cathode ray encounter 41 years earlier, in reality, nothing had really changed. Walking through the pits I could feel the weight of history on my shoulders.
I was at Le Mans, site of many of motorsport's most historic, memorable and sometimes tragic events. Approaching the Ford GT one image dominated my thoughts, the sight of three Ford GT40 MK IIs crossing the finish line together in 1966, ending Ferrari's six-year domination of Le Mans and the start of an uninterrupted four-year run of success for Ford at Le Mans.
Driving around the Circuit Bugatti in the Ford GT, even at 6/10ths in both cars was a great experience, and even though the Viper has enjoyed its share of recent success at Le Mans, this experience, for me at least, was best enjoyed behind the wheel of the Ford GT. From the cockpit, everything was in the right place, with the exception of the steering wheel; GT40 race cars had their steering wheels on the right-hand side, British-style. That small issue aside, navigating the course for several laps went a long way towards giving me a full appreciation of the enormity and significance of the experience as just a few weeks before, this same circuit held host to the 2005 running of the 24 Hours of Le Mans. This was a life-long dream of a 10 year old boy totally fulfilled.
Pulling into the pits, I thought my day was finished but I was greeted by Mr. Guyomard who simply said to me "Go out and do a hot lap…you deserve it." With tears in my eyes and Christophe videotaping the lap for posterity, I tried to collect my thoughts. At 50, I felt as if I was again 10, watching Le Mans for the very first time. If ever one could say life imitated art or had come full circle, two overused clichés, this was such a time. Afterwards I felt a certain sense of melancholy as I unbuckled my harness. Over the previous 2,000 miles I felt as if I had adopted the Ford GT as my very own.
Having spent much time in a variety of Vipers over the past five years, including a similar road trip in an ACR Coupe, I had often said that if I won the lottery, that would be my first purchase, as I felt as if I could live with the beast on a daily basis, and nothing had changed this view over the previous six days.
As raw as it is, the Viper remains a singular driving experience all its own. It's a shame that our English cousins, in the reviews I have read in their motoring press, just don't seem to get it…this is performance, American style, built for our roads, our unique conditions. It is muscular in the same way as classic front-engined super cars from another era, with just enough modern convenience thrown in, like a powerful air conditioning system, to make life bearable as we have grown accustomed to such comfort levels provided by even the most basic $10,000 econobox. My hat is tipped to Dan Knott (Deceased 2012) and his dedicated team at Chrysler's SRT group. All this trip did for me was to whet my appetite for some time this fall behind the wheel of SRT's next creation, the 2006 Viper Coupe.
But the Ford GT, quite frankly, is in another class all together, as befits its almost $70,000 price premium over Dodge's road rocket. While all the refinement it possesses has given it a somewhat subdued personality, initially at least, it is a tiger clothed in one of the most seductive shapes ever to grace a contemporary car.

It does so many things exceptionally well, that with the exception of a complete lack of storage space (even the original MK III road cars provided space for luggage for two for a weekend in Monaco); it's really hard to find any fault with it. Ford has built a car that feels every dollar's worth its $150,000 price tag. From its exceptional poise on the road, competent performance on the track, clever interior details like the dash-mounted switchgear not borrowed from other proletarian Ford products (unlike the Viper's cockpit which raided the Chrysler Group corporate parts bin), to all of the creature comforts expected of a modern super car, it is, in this crazy world of ours, an exceptional bargain, a car with no real competitor in the marketplace. While few of us will have the opportunity to drive, much less own such a car, should the opportunity present itself to you to drive one, mortgage your soul to do it; you won't be disappointed one bit by the experience.
Author's Post Script - Making Dreams Come True
After writing the closing to this story, I started feeling very guilty knowing full well that almost everyone reading it would have faint chance of living their dream. Or would you?
Fantasy fulfillment comes with a price. In the UK there are a number of companies that can put you in the seat of a wide variety of vintage and exotic cars. Some, like Classic Touring (classic-touring.co.uk) and Bespokes (bespokes.co.uk), to name a few, are equipped for short-term rentals starting at as little as £100/$180 per day plus mileage. Just pick your poison, pay up (a credit card with an ultra high credit limit is a huge plus where deposits are concerned) and off you go.
=