Nutson's Auto News Digest - Week Ending June 21, 2020
Last Week's Auto News: Mahindra Does Too Look Like A Jeep; NHTSA Autonomous Vehicles Group; New Models Virtually Revealed; BP Devalues Reserves; New Bronco Reveal Moved To July 13; GM Happy Facing; SUV Walker Killer (Maybe Install Cow Catchers?); UK Green Perks; Lyft Wants You To Pay For EV Implementatioin; New AAA Car Guide; Jeddah To Jeddah Dakar Rally; Dale Jr. Joins Dad In NASCAR H of F; Another Zanardi Accident; RIP Racer Vicki Wood
AUTO CENTRAL CHICAGO - June 22 2020; Every Sunday Executive Producer Larry Nutson, Chicago Car Guy with help from senior editor Thom Cannell from The Auto Channel Michigan Bureau, compile The Auto Channel's "take" on this past week's automotive news, condensed into easy to digest news Nuggets.
LEARN MORE: Links to full versions of today's news nuggets along with the past 25 year's automotive news, articles, reviews and archived stories residing in The Auto Channel Automotive News Library can be found by just copying and then inserting the main headline into the News Library Search Box.
Want more automotive content than our million plus pages?, TV viewers can watch The Auto Channel-TV Network on Hulu, Google, You Tube and of course TUNA Digital Network and Old Fashioned "Free and Clear" OTA (Over the air) TV in Boston and South Florida as well as local cable systems.
Nutson's Automotive News Review - Week Ending June 21, 2020; Important or pithy automotive news, Opinion and back stories in expert-created easy to digest news nuggets.
* U.S. regulators ruled that Mahindra's Roxor off road vehicle violates the intellectual property rights of Fiat Chrysler because it looks too much like an old Jeep. The Roxor is inspired by a version of the Willys Jeep that Mahindra began building in India in 1949. That vehicle has evolved into the Mahindra Thar, sold in India, and the Roxor, an off-road only version for North America. Mahindra said the 2020 Roxor's design has been changed, rendering moot the International Trade Commission's finding that the Roxor violated the "trade dress" rights FCA has to the look of the Jeep Wrangler.
* The U.S. Department of Transportation announced nine companies and eight States that have signed on as the first participants in a new Department initiative to improve the safety and testing transparency of automated driving systems, the Automated Vehicle Transparency and Engagement for Safe Testing (AV TEST) Initiative. The participating companies are Beep, Cruise, Fiat Chrysler Automobiles, Local Motors, Navya, Nuro, Toyota, Uber, and Waymo. The States are California, Florida, Maryland, Michigan, Ohio, Pennsylvania, Texas, and Utah. The AV TEST Initiative will include a series of public events across the country to improve transparency and safety in the development and testing of automated driving systems.
*
As for new product news: The redesigned and all-new 2021 Nissan Rogue broke cover in an online video release. Expected to make its world debut at the New York Auto Show in April, the
world premiere of the new 2021 Lexus IS sport sedan
also took place via video reveal hosted on Facebook. Both will be on sale later this year. The limited-edition Mustang Mach 1 will have 480-HP (there was hope for more) and a choice of a manual or an automatic. Mercedes-Benz USA announced the new 2021 AMG GT 43 variant of the thrilling Mercedes-AMG GT 4-Door Coupe priced at $89,900 and with a 362-hp 3.0-liter inline-6 Turbo engine.
* BP has dropped its long-term forecast for Brent crude oil to a range around $55 a barrel. The previous estimate was $70 a barrel and the price as of Monday was $38 a barrel. BP is writing down its oil and gas assets by as much as $17.5 billion and will review its plans to develop oil wells as the shock to the industry and world demand from the COVID-19 pandemic pushes major producers to consider a faster shift away from fossil fuels. Will cheap oil impact EV sales or will CO2 concerns overrule?
* Ford planed to reveal the all-new Ford Bronco on July 9, which falls on the birthday of Orenthal James "O.J." Simpson. Simpson, a former football star, is known internationally for being in a white Ford Bronco that aired on live TV leading a massive police chase on June 17, 1994, after being charged with murder in the slayings of his ex-wife Nicole Brown Simpson and her friend Ronald Goldman. The choice of the date had left auto industry experts scratching their heads. Some thought it was a mistake. Ford should not want to tie the launch of such an iconic vehicle with a police chase. In the end, Ford claimed the date choice was unintentional and has changed the date to June 13.
* Joe White for Reuters reports at a time when many economists are gloomy about the near-term,General Motors CEO Mary Barra told Detroit Automotive Press Association she is cautiously optimistic - about the economy's ability to recover from the coronavirus, about GM's ability to grow again in China, and about the potential to turn a profit from selling electric vehicles. On that third point, Barra was asked about the view of influential consulting firm AlixPartners that legacy automakers face a "profit desert" as they start selling electric vehicles. Barra disagreed, saying GM's future battery technology and EV product strategy should result in a profitable EV business in China and the U.S. "We don't see a desert." Barra said GM's North American truck plants should be "running full out" soon to keep pace with reviving demand.
* The Insurance Institute for Highway Safety said preliminary data suggest that SUVs, with their squared-up, high-riding front ends, are more deadly to pedestrians than sedans. The auto market is shifting decisively toward SUVs and crossover wagons - globally, not just in the United States. The new concerns about SUVs and pedestrian safety present a challenge to the rugged looking front ends and big grilles that are a fundamental SUV design attribute that inspires consumers to pay premiums to own them. Questions about the safety of taller-riding, heavier SUVs surged in the late 1990s and early 2000s with the Ford Explorer rollover scandal.
* The British government plans to offer special plates emblazoned with a bright green stripe to identify zero emission vehicles. The plates will help EV owners access cheaper parking and get cleared into EV-only zones whenever they appear.
* Ride hailing company Lyft said it wants all the vehicles operating on its platform to be electric by 2030, but it doesn't plan to pay for the switch. Instead, company officials said they would like the government to provide subsidies to help their drivers switch away from internal combustion vehicles. By 2030, electric vehicles could reach cost parity with ICE technology, enabling Lyft or Uber drivers to afford them - especially if tax money is used to accelerate the curve. We think cost parity might arrive by 2025.
* AAA announced the 2020 Volvo S90 luxury sedan has earned the top score in its first edition of the newly released 2020 AAA Car Guide, a consumer resource on the latest and greatest in vehicle technology. The guide provides consumers with reviews based in part on how many advanced driver assistance systems (ADAS) are included in the vehicle as well as a number of other criteria. The majority of the category winners for 2020 are either electric, plug-in electric hybrids or hybrids, signaling that eco-friendly vehicles tend to offer the most cutting-edge vehicle technology. The 175-page guide includes comprehensive, easy-to-read reviews of each vehicle which are based on 13 criteria, including braking, fuel economy, emissions, handling, ride comfort, acceleration and the number of ADAS safety features.
* The "third edition" of the famed Dakar Rally has opened to registration for the famed off-road challenge, which is scheduled for January 3-15, 2021 in Saudi Arabia. Founded in 1978 as the Paris-Dakar Rally, the original route when from the French capital city into western Africa. Insurgency interrupted the run and in 2009 it was moved to South America. After a trial run in the Middle East, officials have announced the 43rd Dakar Rally will launch the "third edition" and will be held in Saudi Arabia, with Jeddah hosting the start and the finish on a "loop course."
* This year's Pikes Peak International Hill Climb is still on for August 30, but will run entirely without spectators. The move is to ensure the health and safety of all involved. "For the first time, the Pikes Peak International Hill Climb will be staged without its loyal, enthusiastic fans lining the course and no one is more disappointed than we are," explains Executive Director Megan Leatham. As well, the annual kick-off event for the weekend's hill climb known as Fan Fest, scheduled for August 28, has been canceled.
* Dale Earnhardt Jr. will join his father in the NASCAR Hall of Fame in 2021, becoming the sixth father-son set to be enshrined. Voters also selected modified ace Mike Stefanik and Red Farmer to join Earnhardt in the Class of 2021. Ralph Seagraves was selected as the recipient of the Landmark Award for Outstanding Contributions to NASCAR.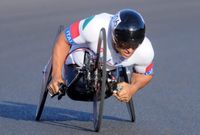 * CART Champion and ex-Formula One driver Alex Zanardi, age 53, is in "extremely serious condition" in a hospital on Friday after crashing into a truck while competing in a handbike race in Italy. Zanardi was racing in the "Obiettivo tricolore" relay in Tuscany, Italy when he lost control of his bike on a downhill run and hit an oncoming truck. Zanardi had both legs amputated in an accident on September 15, 2001, when he crashed at 200 mph at Lausitzring, Germany while taking part in a CART race. He recovered and has become a Paralympic champion. The racer also adapted to prosthetic legs and was back competing in the final race of the European Touring Car Championship at Monza in 2003 driving for BMW.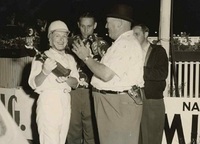 * Vicki Wood was a trailblazer in the macho world of auto racing, among the first women to compete in NASCAR events. She burned up the sand at Daytona Beach, clocking, in 1960, at more than 150 miles per hour and was called "the fastest woman in racing." In the decade from 1953 to 1963, she set speed records. And when she quit racing in 1963, she had collected 48 trophies. From Detroit, Michigan she has died at 101.