2020 Volvo XC90 T8 E-AWD Inscription by David Colman +VIDEO
Exquisite but a little too nanny state-ish
By David Colman
Special Correspondent to THE AUTO CHANNEL
What if you walked into your cell phone store and walked out with a car? Sounds ridiculous, right? Well, if you walk into your Volvo dealer looking for a new car, you're likely to end up buying a cell phone which just happens to have four wheels. Blame this phenomenon on Volvo's 9 inch cell phone tablet called "Sensus Connect Touchscreen." That's right, the company that was first to install standard safety belts, and subsequently spent decades harping on the importance of attentive driving, now demands you divert your eyes from the road to fiddle with this Sensus Connect Touchscreen. Even the simplest tasks, like adjusting the seats or warming the steering wheel require close touchscreen scrutiny and manipulation.
To compensate for these impediments to observant driving, Volvo offers to drive the XC90 for you. At the top of the autonomy parade, we have Pilot Assist, which works in conjunction with Adaptive Cruise Control to provide attendant-free operation. The XC90 will follow traffic at a pre-set distance interval of your choice, slowing as needed and speeding up as well to pass slower traffic. This automated operation is accomplished as long as you use turn signals for lane changes while resting one hand on the steering wheel. Should you loosen your grip completely, the XC90 sounds a sharp warning note before Pilot Assist deactivates.
In addition to the rather enticing and seamless operation of Pilot Assist, Volvo has outfitted their top line XC90 with a complete inventory of semi-autonomous driving features that will lighten your load as operator. "Collision Avoidance" detects the presence of the following impediment groups: vehicle/pedestrian/cyclist/large animal. Small animals are apparently out of luck. There's also standard "Run-Off Road Protection and Mitigation," as well as "Lane-Keeping Aid and Oncoming Lane Mitigation."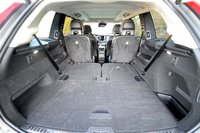 If that extensive support network proves insufficient, there's a bevy of front and rear park sensors to provide bi-directional "Park Assist." The most invasive aid calls itself "Road Sign Information." Volvo has taken a giant leap into Nanny World with this device, which is not content to simply inform you of posted speed limits. Rather, it is empowered to blink whenever you exceed a posted limit. This bit of unsolicited information is so over the top it would be comical if it weren't so annoying.
If you are willing to accept the limitations imposed on your freedom by the foregoing advances in autonomy, you will quickly discover that the latest XC90 is really a lovely vehicle to drive and inhabit.
Our metallic fawn sample exuded Tiffany-quality attention to detail in every way. The interior is palatial but understated. Meticulous wood and leather treatment enhances "Inscription" level Volvos. In the case of this XC90, the "Inscription Features" ($6,300) included a tailored dashboard that could have been stitched on Saville Row, plus powered seat extension cushions for front row occupants.
Second row Captain's Chairs were more like Mate Benches since they lacked armrests. The $3,100 Luxury Package added backrest massaging to both front seats. It also provided heat for the second row chairs, covered the headliner in "Nubuck," and upgraded all 4 overhead grab handles and both front sun shades to full leather. We especially appreciated the understated beauty of the no extra cost "Gray Ash Wood Decor" which replaced the Inscription's standard walnut wood inlays. All in all, the interior of the XC90 is a sanctuary of good taste.
Perhaps Volvo is reticent about the fact that this $86,790 SUV depends on just 4 cylinders for motive power, because there is no mention of that basic fact on the window sticker. But those 4 cylinders, augmented by a pair of electric motors, churn out 400hp and 472lb.-ft. of torque. With an increased capacity storage battery for 2020 (11.6kW-hrs.), this plug in Hybrid will now travel 20 miles on battery power alone. Due to the sheer curb weight of the XC90 (4595lbs.), acceleration is slightly less explosive than you might expect from 400hp. Our test model was equipped with optional "4-Corner Air Suspension" ($1,800), as well as striking "21 inch 8-Multi-Spoke Wheels" ($800) which replaced this model's standard 20" alloy rims. The upgraded wheels were shod with Pirelli Scorpion Verde tires (275/405R21) which provided a rather jarring ride over rough surfaces. Although Volvo's 5 position drive mode array does offer a "power" setting for "sporty driving," there is really nothing sporting about the handling of the XC90, which feels disconnected when pressed hard.
2020 VOLVO XC90 T8 E-AWD INSCRIPTION

ENGINE: 2.0 liter inline 4, turbocharged and supercharged, plus 2 electric motors
HORSEPOWER: 400hp TORQUE: 472lb.-ft.
FUEL CONSUMPTION: 55MPGe/27MPG Gas Only
PRICE AS TESTED: $86,790
HYPES: Exquisite Interior, Spacious 3-Row Cabin
GRIPES: Blinking Speed Alert, Sensus Disconnect
STAR RATING: 8 Stars out of 10