2020 Mazda CX-9 Signature AWD Review by David Colman
The compact SUV with the soul of a race car
By David Colman,
Special Correspondent to THE AUTO CHANNEL
2020 marks Mazda's 100th year building cars in Hiroshima, Japan. To celebrate that anniversary, how about buying a Japanese vehicle that's not only built in Japan, but also equipped with a Japanese built engine and transmission? In this era, when most "Japanese" cars and trucks sold in America (read Honda and Toyota) are made in America, an all-Japanese product like the 2020 CX-9 is a welcome rarity. Our test CX-9, carried a base price of $46,115 for the chic Signature model. This all-wheel-drive Mazda SUV looked show car flashy, with its Parchment Nappa Leather interior contrasting harmoniously with its Soul Red Crystal Metallic paint ($595 extra). Race fans will instantly recognize the striking red of our CX-9 as the color of Mazda's IMSA endurance racing prototypes.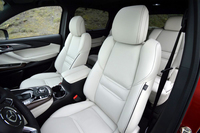 Since parchment is just one grey shade off white, you'll want to be very careful what you eat in this vehicle. If it were a house, this CX-9 would have a sign at the front door reading "please remove your shoes." The Signature line puts a premium on combining good taste with luxury in a mix that comforts you without seeming obtrusive. In this Zen environment, the pair of front seats and second row captain's chairs are carefully contoured and exquisitely tailored. Further back in the stretched cabin, you'll find a third row tightly proportioned for two additional passengers. The first two rows offer heated seats, and the second row seats slide and tilt. The driver's chair is the best equipped of the bunch, with 2 position memory, 8 way power adjustment, and power lumbar support. Since Mazda seat design specializes in keeping you firmly supported, the side bolsters are rather tighter than you might expect. If you carry a fat wallet in your back pocket, you may need to park it elsewhere while driving or riding in this Mazda.
The soul of this car company is devoted to racing. Mazda won 3 IMSA DPI sprint races in 2019 and recently finished second overall to Cadillac at the 2020 running of the Rolex 24 at Daytona. So the CX-9's overall handling agility should come as no surprise because this company never stints in the design of even the most prosaic people movers it manufactures. Thus the CX-9 boasts independent front and rear suspension, front and rear stabilizer bars, and "G-Vectoring Control Plus" to compensate for loss of adhesion in sharp turns. The admittedly heavy 4,585lb. CX-9 corners with a vibrancy that will comfort drivers willing to explore its unexpectedly high limits of adhesion. Mazda fitted our test model with standard 20 inch diameter alloy rims shod with Bridgestone Ecopia H/L 422+ rubber (255/50R20). The combination worked exceptionally well, especially when you select the available "Sport" mode.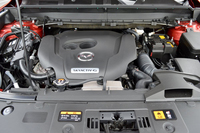 For a comparatively diminutive 4 cylinder engine, the CX-9's "Skyactive" 2.5 liter Turbo does a good impersonation of a much larger displacement powerplant. This one spools up rather quickly to produce 227hp and 310 pounds of torque, while returning an overall fuel economy rating of 23MPG. Few SUVs in this price range can provide the driving entertainment this Mazda provides. Although it unfortunately lacks paddle shifters, the 6 speed sport mode automatic transmission can be manually controlled to good effect by pushing the floor mounted stick forward for downshifts and backwards for upshifts. On a twisty stretch of coastal road, the CX-9 was able to keep a well-driven, new Porsche 911 4S in close sight over 8 miles of switchback terrain. Not the kind of behavior you would expect from a family hauler under $50K.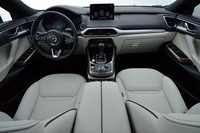 The latest CX-9 offers Android Auto and Apple CarPlay compatibility for 2020. For several years, Mazda has been using a dial controlled infotainment system in all its vehicles. Although the 9" touchscreen is well positioned and plenty bright, its programming cues and sequences are less than illuminating. For example, the first thing I noticed when driving off in the CX-9 was the appearance of a very bright head-up display directly in my line of sight. This pictograph indicated my speed, as well as the posted speed limit of the immediate area. I found this display to be irritating and distracting. Mazda calls it "Active Driving Display (ADD) with Traffic Sign Recognition." To eliminate the head up projection, I had to transcend 4 levels of menu choice to shut ADD off. This leads me to believe that ADD actually stands for Attention Deficit Disorder since that's what the testy sequence produces in you. Worse still, you have to do this every time you restart the CX-9 since the system always defers to active ADD.
But the infotainment layout is not a deal breaker because this SUV is otherwise so solid and rewarding. It offers sporting family oriented drivers the chance to enjoy decent performance for a price that is more than reasonable considering the level of care Mazda takes in crafting their Signature line CX-9.
2020 MAZDA CX-9 SIGNATURE AWD

ENGINE: 2.5 liter inline 4, turbocharged
HORSEPOWER: 227hp
TORQUE: 310lb.-ft.
FUEL CONSUMPTION: 20 MPG City/26 MPG Highway
PRICE AS TESTED: $46,115
HYPES: Boutique Detailing, Sprightly Performance, Roomy
GRIPES: Menu Driven Infotainment Annoyance
STAR RATING: 8.5 Stars out of 10