2020 Volvo S60 T8 E-AWD R-Design Review by David Colman
A sleek look and 'electric' performance puts the charge back into sedans
By David Colman
Special Correspondent to THE AUTO CHANNEL
The velvety feel of the controls in this Volvo are unmatched by any other manufacturer. There is a silkiness to the operation of the stalks that makes you think you're driving a car costing more than $100,000. Yet the version of the S60 we drove, despite being the most expensive available, listed for a rather modest $61,990. And that figure includes a full boat of options totaling $5,500. Sure, you can buy a baseline S60, with front wheel drive and a 250hp engine for a base price of just $36,050. So why would you consider spending almost twice as much for the T8 E-AWD R-Design version we tested? Because it's a fabulous product. It looks exotic. It drives exceptionally well. It's finished with the kind of subdued luxury and elegance Volvos exude these days. You will find it difficult to match this car's stellar attributes for this kind of money.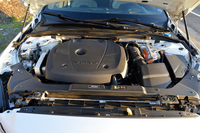 Let's start with the exotic and forceful drivetrain of this top echelon S60. Under the hood lies a 2.0 liter four cylinder engine. Unlike most four bangers, this efficient and powerful motor far removed from anyone else's small displacement four. For starters, Volvo turbocharges the engine. In addition, they supercharge it as well, which leads to the appellation "twin engine" which is writ small on the trunk emblem. Those two modes of boosted induction produce 316hp. But wait, there's more. That "twin engine" description should really read "triple engine" because this powerplant picks up an additional 87 horsepower from a third engine. This one is electric, and it powers a 110 kW high voltage battery stored under the rear seat. Amalgamation of all power sources provides a neck snapping 400hp and 472lb.-ft. of torque.
Volvo equips this S60 with an 8-speed "Geartronic" automatic transmission with paddle shifts. But with 472 pounds of torque on tap at all times, you pretty much need just one gear - forward. The suspension is up to the high performance standards of the triple power system, with long wearing (TW 500) Pirelli P Zero rubber (235/40R19) mounted on optional ($800) R-Design alloy rims. Most surprisingly, this sedan's significant urge will never drain your wallet at the gas pump. The E model S60 registers 69MPG in E mode, and 30MPG in gas only mode. Best of all, it's a plug-in, with a modest 3 hour recharge time if you utilize a 240V outlet. Volvo provides a dual volt (120/240V) charging cable, nestled in its own pouch tethered in the trunk.
The cabin accoutrements of this sedan are second to none, regardless of price range. If you value sleek, Scandinavian design, you will love the interior amenities of the S60. The R-Design credo simplifies and beatifies the interior without resorting to loud patterns or lurid colors. Elegance in action is the byword here. The vent controls are fitted with knurled adjustment knobs which can be minutely adjusted to meet your preference. The stubby but graspable shift actuator is a pleasure to use one you've mastered the art of bumping it toward you twice to proceed from Park to Drive, or twice away from you to engage Reverse.
Even the complex and intimidating infotainment system becomes manageable with increased familiarity. The first time I encountered this huge 12.3 inch "Driver Digital Display," I was dumbfounded by its complexity and resistance to easy operation. But as I have sampled it over the course of the past year in a variety of Volvos, the irrefutable logic of the system is hard to deny. For example, setting the cockpit temperature at first seemed daunting, now seems routine. Just a poke of the screen brings up the entire range of heat/cold, and a second poke registers the temperature you choose. Likewise, I originally cursed the lack of separate buttons for the seat heaters and steering wheel heater, but now that I've located these call outs on the center screen, resetting heater temps is even easier than pushing buttons.
While the S60 hybrid might look like an ordinary sedan, Volvo has managed to endow it with the storage utility of a small truck or SUV. A shopping trip to Lowe's forced me to find room in the Volvo for a knocked down work bench. While I could have stood this 5 foot long box on its side in the back seat, I decided to see if it would fit into the trunk. It wouldn't slide all the way in until both rear seats were folded completely flat. Just the push of a conveniently located button accomplished the feat. Best of all, Volvo's hybrid battery pack does not present the usual load-impinging hump between trunk and rear seat. So the S60, with its surprisingly accessible 12 cubic feet of interior storage, makes for good trips to the big box store.
This hyper optioned, moderately expensive, ultra practical S60 makes a strong case for buying a low slung sedan instead of a tippy, boring and cumbersome SUV.
2020 VOLVO S60 T8 E-AWD R-DESIGN

ENGINE: 2.0 liter inline 4, turbocharged and supercharged + Electric Motor
HORSEPOWER: 400hp
TORQUE: 472lb.-ft.
FUEL ECONOMY: 69MPGe/30MPG Gas Only
PRICE AS TESTED: $61,990
HYPES: Thrust Supreme, Exquisite Interior
GRIPES: Rear Wiper Needed
STAR RATING: 10 Stars out of 10