2019 Genesis G80 RWD 3.3T Sport - Official Review by David Colman
Stunning, Incredible Bargain, Rock Solid Performer
By David Colman
Special Correspondent to THE AUTO CHANNEL
Let's say you're looking for a year-end deal on a 2019 entry level luxury sedan. The usual sources for such a search include Audi, BMW, Lexus, maybe even Cadillac. Or you could explore the road not taken by most consumers. This one's named Genesis, and you won't find it on most consumer search engine road maps. That's because the Genesis brand, as a stand- alone, has only existed for the past year or so. Prior to that, Genesis was a division of Hyundai, the Korean company that specializes in building small and medium compacts, plus a variety of SUVs. Hyundai wisely decided that selling economy compacts was incompatible with marketing large luxury vehicles. So they spun off Genesis into a high end brand of its own, complete with separate advertising, dealership and service facilities. The Genesis line presently consists of 3 products, all sedans. The G70 entry level model runs from $34,000 to $50,000. The middle echelon sedan is the G80, with a price range of $43,000 to $61,000. Topping the line is the large G90, which runs from $70,000 to $76,000.
We spent a very satisfying week driving the G80 RWD 3.3T Sport. This rear wheel drive sedan is large enough to stave off cabin fever for long trips. It stretches 197 inches in length, which allows it to offer a spacious 119 inch wheelbase to 4 lucky occupants. I spent almost as much time in the back seat as I did up front, and can report that this is one of the most comfortable sedans you will ever find. In addition to the abundance of front and rear legroom, the G80 Sport's interior benefits from an exceptionally relaxing design language. Everything melds together here to sedate you from the anxieties of driving. The dash, and door panels feature real aluminum and real carbon fiber trim strips that would cost thousands of dollars extra at Audi or BMW.
Here, they're includes in the base price of the G80 Sport, along with stunning chalk and black Nappa leather seats front and rear. These Sport model specific seats are so elegantly tailored and so comfortable, you might think you're riding in a car with a hundred grand price tag. In actuality, the sticker reads just slightly more than half that number. At $56,245, the G80 Sport has to be one of the prime steals available today, especially since you can probably negotiate an even better deal at year end.
In addition to its stellar interior, the G80 Sport offers substantial driving chops for the enthusiast. You can buy a lesser G80, with a non-turbo 3.8 liter V6 that produces 311hp. Or you can buy a devastatingly quick V8 G80 5.0 that makes 420hp. But the sweet spot of the model range is the one we drove, with a 3.3 liter twin turbo V6 that's good for 365hp and a whopping 376lb.-ft. of torque. Tied to a sweet shifting 8-speed automatic gearbox with "Shiftronic" manual selection on offer via paddles, the turbocharged G80 Sport gives quarter to no other sedan - including the best Audi A6 and BMW 5 Series. You will never need more power than this Genesis engine can provide. It makes the G80 3.3T Sport scintillatingly quick to drive. Even better, the suspension is more than up to the task of handling all that power.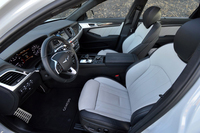 Given that it weighs 4,530lb., and presents a 197 inch beam, the G80 Sport is surprisingly agile. But Genesis really puts a solid effort into converting the base G80 into the sport- oriented touring version. The seats are more deeply bucketed for better retention, and the steering wheel rim is thicker and heated as well. The brakes are upgraded with Genesis branded calipers, and a special continuous damping control (CDC) system increases damping force when you select "Sport" mode from the variety of drive settings offered. The final improvement of the Sport package comes from a handsome set of dark tinted 19 inch alloy rims with copper center caps. Continental provides M&S rated ContiProContact radials in staggered front/rear offset (245/40R19 f/275/35R19 r). With all these dynamic improvements, the Genesis proved itself an unexpectedly ferocious back road charger, with enough low rpm torque to squirt from one apex to another like a gazelle.
Genesis also offers a Sport version of the less powerful 311hp base motor G80. But if you want the full impact of the real deal, go for the 365hp G80 3.3T Sport. You won't be sorry you invested $56,245 in this stunning sedan. And you'll love the ten grand you save over the competition by staying with this Korean built product. It enjoys a "better than average" new car prediction from Consumer Reports. The same cannot be said for the more expensive German competition.
2019 GENESIS G80 RWD 3.3T SPORT

ENGINE: 3.3 liter GDI V6 twin-turbo
HORSEPOWER: 365hp
TORQUE: 376lb.-ft.
FUEL CONSUMPTION: 17MPG City/25 MPG Highway
PRICE AS TESTED: $56,245
HYPES: Incredible Bargain, Rock Solid Performer
GRIPES: Rear Wiper Missing, Large A-Pillar/Mirror Blocks Vision
STAR RATING: 10 Stars out of 10