2020 Hyundai Palisade Limited AWD Review By David Colman +VIDEO
Make and leave a lasting impression
By David Colman
Special Correspondent to THE AUTO CHANNEL
Earlier this year, Kia introduced a full-size, 3-row SUV called Telluride to much critical acclaim. Now Hyundai, Kia's parent company, has debuted their own take on the Telluride. This one is called Palisade, and the Limited AWD version differs significantly in appearance and accommodation from the Kia Telluride SX V6 AWD we tested earlier this year. Visually, the Palisade is more aggressive looking than its Kia twin. In part, this is attributable to the massive headlight arrangement of the Palisade. Another visual differentiator is the Palisade Limited's use of massive 14 spoke, brushed aluminum alloy rims. These show quality discs are shod with beefy 245/50R22 Bridgestone Dueler Sport AS tires (Tread Wear 400). The artfully sculpted flanks of the Palisade incorporate flared fenders to showcase the flashy wheels. Buyers longing to make a lasting first impression will opt for the bolder Palisade over the tamer Telluride.
The enormous cabin of the Palisade is luxuriously turned out, with diamond pleated leather inserts decorating the upper back surfaces of the heated and ventilated first and second row captain's chairs. That same diamond treatment ties the upper door surfaces into the seat upholstery. Minutely etched diamond patterned aluminum covers the large central console between the front seats. Thoughtful interior touches abound, with both front seat backs containing USB ports accessible to rear seat occupants. Back seat riders will also find a 115V, 150W plug facing them. With power assist, a third row of seats good for triple occupancy can be easily elevated from cargo shelf position to riding bench. Buyers may also specify a bench second row in lieu of the captain's chairs, which would increase total ridership from 7 to 8.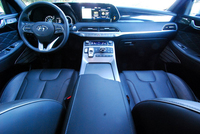 I am not a big fan of the current craze to re-engineer the transmission shift pattern from PRND to some alternate array. Virtually all Honda and Acura vehicles are now stuck with unintuitive shift mechanisms that redefine the meaning of the word nuisance. Although not as objectionable as the Honda configuration, the Palisade also attempts to improve on traditional shift practice with a strange array of buttons splayed out on the center console. Over to the left is a pad designated "P" for Park. To the right lie a trio of buttons, vertically arranged from "R"(top) to "N" (middle) to "D"(bottom). These control the detents of the 8-speed automatic transmission. If my week of mystification over which one to push is any criterion, you too will find the new system to be unintuitive. Which is rather a shame, because the transmission itself is quite a fine piece of engineering, equipped as it is with "Shiftronic" paddle shifters at the steering wheel. And speaking of that wheel, it's not only heated, but warm along its entire rim rather than just the 9 and 12 o'clock positions.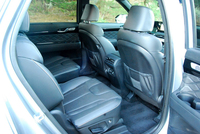 One late night trip through some desolate backroad country proved that this hulking behemoth of a 4,385lb. SUV is more than capable of hustling through turns with handling prowess and superior illumination. If you are gentle with your steering and throttle inputs, the Palisade will snap smartly from one apex to another with unexpected agility. Those huge vertical LED light receptacles are augmented LED driving lights to blanket the blackness with dazzling candle power. During the daytime, the horizontal upper running lights combine with the vertical lower running beams to create an unforgettable DRL pattern that distinguishes the Palisade from anything else on the road.
Hyundai fits this SUV with a pair of oversize sunroofs. The front unit can be fully opened for fresh air, while the larger rear hatch merely offers a sliding screen block. The standard microfiber suede material covering the headliner and sun roofs looks and feels expensive. The same cannot be said for the manual tilt/reach controls for the steering column, which seem out of place given the power operation of nearly everything else in this cabin.
Like its KIA sibling, the Palisade depends on a 291hp V6 for motivation. With a torque output of 252lb.-ft., this prime mover is certified to tow a 5,000 lb. trailer. To assist this usage, Hyundai has provided the Palisade with a standard trailering package that consists of pre-wiring for electrical connections, a transmission oil cooler, and sway control. Since this all-wheel-drive SUV is also equipped with standard self-leveling rear suspension, the Palisade will automatically compensate for interior load variations as well as legal trailer tongue loads.
2020 HYUNDAI PALISADE LIMITED AWD

ENGINE: 3.8 liter Gas Direct Injection V6
HORSEPOWER: 291hp
TORQUE: 262lb.-ft.
FUEL CONSUMPTION: 19MPG City/24MPG Highway
PRICE AS TESTED: $47,605
HYPES: No Extra Charges, Equipment Level Belies Price
GRIPES: Shift Control
STAR RATING: 9 Stars out of 10