2019 Lexus RC 350 Review by David Colman
Perfect 2-Seater for Relaxed Motoring Enjoyment and Economic Practicality
By David Colman
Special Correspondent to THE AUTO CHANNEL
If you like the looks and feel of the sleek Lexus coupe but don't need the abundant horsepower or gas consumption of a V8, the V6 powered RC 350 makes a great alternative to the bruising RC F. In the price department, the RC 350 retails for a base price of $42,075 compared to the RCF's base of $66,000. By the time you've augmented the RC 350 with 19 inch "Split 10-spoke Alloy Wheels" ($795), "triple Beam LED Headlights" ($1,160), "Navigation/ Mark Levinson Audio Package" ($2,725) "Intuitive Parking Assist"($500), and "Premium Package"($2,390), the sub-total of $51,645 still tallies $12,000 less than the base price of the RC F. And as an added incentive to choose the 311hp V6 coupe, your gas mileage will average 23MPG compared to the V8's 17MPG overall figure.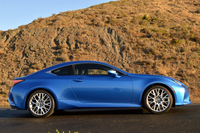 Is the V6 enough motor for this 3,750lb. coupe? You bet. Acceleration is more than adequate with a 0-60mph run of just 6.5 seconds and a quarter mile time of 15 seconds at 96mph. An 8-speed "Sport Direct-Shift" transmission handles gear swapping with alacrity and precision. If you chose to select your own ratios, Lexus has provided a manual change gate for that purpose, augmented by a pair of oversize paddles at the steering wheel. The 19 inch alloy rim upgrade brings you a set of exceptionally sticky (TW 140) Bridgestone RE 050A radial tires (235/40R19 F, 265/35R19 R) that never lose contact with the road surface. Although the "Drive Select Mode" offering of the RC 350 does not afford you the "Sport+" choice available on the RC F, it does let you toggle between "Eco," "Normal," "Snow," and plain old "Sport." We found that "Eco" - the mode automatically selected when you start the car - worked just fine for freeway runs, with relaxed feedback from the steering wheel, and comfy ride quality. For thrashing on back roads, the "Sport" choice is the obvious selection since it tightens steering sensitivity as well as magnifying throttle response.
But the beauty of the RC 350 is not so much its mastery at clipping apexes as its overall combination of stability, excellent outward vision and cosseting comfort. The front seats are very comfortable, even for extended periods of occupancy. The driver's seat features 10-way power adjustment plus 2 stage lumbar support, while the passenger makes do with just 8-way operation and no lumbar. Helping facilitate matters is a 2 position seat memory for the driver that is part of the Premium Package. This resource also resets outside mirrors and steering column to pre-determined choice . The Premium Package also adds ventilation to the roster of seat benefits.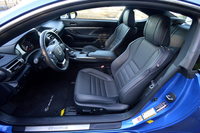 About the only drawback to owning this coupe is the difficulty it poses for entry/exit due to the low slung seating position. In fact, at 55 inches , the RC sits an inch lower than the IS 300 sedan upon which it is based. Now that missing inch may seem inconsequential - until you have to drop yourself into the RC's cockpit or struggle to gain traction as you haul yourself up for departure. But once you're ensconced in this aviation quality cockpit, the egress problem melts right away. We particularly liked the configuration of the dash, which presents a nice flat storage area directly in front of the 10.3 inch color multi-media display screen. This storage area compensates for the limited door pocket mail slots which are rendered useless for envelopes by a partition dividing them into halves. Although the free 3-month trial of SiriusXM Satellite Radio had expired by the time of our test drive, we were able to play recorded tunes through the system from our phone and can report that the sound level ranges from mellifluous to deafening. Apple CarPlay is now Lexus compatible.
The RC 350 is the perfect two seater for an owner who has nothing to prove beyond motoring enjoyment and economic practicality. It lacks the snorting grunt of the RC F but proves to be a more compatible daily companion than its more powerful sibling. It's fast enough when you need speed, but calm enough when you don't to make it an ideal everyday companion. It's even available this year with all-wheel-drive, and a scintillating new color choice: Blue Vortex Metallic. Our test sample was finished in that shade and generated a lot of approving nods.
2019 LEXUS RC 350

ENGINE: 3.5 liter V6, 24 valve, DOHC with variable valve timing Intake and Exhaust
HORSEPOWER: 311hp TORQUE: 280lb.-ft.
FUEL CONSUMPTION: 20MPG City/28 MPG Highway
PRICE AS TESTED: $52,670
HYPES: Quick Enough, Handsome Enough
GRIPES: Forget the Rear Seats
STAR RATING: 9 Stars out of 10