2020 Honda Pilot Black Edition Review by David Colman
Sophisticated, powerful, and it's a Honda!
By David Colman
Special Correspondent to THE AUTO CHANNEL
You don't need 20/20 eyesight to know that the new-for-2020 Honda Pilot Black Edition looks more than a little sinister. With its Crystal Black Pearl paint, blacked out grill, bumpers, exterior trim, wheels and interior, this new top of the Pilot line model attracts attention simply by its subtraction of color. The only hint of color comes from subtle red stitching and seat cushion highlights. Ironically, the only chrome on this Honda is a tail emblem reading "Black Edition."
The
Black Ops Pilot
is Honda's most sophisticated and powerful SUV. It offers standard all wheel drive, 280hp V6 power, and three row seating for 7 (2/2/3). Second row captain's chairs share a central communal table top. A rear DVD screen flips down for entertainment, and the rear seat section enjoys its own large sunroof. A separate sunroof opens over the front seat. This Pilot utilizes a 9 speed automatic transmission. 20 inch diameter alloy rims shod with Continental Cross Contact LX all season radials (245/50R20). Torque-Vectoring AWD - a $2,000 option on lesser Pilots - is standard on the Black Edition.
While it makes a strong visual statement, the Black Edition is somewhat less convincing dynamically than visually. From the driver's seat you are tasked with herding a rather ungainly 4,280lb. box that stands 71 in. tall, and 79in. wide. The lively V6 engine does an admirable job of launching the Pilot from a dead stop. But you will need to resort to manual gear selection to shrink passing distances on two lane roads. The Pilot's power-to-weight ratio of 15.28lb./hp. is adequate not scintillating. However, Honda does endow this vehicle with paddle shifts to control the 9-speed transmission manually. Pilot also provides a gas saving automatic stop/start feature to deactivate the engine while waiting at traffic lights. This gambit has been improved for 2020, and now operates without the objectionable shudder that marked previous versions.
But realistically, you don't buy a Pilot because you're looking for a hot ride. Packaging logic rather than driving charm is the main attraction of this model. With its sizeable wheelbase of 110in., the comfy second row captain's chairs offer lots of leg-stretch room, and of course there's that handy third row dugout for the kiddies. One of the most lovable features of the cabin is the instant seat fold protocol Honda has perfected to convert the interior to flat floor configuration. There's no need to search through the owner's manual for tedious multi-step instructions. Just pop a couple of obvious seat-side levers and bingo: 48 cubic feet of storage space. An automatic lift/close tailgate you can control with a foot kick seals the deal.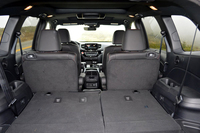 The floor shift mechanism Honda first supplied to their Acura model line several years ago has now made its way into most Honda line vehicles, including this Pilot. We didn't much care for the Acura design then, and haven't changed our opinion of it in this application. The selector consists of a series of rat-maze like buttons and sliders that regulate the selection of Park, Drive, Reverse and Sport. Although this device has shrunk the size of the conventional shift gate from large to small, it has unnecessarily complicated the gear selection process. Think of it this way: instead of using muscle memory conditioned by years of driving, you now have to look carefully at this console mounted device as you contemplate every move you make. While our test Pilot was pleasantly sleek inside, with its 3 shades of black (piano, low gloss and matte), we discovered that the two lower spokes of the steering wheel hid sharp edges that always fell to hand while driving. A final observation about the interior decoration: the "Black Edition" floor mat identification detached itself from the passenger rug during our week with this 1,500 mile Pilot.
Nit picking critiques aside, the newly understated Pilot Black Edition will appeal to a great many family buyers because a) it's a Honda, b) Pilot scored double green arrows in all 17 of Consumer Reviews evaluation points, and c) CR gave the Pilot its coveted Checkmark as a best in class winner for 2019. When I asked my car-savvy wife what she most liked about driving the Pilot, she listed the big, bold graphics of the instrument panel, the comfortable, multi-adjustable front seats, and the surprisingly responsive handling of such a big box vehicle. Since we had just cycled through testing a variety of particularly clumsy full size SUVs, the utilitarian Pilot somehow managed to refocus on the S (Sport) component of the term SUV. In that sense it was a breath of fresh air in a segment that has become altogether too utilitarian.
2020 HONDA PILOT BLACK EDITION

ENGINE: 3.5 liter V6
TORQUE: 262lb.-ft.
FUEL CONSUMPTION: 18MPG City/26MPG Highway
PRICE AS TESTED: $50,715
HYPES: Stealth Hides a Wealth of Features
GRIPES: Transmission Selector
STAR RATING: 8 Stars out of 10