2019 Jaguar F-Pace SVR Review by David Colman +VIDEO
10+ Stars Out of 10 Stars - 'Nuff said!
By David Colman
Special Correspondent to THE AUTO CHANNEL
Every once in a great while, a test vehicle comes along that proves so distinguished in both looks and performance that it occasions a complete recalibration of what is possible. Jaguar's 2019 F-Pace SVR is just such an agent of change. From the moment I snuggled into the aggressively contoured racing seat and lit the ignition on the 550hp V8, this Jag made it very apparent I was driving something extra special. As a group, SUVs do not impress with their driving prowess Most look similarly stodgy, and confirm their awkward appearance by performing like elephants on a high wire. Not so the F-Pace SVR. This Jag will take on any back road, paved or unpaved and cover it in record quick time.
And on top of that it's a relative bargain, with a base price of just $79,990. Our fully loaded test unit stickered at $89,900. The Driver Assist Package (Blind Spot Assist, 360 Degree Camera, Adaptive Cruise Control with Steering Assist, High Speed Emergency Braking, Park Assist and Rear Traffic Monitor) added $3,600. Aluminum Weave Carbon Fiber Trim Finisher added eye popping interior elegance for $1,010. And a Head-Up Display tacked on an extra $450. But in the world of SUV exotics, where the SVR firmly belongs, Porsche's Cayenne Turbo runs $146,00, Lamborghini's Urus $255,000 and Bentley's Bentayga Speed $301,00. That makes the SVR Jag as much of a bargain today as the $5,500 Jag XKE was back in 1965.
I've previously driven the Jaguar I-Pace, an electric powered version of the same chassis. I found the I-Pace to be extremely quick and well suspended, but was put off by its unruly regenerative brakes and short travel range between charges. The SVR eliminates these issues entirely. Our stunning Ultra Blue SVR stopped on a dime, time after time, thanks to 15.5 inch vented rotors front and rear clamped by SVR issue red calipers. Staggered width Pirelli Scorpion Zero mud and snow rated tires (265/40R22 F./295/35R22 R.) ride on $1,530 optional 22" 5 Split-Spoke "Style 5081" forged aluminum rims that measure 9 inches wide in front and 10 inches wide in back.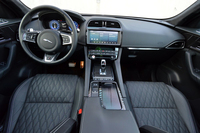 The SVR portfolio includes an 8-speed automatic transmission fitted with lovely large aluminum paddles at the wheel so you can snap off instant up and down changes. If you leave the floor mounted stick selector in fully automatic mode, the gearbox will fire off sequential upshifts so fast you'll think you're piloting a Formula One car. 60 MPH comes up from a standing start in 3.7 seconds, 100MPH flashes past in 8.7 seconds, and the standing start quarter mile is gone in 12 seconds at 116MPH.
While the SVR is indisputably one of the quickest SUVs in the world, it backs up the straight line bravado with instant course correction courtesy of finely weighted steering. Turn the wheel a quarter of an inch and you'll find the front tires moving exactly a quarter of an inch. There's absolutely no slop in this system, and you'll cover the full range of directional travel by moving the steering wheel just 2.5 turns from lock to lock. Full time all wheel drive insures maximum traction, an especially important consideration when you're dealing with a motor generating 502lb.-ft. of torque. Another directional aid comes from the active electronic differential which micro manages slip angle and yaw by using the brakes to apply torque vectoring. In actual operation, the system performs flawlessly, with no detectable deviance from your anticipated line of travel.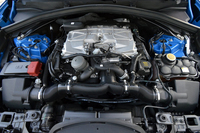 The all aluminum DOHC 5 liter V8 is so handsome that Jaguar doesn't need to hide the engine's architecture under one of those black plastic modesty shields that have become all the rage these days. No, you're free to see the sparkle of the supercharger, and the complexity of the adjacent plumbing in this Jag's engine bay because there's no need for any cover-up here. The same expedience goes for the styling of the SVR which turns the F-Pace's rather tame stock shell into a crouching beast worthy of the name Jaguar. There is a pronounced rake to the SVR's body which gives the visual impression that this mega SUV is ready to feast on some prey. That prey would be pretty much anything else on the road that is slower and less athletic than an SVR F-Pace. And that would be pretty much everything else.
2019 JAGUAR F-PACE SVR

ENGINE: 5.0 Liter V8, DOHC, Supercharged
HORSEPOWER: 550hp@6000rpm
TORQUE: 502lb.-ft.@2500rpm
FUEL CONSUMPTION: 16MPG City/21MPG Highway
PRICE AS TESTED: $89,900
HYPES: Reacts Faster Than You Can Think
GRIPES: Don't Have One in My Garage - Yet
STAR RATING: 10+ Stars out of 10