1939 4 ½ Liter Bentley Park Ward Drophead Coupe at Pebble Beach Concours d'Elegance 2019 +VIDEO
Special feature from Jon Rosner
With a large field of astounding cars it was hard to find one to focus on. Behind the coastal ropes were the rarest, the most authentically restored and some in original unrestored condition, time capsules.
"Second place was the best finish for a Blower Bentley. By the time these were built, Bentley was broke and he had lost control of the company. Tim Birkin had the Blower Bentleys built." "The first years were a bit of a bodge, they got it right with ongoing development." This was part of a respectful conversation between two individuals standing near a 1930's Blower Bentley as it was being judged. As the participant started the car the supercharger emitting a voice close to that of a gas-fired farmer's water pump. Whir, chug, light stall, repeat, just thrumming along.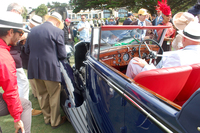 There were a few owners in peak current fashion in colors and shades that might sear your eyes, looking to appear calm, collected and non-chalant. Then there was Dr. Mark Sinning (thoracic surgeon), his wife Sam (a nurse) and their early teen daughter Maddie in from New Bern NC. Dressed in period clothes and just having fun. Interviewing Sam; "five years ago my husband woke up from a dream, 'I have to buy a Rolls-Royce.' " Soon after the dream they purchased their 1939 4 ½ Liter Bentley Park Ward Drophead Coupe. "It was in very nice original condition and we sent it right off to Richard Gorman at Vantage Motorworks in North Miami." "We had the detail work done and were invited to show our Bentley at Amelia Island. We were really pleased and a bit surprised when we took first in our class." This royal blue Bentley didn't look better than new, it simply looked right. Maddie piped up, "it's 80 years old and it still runs!!" Sam added; "it's one of three or four." Mark, who had been listening patiently; "this was not made by a machine – it was done by hand."
We chatted a bit about their home, New Bern North Carolina. From Mark; "Caleb Bradham invented Pepsi in New Bern – he was a pharmacist, he had an idea and he ran with it." New Bern is a "great town to live in." It was clear that the Sinnings were having the time of their lives, real people. No, it didn't win a coveted prize at the Pebble Concours d'Elegance, but it won the hearts of many. That is part of the successful balance that the Entrance Committee strives to achieve every year. Not every owner of every special car can toss several million at their car to gain a chance for a prize at Pebble Beach. But each car has a story. And those stories are why there are hot rods, Aston Martins, motorcycles and Bentleys on the field delighting the audience.