2019 TOYOTA SEQUOIA 4x4 Review by David Colman - It's E15 Approved
Mega Sized But Not Mega Bucks
By David Colman
Special Correspondent to THE AUTO CHANNEL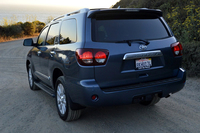 To give you an idea of just how gargantuan the Toyota Sequoia is, compare it to the Chevy Suburban. Although the Toyota, at 201 inches in length, is shorter than the Chevy by a whopping two feet, it still weighs 80 pounds more than the Suburban. In order to motivate more than three tons of curb weight, Toyota has endowed the 6,125lb. Sequoia with just one engine regardless of trim level - the company's fabled 3UR-FE V8 which displaces 5.7 liters, makes 381hp and 401lb.-ft. of torque. This DOHC ,32 valve engine manages to endow even the ultra heavy Sequoia with a very decent power-to-weight ratio of 15.81lbs. per horsepower - a figure many lightweight sedans and crossovers would envy. Coupled to a 6-speed automatic gearbox equipped with electronic intelligence (ECT-I) as well as Tow/Haul Mode, the Sequoia proved no sluggard in the stop light grand prix. But the price you pay for owning this 7 passenger hauler comes at the gas pump, where a fill-up of its 26.5 gallon fuel tank will run you about a hundred bucks, even if you chose just 87 octane brew. The Sequoia is rated at 14 MPG in overall use and posts a rating of 1 (out of 10) on the government's "economy and greenhouse gas rating" scale.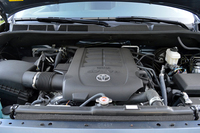 To offset the fuel expense, the Sequoia makes a strong case for mass transportation of both people and cargo. Interior cargo volume is huge, at 61 cubic feet. The Chevy Suburban only beats the Sequoia by 1.5 cubic feet - despite that fact that it's 2 feet longer than the Toyota. Due to the second row captain's chairs, our test vehicle offered accommodations for 7. The driver receives premium treatment, with a 10-way adjustable leather trimmed seat that offers 2 position memory settings. Next up is the front passenger, who gets 4 way power adjustments. Both front seats are heated and ventilated. While the front seats are reasonably supportive, the 2 captain's chairs in the second row leave a lot to be desired in terms of comfort and support. Although the backs of the second tier seats offer manual recline, the seats themselves lack lateral support and cushion comfort. However, Toyota does look after its rear passengers climate comfort thanks to a complete HVAC dashboard that allows back seat guests to regulate their own temperature and fan speed. There's also a pair of privacy screens and a standard rear seat Blu-Ray player with an 11 inch screen to keep passengers entertained.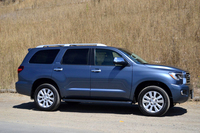 While the sheer weight of the Sequoia precludes anything resembling sporty driving I had to note with amusement the trip my wife and I took over the twisty road that links our abode to civilization. It was a very foggy morning and we soon came upon an inexplicably slow moving roadblock. Apparently a novice had just bought a brand new Porsche 911 Carrera 4 Targa and was too busy dealing with his German wundercar to look at the Sequoia looming in his rear view mirror. Meanwhile, my wife was enjoying the comparatively responsive handling of the Sequoia as its meaty 20 inch tall Bridgestone Dueler tires (275/55R20), mounted on massive 20x8J alloy rims, helped her latch onto each wet apex that seemed to elude the 911. She also particularly enjoyed the elevated seating position offered by the Sequoia. Its lofty 75 inch height puts the driver in superior visual command of traffic patterns that remain invisible to ground huggers driving slammed sports cars like a 911.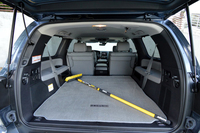 While Toyota has attempted to jazz up the interior of the Sequoia with segments of burled wood so shiny it looks like plastic, there's no chance you'll confuse this interior with that of a Lexus. The trim of our "Shoreline Blue Pearl" Sequoia was rather monochromatic, with few styling or color flourishes. We did, however, appreciate Toyota's inclusion of grab handles everywhere you might need one, since climbing into the tall cab of the Sequoia is a learned art that requires both spring in the legs and yank in the arms.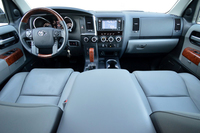 Several telltales indicate that the Sequoia is getting somewhat long in the tooth. For starters (literally), this is the first vehicle I've driven in a long time that requires you to insert a serrated key into an ignition slot on the steering column. The Sequoia also lacks approach/departure auto lock/unlock, though the keyfob does include those functions. And the tailgate provides automated lift but not auto-closure. Still, though it might lack the very latest lazy bones conveniences, there's no disputing the fact that the fully equipped base Sequoia, at $67, 635, represents rather a bargain in today's over-optioned, overpriced king size SUV marketplace.
2019 TOYOTA SEQUOIA 4x4

ENGINE: 5.7 liter V8 DOHC, 32 valves, Dual Independent VVT-I
HORSEPOWER: 381hp
TORQUE: 401lb.-ft.
FUEL CONSUMPTION: 13MPG City/17MPG Highway
PRICE AS TESTED: $69,303
HYPES: Mega Space Not Mega Bucks
GRIPES: More Pizzazz Interior Please
STAR RATING: 8 Stars out of 10