2019 Honda Passport AWD Elite Review by David Colman +VIDEO - It's E15 Approved
Official Honda Passport Build and Price
Honda at its best
By David Colman
Special Correspondent to THE AUTO CHANNEL
Auto Channel Exclusive (ACE)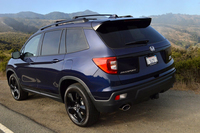 Without doubt, the Passport is the best SUV Honda builds. That's saying a lot, because Honda offers 3 competent competitors to the Passport: the CR-V, the HR-V and the Pilot. So what makes the Passport optimal? Let's start with its size. Despite its compact length of 191 inches, it offers a longer wheelbase of 111 inches than any other Honda SUV. Even the 197 inch long Pilot's wheelbase is just 110 inches. The CR-V at a wheelbase of 105 inches and the HR-V at 103 inches aren't even in the ballpark when it comes to usable interior space. Indeed, the Passport doubles down on the numbers game by offering a 115.9 cubic feet of interior space, which makes it best in class. Even with passengers occupying the second row split bench seat, the Passport still manages to preserve 41.2 cubic feet of storage in its ample aft section. One of the great advantages of the Passport is the flat loading floor it presents when the rear seats are flipped forward. I was able to insert and retrieve my mountain bike with one simple lift and swipe, due in large measure to the low level of the loading floor and the convenience of the "Hands Free Access" auto-open, auto-close tailgate.
Aside from such practicality, there are myriad performance reasons for selecting the Passport AWD Elite over Honda's other SUV offerings. The main incentive lies under the hood, where a very well endowed V6 feeds 280hp through all 4 wheels. Negotiating the transfer of power is a 9-speed automatic gearbox which can be manually shifted via paddles. With such a comprehensive array of gears, the V6 is never hard put to offer immediate punch. Thanks to its 262lb.-ft. of torque, the 3.5 liter V6 is capable of hauling a 5000 lb. trailer, and Honda equips the Elite with a receiver hitch, plug receptacles and trailer harness wiring. The Elite also boasts a complete suite of Honda Sensing watchdogs like Adaptive Cruise Control, Collision mitigation braking System, Forward Collision Warning, and Lane Departure Warning. Lane Keeping assist can be manually chosen or deleted at will as can Road Departure Mitigation.
For a relatively tall vehicle (72 in.), the Passport proved surprisingly agile in backroad driving situations thanks largely to its standard 20 inch black finished alloy rims mounting sizeable 265/45R20 Michelin mud and snow rated radials. The Honda Passport responds to steering wheel input like a sports car. The amount of effort required to buy more wheel turn-in is precisely metered. Each inch of steering wheel travel translates into the expected change in directional travel. there is no slop or surprise awaiting you in maneuvering the Passport. Ride over bad pavement is somewhat rough - a small price to pay for the precision handling this Honda offers overall.
The inside story is equally impressive here, with leather trimmed seats and steering wheel lending a refined finish to the living quarters of the Elite. The exceptionlly supportive river's seat offers 10 way power adjustment plus memory position retention. Honda's long list of techno features includes mobile hotspot capability, Sirius XM Satellite radio (3 month free subscription), Bluetooth HandsFree Link,, USB Audio Interface, and Apple CarPlay/Android Auto integration. The standard 10 speaker Premium Audio System is now thankfully equipped with a separate volume knob, and produces a typhoon of sound at high settings. Our only quibble was that the 8 inch piano black screen quickly builds up a layer of dust particles that impede clear viewing. Keeping handy a can of aerosol dust-off makes sense - especially since you could store it in the vastly oversized, ultra-handy storage box between the front seats.
The Honda Passport, unlike almost all its competitors in the compact SUV range, is actually fun to drive. You can surely buy a cheaper version of the Passport than the one we tested. For example, a base price model retails for just $33,085 with 2 wheel drive. Add $1,900 for all-wheel-drive. Or bump up to the top of the line AWD Elite for $43,680. This one is so fully quipped there's not so much as a single addition to thee bottom line except "Destination and handling"($1,045).
The Passport's V6 engine is eager to rev up, its 9-speed gearbox welcomes your next shift, and its well calibrated suspension cries out for back roads or off roads to conquer. Instead of dreading your next trip to the market in one of the many boring, overly civilized SUVs on the market, why not take a flyer on this well conceived Honda that proves its mettle every day in every way?
2019 HONDA PASSPORT AWD ELITE

ENGINE: 3.5 liter V6 with VTEC and Variable Cylinder Management
HORSEPOWER: 280hp
TORQUE: 262lb.-ft.
FUEL CONSUMPTION: 19MPG City/24MPG Highway
PRICE AS TESTED: $44,725
HYPES: V6 Punch, AWD Traction, Honda Reliability
GRIPES: Touchscreen Dust Magnet
STAR RATING: 10 Stars out of 10