2019 Honda Civic 1.5T 4D Touring Review by David Colman - It's E15 Approved
Dollar for dollar, it's the best in its class
By David Colman
Special Correspondent to THE AUTO CHANNEL
You may have noticed that Honda's official description of this sedan includes the abbreviation "4D." Lest you think the company has invented a new level of automotive reality, let me assure you that even the latest Civic has yet to break through 3D to achieve 4D. Rather, this notation simply refers to the number of doors on our test Civic, since Honda also sells a 2D version called the Civic Touring Coupe. In either sedan or coupe form, here is what you get for your $28,220: front-wheel-drive, 1.5 liter turbo 4, CVT transmission with paddle shifters, 4 wheel disc brakes, MacPherson strut front suspension, multi-link rear suspension, and electric power steering.
The Touring sedan, which weighs 2,936 lbs, enjoys a decent weight-to-power ratio of 16.87lb/hp. This in turn allows the Civic to complete a quarter mile sprint in 15.2 seconds from a standing start. The 0-60mph run evaporates in just 6.8 seconds, so the Civic Touring provides decently quick rush. Better yet, the 1.5 liter turbo is remarkably fuel efficient, posting an overall mileage figure of 33MPG. However, the CVT unit tends to amplify the engine's laborious drone. While the Touring is adequately quick, you won't confuse its performance with anything from Audi or BMW.
Handling too is decent enough. At each corner, you'll find a Touring specific 18 inch diameter alloy rim equipped with an all-season Continental ContiProContact radial (235/40R18). These tires provide quiet and compliant ride comfort at the expense of ultimate cornering power. They are rated TW 400 for longevity and provide AA Traction in wet braking. The fully independent suspension of the Civic gobbles up bad roads like a glutton in a candy store. The descriptive adjective here is "Touring," an endeavor this Civic is well equipped to perform with equanimity and comfort.
Inside the cabin, the Civic is finished in multiple, underwhelming shades of black. The leather trimmed seats are not particularly supportive, though they do evince a flash of sportiness in their muted gray checkered flag cloth inserts. Both front seats lack lumbar adjustment, but counterbalancing that omission is provision of seat heaters for all seats front and rear.
After driving this sedan for several hours on a typical California sunny day, it became apparent that the driver's side rear view mirror was constantly obscured by reflections from the dash vent left of the steering wheel. This annoyance appears to stem from the use of a shiny brushed carbon insert on the dash, which is outlined with matte pseudo-aluminum trim. Aside from that visual distraction, the cockpit offers excellent viewpoints in all directions, thanks to the low belt line and large windows of the sedan.
Honda Sensing is now standard equipment on all Civic models for 2019, and we briefly experienced these various features before deleting their interventions. The portfolio includes Adaptive Cruise Control (ACC) which proved jerky in slow moving conditions but better suited to long stretches at freeway speed. The Lane Keeping Assist System (LKAS) constantly reminds you via message screen on the instrument panel that you need to keep your hands on the wheel if you expect any help from the subliminal forces of LKAS. We did experience gentle nudges from LKAS when banked into turns - as long as we kept touch with the wheel. Perhaps this is what Honda meant when they described this Civic as having 4D.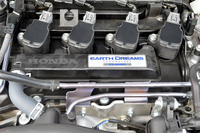 This current 10th generation of Civic was introduced in 2015, so it was ripe for a few innovations before Gen 11 comes along. One of the most notable additions to the Touring we tested was the addition (finally) of a knob for the volume control of the entertainment system. Now if only they could provide a matching physical knob for controlling station choice, we'd be back to where we should have been all along.
For minimal money, the Civic Touring is a lot of sedan. So much so that the Civic model line is the second best seller in the Honda portfolio. With one million Civics sold since 2015, only the CR-V top it in sales. Sure, you can carp about some of the Touring's failings, like the boring interior look, or the fact that the steering rack reaches the end of its travel with a disconcerting clunk. But tell me where you'll find a more competent 5 seat sedan for this kind of money.
2019 HONDA CIVIC 1.5T 4D TOURING

ENGINE: 1.5 liter inline 4, turbocharged
HORSEPOWER: 174hp
TORQUE: 162lb.-ft.
FUEL CONSUMPTION: 30MPG City/38MPG Highway
PRICE AS TESTED: $28,220
HYPES: Value Proposition, Decent Go, Stop and Handle
GRIPES: More Knobs, Fewer Slides
STAR RATING: 8 Stars out of 10